Cuckold Husband Video
TOP CUCKOLD PAGES
Cuckold Pages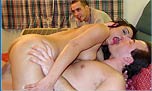 Please Bang My Wife
ARCHIVES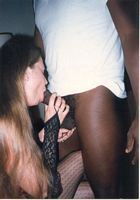 She Cuckolds Me
I am forced by my love to find men online to please her. - Wimp Hubby
Monday, May 28, 2007
Emails From Mike & Dawn .... & her with Friend David!
Hi,

I'll have a story to post on your blog soon about my wife Dawn and I. We recently found a new partner, David. He's been through our "approval process", and he and Dawn have done a little making out at a club last Saturday night while I sat and watched gleefully. But tonight after she gets off of work (2 1/2 hours and counting!!) is our first, full, everything goes play session together. I'm hoping things work out with him (it seems they will) as Dawn thinks he's hot, and the thought of seeing the two of them entwined together has been rambling around in my mind ALL week. Well, gotta start getting things ready. I hope not to get much sleep tonight. Here's a picture of her. I'll send another when we're done. - Mike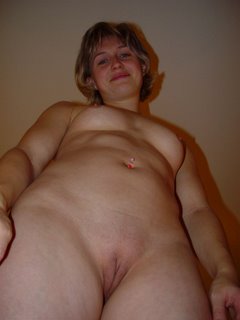 **Thanks Mike. Is it your first time? I look forward to it! - Webmaster

Next Email from Mike: It turned out to be a fun and interesting night. And sure, we've had a number of MFMs before. We always involve a single guy with us for an ongoing cuckold 'relationship', which can last for several months or more. But back to last night.

I had already taken a shower before they got home. David seemed a bit nervous and/or anxious, but hey, he's only 22 and my wife is in her mid 30's. While I got snacks and drinks together, I suggested they take a shower. After I had gotten the food and drink laid out, I noticed the shower wasn't running yet. I walked into the bathroom to see both of them naked, and Dawn on her knees giving him head. I stood there and watched for a minute, with my boner completely obvious through my shorts. Then they got into the shower. As I left the bathroom, it was obvious they were going to wash each other, so I took the snacks into the bedroom and laid on the bed waiting for them to meet me there.

After about 10 minutes, a naked Dawn and still still rock hard David came into the room, hand in hand. She had a huge smile on her face, but he still seemed a tad bit nervous. I asked them if they had fun, but Dawn didn't comment, just kept smiling. David simply said, "Uh, yeah!" I told them I wanted to see some of the fun they had. I picked up my glass of Asti, and sat on the side of the bed while Dawn went down on him for a couple of minutes. David was desperately trying to reach her pussy, so I motioned for Dawn to move her rear closer to him and his finger found its target. Dawn loves to give head, and throated him quite easily. But Dawn couldn't take much more, and got on top of him. I moved down to the end of the bed so I could watch him enter her. He's about an inch longer than me, which is what we like. Then the only disappointing moment of the night happened. He shot his load in her after about 30 seconds. But what a load!!! I have never seen so much cum come out of her before. Long story short, the three of us started at about 12:15AM and didn't finish up until a little after 4AM. He came about 6 or 7 more times (though not nearly as much as the first load, and his last time he lasted a good 8-10 minutes or so), and I must have cum about 4 or 5 times. In between, they took another shower together, then all three of us showered at the end. David and I washed her throughly, then she washed each of us, stoping only to go down on us. David left around 4:30, then Dawn took a hot bath (see picture), and then she and I went back at it until around 5:30AM. All in all, I'd say it was a very good night. David called this afternoon before he went in to work, and said he had a lot of fun. He asked if we could get together again. I reminded him of our conversation last weekend that if things went well, this would become an ongoing thing. I told him, "I think things went very well, don't you?" He laughed, and I knew he finally got over his anxiousness. We're set to hook back up Thursday or Friday night, depending on Dawn's work schedule.

**Sounds like you guys had a great time!! Thanks for the picture of her. Let me know when you guys do it again. I'll post your pictures and story soon. - Webmaster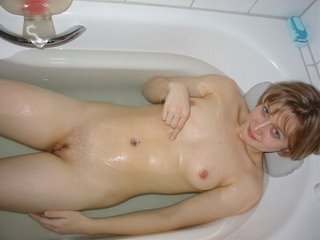 Yeah, I think he's going to work out just fine. David was off Thursday and spent the afternoon with Dawn until after I got home. She said he came a lot the first time again, but lasted a bit longer. I got home just in time for his last time inside her. I got her on top of him, with her back lying on his chest as he entered her. Dawn LOVES to get eaten out while being fucked. I finally got the rhythm right, and a few times my tongue touched him, but he didn't seem to mind. Dawn came like crazy at the end. You could tell he was surprised, but I wasn't too sure about how he felt about being "touched" by another guy. We're supposed to hook back up again tonight if David gets off work early. It didn't seem to deter him from coming back, so I guess he didn't mind. Dawn and I will discuss this with him later tonight (hopefully) when we're together. - Mike

Friday, May 25, 2007
My Wife Tina and Best Friend
Monday, May 21, 2007
My Wife on Vacation with Her Lover
Thursday, May 17, 2007
My Cheating Wife
Monday, May 14, 2007
Hot Wife Driving Hubby Crazy
Thursday, May 10, 2007
Alan's Wife Cuckolds Him
Monday, May 07, 2007
My Girlfriend 'Almost' Did!
Thursday, May 03, 2007
She Cuckolded Me From the Backseat!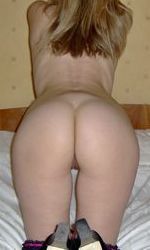 HotWife Janice
I spend alot of time online chatting with and then meeting other men
Cuckold Links

Blogs/Sites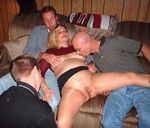 Cuck Images
I am listed on:
© 2004-2019 CUCKOLD VIDEO CLIPS