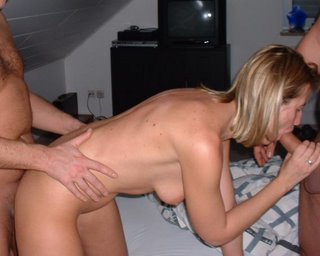 Hi everyone at your Blog,
Thought I would take a couple of minutes to tell you all about my Wife Sherry, my cuckold experience and what Sherry is doing right now. First of all, she is 39 years old, 5"7", a slim 125 lbs with brownish/blonde hair, beautiful blue eyes and legs that can wrap around you. We have had many experiences together. She has been cuckolding me for most of our 17 years of marriage, but until recently never in such a fashion as she is now. She has become obsessed with meeting men with big cocks and she loves it, as I do. She has fucked my best friend as well as some of my rivals, people I don't really care for and strangers she has met on internet dating sites. In fact, the picture I a sending is of her with 2 men she met online recently. Right now she is meeting for the first time a young, 28 year old latin man with blond hair and a 9", coke-bottle fat cock. She just called to tell me that she is walking with him to a motel on the beach in Delray, just south of West Palm Beach, Fl. She told me that she is going to have alot of fun this afternoon. Sherry loves to suck big cock while her lover is guiding her head as he pulls her hair. Then she likes to sit on top of his cock and ride him while his big fat cock stretches her pussy and hits her G-Spot producing what she describes as a truly deliscious orgasm that I could never reproduce. Anatomy 101. She told me that her pussy is so hot and wet that when she went to the bathroom she couldn't believe the amount of juices that her pussy was secreting, it was starting to run down her leg and between the crack of her ass. She told me that I cannot masturbate and that when she comes home she will feed me her creampie while she describes to me exactly what they did. She will tell me how much better a big cock feels inside of her and how she can't wait to get fucked like that again because I cannot please her the same way a big cocked lover can. Maybe later I will recount the experience for any of you that would like. I am so excited right now and can't help but feel the angst associated with knowing my wife, Sherry is getting the fuck of her life!
Bye for Now!
Dan
***Dan sent this in later on - Webmaster
Her note to me:
Hi sweetheart, well here I go again. I want you to know how very much I love you. I want to learn more and more about this "cuckolding" (?) so send me any information you want. I want to do it right. I LOVE to fuck other guys especially when I find someone I really want to be with. Someone who turns me on like today. I feel very lucky about how today went. There has only been a few that I thoroughly enjoyed being with. Some I guess I hoped it would end up being good, but if it doesn't happen from the beginning then it doesn't happen. Knowing that I don't think I will ever put myself in the position to feel obligated ever again. Today, I knew I wanted to fuck him after sitting with him a few minutes. I knew my pussy was wet the whole time we were talking. I loved fucking Michael the artist in. He had a big dick also. As for John, I enjoy being with him, I think it's because mostly that he has a girlfriend and I love to see him lose control with me. I doubt we will be together again, his weaknesses comes when he sees me and I don't see much of that happening. There might have been a couple others that I cannot think of now. But back to today, he was soooooooo BIG. It was great, bigger than I imagined it would be. What a difference in how it looks, and feels in my hand and my mouth compared to you. Having to work it into my pussy even as wet as I was. The whole experience of having a dick like that is great, I could become addicted to that...wanting it more and more. Experience different things, sex in out of the way places, anal sex, sneaking around sex, etc...I feel more and more comfortable with this than i ever have. I guess I finally trust you with it. I never could admit how much I liked it. But I do LOVE it and need to do this. I think it's rare when you finally find someone you really want to fuck and you can't wait to do it. I'm going to send him a note now and tell him how much I loved having his cock in me. I feel we have the ultimate relationship, I have all your love and devotion and you allow me to do this and you are ok with it. I often think how other women are so unfortunate not to have a husband like you. So, I really want to learn more and more and I want to be really good at this cuckolding, ok? I want to give you what you want and crave. I love you and thank you for allowing me to do this and to really enjoy it.
Love, Sherry
VISIT THE CUCKOLDING MECCA