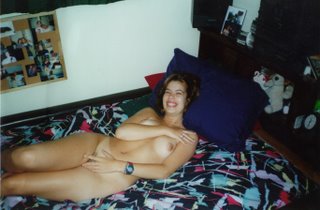 **This picture was taken the next day:
I've always asked my wife to dress sexy for my friend when he comes to town, but never expected her to go through with it. My friend lives in another state, is married and leads a busy life. Two or three times a year he comes down to visit us, usually without his wife and just for an overnight stay. We usually end up playing darts and drink till the wee hours of the morning. Every time he'd come to town I'd ask my wife to put on something sexy and join us in the basement to play darts. I even bought her an extremely tight thin cotton shirt that shows off her great set of tits and a pair of shorts that are so small half of her ass hangs out.
As expected, she usually ends up going to sleep without making an appearance. The day before Sam came to visit he celebrated his 35th birthday. I mentioned it to my wife and jokingly said what a great gift it would be if she actually put on the outfit and came down stairs for a few minutes. Sam came over, my wife hung out with us had a few drinks and decided to turn in for the night. Sam and I headed down stairs and the night continued as usual, we were playing darts and my hot wife was in bed reading a book. I ran upstairs and made another drink, popped my head into our bedroom and jokingly told her since she failed to get him a card, the least she could do was put on the outfit and join us for a few games of darts. Several minutes later to my surprise I heard the basement door open and down came my wife wearing her special outfit.
It was obvious she didn't stop drinking after we left her and was in a wickedly sexy mood. Her nipples were hard as a rock stretching the shirt to its limits. I was so surprised and excited she actually went through with it I meet her at the foot of the stairs and gave her a deep kiss. My hand, as it often does slipped into her shorts from behind and down to her pussy. She was soaking wet. I slid my other hand under her shirt and lifted it above her perfect 34C tit, exposing it to my friend.
She was great, looking unbelievably sexy and horny as hell. We played a few more games of darts and continued drinking like fish. When it was Sam's turn I'd stand by my wife and lift her shirt or pull her shorts down to distract my friend. The last time I tried that, I got carried away, turned her around so she faced him, pulled her shorts down, reached around and slid my fingers in her pussy. Sam knew, by her moans and my grouping hands the game was over.
My wife was still facing him with her eyes closed, me behind her with my fingers deep inside. The next thing I knew, Sam's pants were at his ankles and was guiding my wife's hand on his hard cock. He was just taking my wife without asking... and I LOVEd it! My wife turned around, with her shorts around her knees and put her mouth to my ear. Sam didn't miss the opportunity to group her ass and grind his dick between her cheeks. This guy was helping himself to my wife and not caring about my permission?! She whispered that she wanted him to watch us. I was about to explode, grabbed her hand and lead her up the stairs.
Sam followed closely with dick in hand, not letting go of her ass. When we got to our room my wife told Sam to turn the light on, get a chair and pull it up to the bed. I rolled my wife on her stomach, spread her legs and went to town. I wanted the night to last so I restrained myself from fucking her right away; instead I ate her, spread her legs and held a vibrator on her till she had exploded with cum.
She collapsed on the bed, legs spread and exhausted from the experience. My friends face was a few inch's from her ass, dick in hand and was ready to blow his load when he moved me over as he wanted a taste. My wife didn't move as I pulled her ass cheeks apart watched him lick up her juice. He buried his head as low as it would go and licked like there was no tomorrow. He looked up and told me to spread her ass which I quickly did. His tongue shot deep into her ass and after about 30 seconds inserted his dick into it!! My wife moaned with pain and surprise a the same time and was really intense. Within a minute he pulled out and came on her ass. Welooked out the window, the sun was rising; we realized it was early morning. He then stumbled out of our room to his bed. We haven't done it since, but my wife confessed to me when I'm at work, she's at home with the vibrator on her pussy reliving the night. - Jared
WATCH HOTWIVES ON TAPE