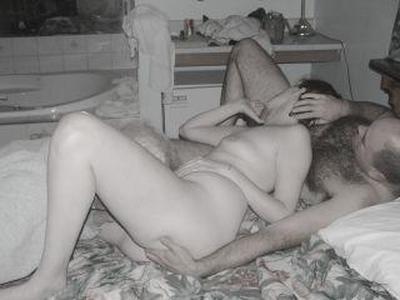 Hi - Please excuse my English as it is not my first language.
I don't like ass fucking but my wife loves it. She's virgin when we're married seven months ago. Before our marriage she'd some affairs and she let the guys fuck her ass. I don't understand why she loves a dick is going in out her ass instead of her always wet and horny pussy. A few times I fucked her ass but it's disgusting for me.
Two months after our marriage I told her I wouldn't fuck her ass anymore. Then she said OK, but some other guys would fuck her ass in that case. I was stunned what she said. We discussed it. Her last word was "Do it! If you don't do it let the others do it!" I didn't talk to her a week and we couldn't fuck. I suffered playing with my dick. I'm sure she did the same thing.
A week later I asked her if we'd make love. She said sorry. First it had to be her ass fucking by me or another guy then her pussy. I failed by going between her legs. A few days later I told her who might fuck her ass. She answered choose one. I couldn't know what to do.
Following evening I picked up a mid age guy and told him about my problem and he accepted fucking my wife ass. I called up my wife to get ready for a visiting friend of her back door. So we went home. I introduced him. She liked the guy. He's excited going to fuck a beautiful younger round ass. She'd already prepared KY. So he fucked her ass in front of me. I then take photos of the two of them on the bed. We exchanged our mobile phone numbers for the next meetings. Then I fucked her pussy. She's very excited seeing another dick and we both enjoyed making sex that evening.
A few days later we called the guy who came and fucked her ass again. After finishing fucking her ass he didn't leave and asked if he'd watch us. We accepted. He watched us without putting on his clothes back. It's more interesting than the previous night. After we finished making sex he started kissing my wife and sucking her tits and took her doggy position and fucked her ass again. This time it lasted longer. She enjoyed more. Then he left. We also made second round of pussy fucking.
Two days later when he's fucking her ass he asked me to enter her pussy at the same time. It's unbelievable how it's wonderful feeling fucking my wife's pussy while another guy's dick was pumping her ass. After resting for a while we did the same MFM again. She's moaning, yelling, screaming with pleasure. Since then we did it several times.
But one day when he was fucking her as while I was watching them. He pulled out his dick from her ass entered her wetting pussy with one strong push. So I couldn't stop him fucking my wife's pussy. It wasn't in our agreement. It's too late. He was already in her front door. She enjoyed it very much.
Following days he did the same thing and my wife didn't mind stopping him to fuck her pussy.
A few weeks ago he asked us if he'd bring his friend who loves ass fucking with his huge dick. I hesitated to answer but she said yes. Two days later he brought his friend. We weren't waiting a black guy. It's a real big surprise for us. She didn't mind. The first guy and took our ringside seats and watched them. In fact he'd abnormal big and fat dick. He applied lot of KY to his dick and her ass hole too. He entered her ass inch by inch. She's suffering with pain. I think she's also having some sort of masochistic pleasure. Then he increased his tempo and fucked her so good. She didn't stop screaming but asking him to go on fucking her ass. When they finished she was almost passed out. She rested for a while and the first guy told her that ass fucking for the night must be enough and he fucked her pussy before me. They left but I couldn't fuck her she's too exhausted.
Since then all principles are forgotten. They fuck her all holes as MF or MFM. Sometimes they ask her sucking my dick for MMFM. I didn't know my wife was so horny and hot enjoying with the three dicks in her all holes at the same time. But believe me she loves the black one the most.
Still I don't fuck her ass. - Jule
CUCKOLD PEOPLE