Cuckold Husband Video
TOP CUCKOLD SITES
Cuckold Pages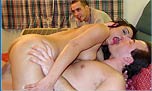 Please Bang My Wife
ARCHIVES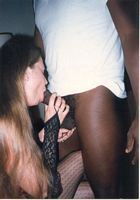 She Cuckolds Me
I am forced by my love to find men online to please her. - Wimp Hubby
Friday, August 29, 2008
Part 2 - Blowing kisses to White bulls
Monday, August 25, 2008
Interracial Reverse Cuckold - Part 1
Friday, August 22, 2008
Young Cuckolds First Time
Monday, August 18, 2008
Cuckold Wedding Anniversary.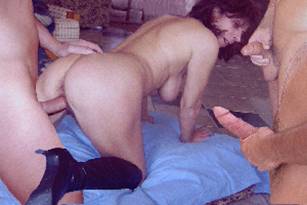 My husband wrote some time ago about our first cuckold experience that happened in Tahiti. Since then we have had a few other experiences. None of our experiences were planned, they just occurred naturally and spontaneously. We just accept each situation as it comes. If any sexual opportunity arises and we are in the mood to act on it, we do it. If one party is uncomfortable and does not want to act on it or go any further if already acted on, then we don't go any further. The following is gangbang experience that we had about five years ago.

My husband Mick and I were in L.A. My husband had to attend a conference so I went along as our wedding anniversary fell due during the week that he was to be at the conference. In fact it fell due on the last day of the conference.

On the evening of that last day a dinner was organized for the conference participants and their partners if their partners were in town.

At about 7.00 pm Mick came to the hotel straight from the conference to take me to dinner. I was ready and waiting for him. As it was a warm night I was dressed in a light colored mini dress and as I felt horny with the thought of having wild sex with my husband after dinner to celebrate our anniversary I decided not to wear any panties. In fact I hardly wear panties in summer, unless I am menstruating.

Mick had no idea that I was not wearing any panties. He gave me a hug and a kiss and said that I look stunning and that he would like to fuck me there and then. After all it was his anniversary as well so, I could not refuse him, I just bent over and he immediately noticed that I was not wearing any panties, he could not control himself, he had to take me there and then. He pulled down the zip of his pants, took out his hard cock and took me from behind. I loved it, it was a real turn on however, it did not last long as he was very excited and come in my pussy within a couple of minutes. I was left frustrated and horny but as we were running out of time, we could not do it again and he promised me to make up when we return that night. He wiped his cock with a tissue and put that now semi erect cock back in his pants. I also wiped his cum from my pussy, picked my bag and rushed out the door where the taxi had just arrived and was waiting for us.

While on the way to the restaurant we started kissing, Mick slipped his hand down the front of my low cut dress to play with my tits whilst I caressed the bulge in his lap. The taxi had arrived at the restaurant, people walking by saw nothing but as I glanced forward I noticed the driver's eyes in the rear view mirror looking up my legs as I sat back in the seat, I adjusted my dress, fixed my make up and hair and when the door opened I stepped out feeling great.

The restaurant was elegant, and most of the patrons were people from the conference. I did not know any of them as they were from various states. We sat at a table with another couple from Florida, Jack and Sandy. We had a couple of margaritas before our meal and sat down to eat lobster and wash it down with a nice chardonnay wine. Jack and Sandy left at about 11.00 pm and we decided to move to the restaurant bar and have a few drinks to celebrate our anniversary. There were only a few people in the bar as most of the diners had left to return to their hotels etc..

We sat at a table and ordered a couple of glasses of champagne. To my disappointment the house band was not playing that night and the only music audible was piped music.

It was not long before I was tipsy, loose and relaxed feeling horny as I could now feel some of my husbands cum running down my legs. I grabbed a paper towel and wiped the cum from the inside of my thighs and, as I was about to tell my husband what I was doing, I saw a man approach our table and greeted by my husband. He was handsome man, about my husband's age, though he looked a bit older. Mick introduced him to me as Peter the head of the New York operations.

Another man approached, a much younger man, no more than 20 to 25 years of age. Peter introduced him as his assistant, David.

As David and I were shaking hands another gentleman approached us and he was introduced to me as being John from Philadelphia

Mick explained to his colleagues that it is our anniversary. They all wished us a happy anniversary. Peter ordered bottle of champagne and asked if they could join us. I said that we would love their company and all three of them sat at our table.

I commented on how disappointed I was that the house band was not playing that night as I was looking forward to having a dance on our anniversary.

Peter said: "all is not lost, "I have rented an apartment here in L.A. as my wife would be joining me next week and we will be staying here for a month to do some work in our L.A. Office. In this apartment I do have music and plenty of champagne so If you and Mick would like to continue partying on, you are welcome to join us at my apartment, which I believe is only a couple of minutes away from your hotel."

"I said it would be nice, and looked at my husband. Mick replied, "Its fine by me."

Peter drove us to his apartment. I sat in the back with Mick and John whilst David sat in the front. John told us that he was married with two children and that his wife was back home as she had to take care of her sick mother. David told us that he has never been married, he had just finished college and that he had been Peter's assistant for some 6 months.

When we got to Peter's apartment, we settled into the lounge chairs and marveled at the city lights out the window. Peter brought out the champagne and poured it in the glasses and offered a glass to each one, starting with me. Peter raised a toast to us for our anniversary and every one wished us a happy anniversary.

I had a sip of my champagne and went over to the wall shelves were some music CDs were stacked. As I bent over to examine the CDs and while doing so I am sure I gave everyone in the room the most exciting view, my ass and pussy were exposed as I wore no knickers. Mick told me later that he was pleasantly surprised, He said that it turned him on to see my beauty been admired by these men, he took out his cell phone and took a pix of me bending over. (see pix below)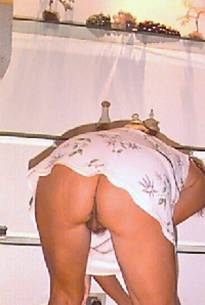 No one said a word. As I was bent over I felt a man's bulge on my ass and felt hands on my bare shoulders, gently massaging my shoulders and neck. I thought that it was my husband massaging my shoulders and neck but to my surprise when I turned around I found Peter touching me. He said how about an anniversary kiss and with out waiting for my response he bent down and placed his lips on mine and his tongue in my mouth.

To this day I don't know why I did not pull away. I responded, and responded more when he touched the front of my dress and held his palm against my breast. It was a long kiss.

Peter looked at his young associate, David and said to him "Go on, your turn, Give her a kiss for her anniversary."

I then heard Mick say "Yes, give her kiss,".

The young man blushed, I looked over at my husband, none of the men moved so by this time I was sexually excited so I walked over to the young man and wrapped my arms around his neck and kissed him, I slid my tongue in his mouth and slightly rubbed my belly on the young man's belly. I heard the click from my husband's cell phone camera and I knew that my husband was taking pics. My husband told me later that as my arms were raised around the young man's neck, my mini dress was also raised, semi exposing my bare ass, giving full view to John who was sitting at the other end of the room. (see pix below)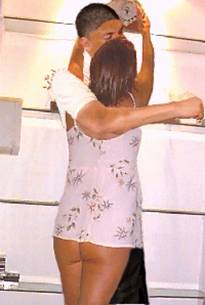 As I was tongue kissing David I heard my husband say "Now it's John turn, give him a kiss that he will never forget".

I obliged, I went over to John grabbed his head with both hands and pulled him tightly over my mouth inserting my tongue in his mouth, pressing my body against his.

Peter returned for more and pressed my body tight against his as our mouths came together. I felt fingers in the middle of my back at my shoulders. I felt the straps of my dress been slipped over my shoulders. It was my husband undressing me and as the kiss with Peter ended, and we let go of each other, my dress fell to the floor leaving me standing there with only my bra and boots. The fact that it was my husband that initiated the undressing encouraged me to do with these men, what ever I wanted. Mick's action was an indication that he had no objection to me fucking these men. I am also that his action also was indication to Peter and the others that they had his permission to fuck me if I didn't object.

Whilst standing in the middle of the room with my dress to the floor Peter reached out and undid my bra letting it too drop to the floor. He then palmed and kissed my tits. It was all surreal. I should have been shocked, appalled or at least surprised but, I was none of those things I was incredibly turned on and I was loving it.

I stood naked in the middle of the room as the three strangers took turns sucking my nipples, licking my pussy and kissing my lips. At some point I noticed my husband taking pictures, that too seemed somehow exciting. I was to busy being tongue kissed and fondled to notice a mattress that had been brought out from one of the rooms, covered with a blue colored sheet and laid down on the lounge floor.

The young man was first to take out his cock but only because his boss made him, I went down on the mattress on my all fours. David stood in front of me dangling his cock near my lips. His cock was still soft when I took it in my mouth but it quickly grew becoming long and hard. John too stood before me to get his tool sucked. Peter already had an erection and went straight too my ass. He spat in his hand and rubbed his saliva in my pussy. My pussy was already moist and with the additional moisture of the saliva. My pussy was ready and willing to take Peters large cock. Within a few seconds of Peter rubbing his saliva over my clit I felt this hard rod entering my pussy I went out of my mind it was a wonderful feeling. (see pix below)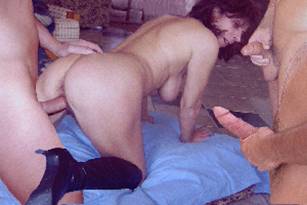 At that moment I heard the clicking sounds of my husband's cell phone camera taking more pics, and there we were, I was on all fours naked, wearing only my boots, surrounded by three strangers. One with his cock in my pussy and the other two with their cocks in their hands waiting their turn to have their cocks attended to, whilst my husband was sitting back on a lounge chair, stroking his cock with one hand and taking pics. with the other. It was then that I realized that all three strangers, as well as my husband, were going to fuck my brains out.
.
These strangers took turns fucking me and I loved every minute. I would close my eyes and try to guess which cock was in my pussy. My tits dangled and danced as each man shoved his tool up my pussy and banged his lap against my bare ass. I would open my eyes and see my husband sitting in the lounge chair, a few feet away from me, taking pics with one hand and stroking his hard cock with the other hand. I called my husband to come to me and as he came close to me I grabbed his hard cock and took it in my mouth whilst the young man was fucking me hard. My husband did not last long and came in my mouth whilst David was ramming my pussy from behind. My husband pulled out his cock from my mouth and grabbed John, pulled him over in front of me grabbed his cock and shoved it in my mouth and told me to suck that cock. "With pleasure" I responded and I continue sucking cock whilst David was fucking me. I had John's cock in my mouth and Peters cock in my hand whilst David was banging me hard. Both Peter and John were holding on a tit each. I moaned with pleasure as the young man pumped my juicy moist pussy. Loud moans were heard each time the young man's cock pushed forward.

The young man came first. He came inside me and I felt every drop of his spurt. It was Peter's turn to take me from behind whilst I was sucking Johns cock and whilst hubby and David were licking my tits.

Positions changed, I laid on my back on the mattress I bent my legs and, slightly lifted them up holding them at the top of my boots just below the knees. Peter took a hold of his large erect cock and inserted it in my pussy again. Peter was pumping my pussy with his cock when John and David stood over my head with their erect cocks ready for action. (see pix below)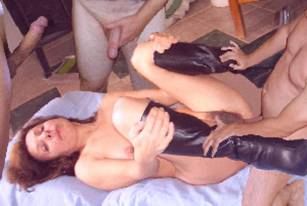 John and David kneeled down to me. John stuck his cock in my mouth and David started sucking my left nipple, at this stage I called over to my husband to come over to suck my other nipple. I love having my nipples sucked whilst being fucked. Peter was fucking my pussy hard whilst John had his cock down my throat and hubby and David were busy sucking my tits. It was a wonderful feeling. As I laid sprawled, legs apart on the mattress, Peter lost control, he could not hold on any longer, he just lost it, I felt it inside me, I felt every fabulous spurt of his cum.

I laid on the mattress sucking David's massive cock as my husband banged my pussy hard, his sperm added to the load already inside me and trickled from my slit onto the sheet.

John wanted a blow job so as he lay on his back on the mattress, I bent over his lap and serviced him, I worked the foreskin up and down his fat prick wetting his tool with my mouth and watching his lecherous eyes. Part hand job part blowjob, it worked perfectly, soon he was ejaculating everywhere, in my mouth, my hair, on my hanging breasts, I pumped and sucked him until his balls were drained.

The young man had another hard on, so he too wanted a blow job. So I took his gigantic cock in my hand, slowly pulled the foreskin back and started to lick the knob of that cock. Then I would slide it slowly in my mouth, inch by inch. I sucked and licked until the poor man could not hold it any longer. He came with an explosive burst of sperm that soaked my face and tits.

When I stumbled away from the mattress the sheet was soaked from the young man's gusher and from the sperm running from my crotch, I stood there naked, face and tits splattered, sperm running down my thighs, wet hair and make up a mess and my husband took more pictures.

Later when I stepped from the shower and whilst I was putting my dress on, I could hear the men laughing, reliving the evening in locker room language, their words cunt, cock-sucker, cum-slut, turned me on all over again, so I went over to Peter, who was the only one still naked, sitting on the lounge chair. I grabbed his semi erect cock in my right hand and slowly stroke it up and down. I bent over, put it in my mouth and within a few seconds it was very hard. The other guys, including my husband were watching with disbelief. They couldn't believe that after all the fucking I wanted more. But I felt so sexually charged that I wanted more. As soon as his cock was very hard, I sat on it with my back to Peter watching the other men, including my husband, watching me. I slowely lowered my pussy over the head of Peter's cock allowing that wonderful cock of his slide all the way in my pussy. I would move up and down Peter's shaft whilst David, John and hubby would watch every move I made. Peter and I simultaneously exploded into a wild orgasm. I felt Peters explosive burst of sperm whilst I was exploding in to an orgasm with my eyes locked in to my husband's eyes. I called out to my husband that I loved him very much and asked him to come to me to hold me whilst my body was gyrating. I took a hold of my husband's hand and rested my head on my husbands chest whilst my pussy was still full with Peters cock an cum .I stayed in that position for a few minutes until Peter's cock had gone soft and slid out of my pussy. My husband helped me up, grabbed my bag and said our goodbyes and left. Whilst out in the street waiting for a taxi I could feel all the cum dripping down my legs.

Goodbyes were brief even a bit bashful we all knew or, at least assumed this would never happen again.

As soon as we arrived in our room I removed my boots, unzipped my dress letting it fall to the floor standing there bare naked. That's when I realized that I had forgotten my bra in Peter's apartment. I jumped on the bed and grabbed my husband and said to him "Thank you darling for a wonderful anniversary and now it is your turn to fuck me."

Mick's memories of the events that had taken place only a few minutes ago were so fresh in his head that gave him an instant hard on and as I invited him to fuck me, he had no hesitation at all. He threw me on the bed, spread my legs apart, and shoved his cock in to my pussy that not long ago was the centre of attention to three other cocks, and said to me" take this, you slut", and pumped my pussy hard. I replied, "Oh yeah!!, fuck me harder."

Mick did in fact fucked me harder, in and out, in and out, until he came with an explosive spurt of cum. At the same time I exploded into a fabulous orgasm. I thanked my husband for a fabulous anniversary and we kissed each other and went to sleep.

I never saw my bra again nor have I seen the three strangers as my husband left that company shortly after the conference.
Mike & April aprilluisson @ hotmail.com
THE DARK CAVERN CUCKOLD MECCA
Thursday, August 07, 2008
My First Cuck Account
Monday, August 04, 2008
Lust in My Wife's Eyes
Friday, August 01, 2008
Young Cuckolds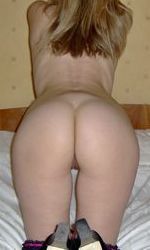 HotWife Janice
I spend alot of time online chatting with and then meeting other men
Cuckold Links

Blogs/Sites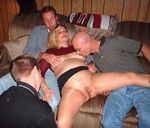 Cuck Images
I am listed on: