Cuckold Husband Video
TOP CUCKOLD SITES
Cuckold Pages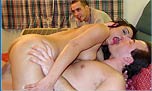 Please Bang My Wife
ARCHIVES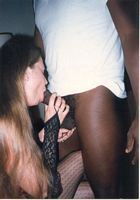 She Cuckolds Me
I am forced by my love to find men online to please her. - Wimp Hubby
Wednesday, November 29, 2006
I Love to Watch
Sunday, November 26, 2006
Finally got her to Fuck Another!
Friday, November 24, 2006
Her & the Bus Driver
Wednesday, November 22, 2006
Me, My Friend & Fiancee
Monday, November 20, 2006
Her First Time
Email Us ! - Send Us Your Wife Pics
Friday, November 17, 2006
Sharing My Wife
Wednesday, November 15, 2006
My Husband Watched
Last Saturday night was the Halloween party at a club we often go to. Not too creative on my costume ... a really short black wrap around skirt, white thong, Hooters t-shirt torn a little down the front, and heels.

As the night went on, Ryan (my husband) and I seperated, as planned. He bought a couple of drinks and watched from the bar as I danced on the raised stage-like thing they have at the edge of the dance floor. It's about 4 feet high with the dance floor on one side and a standing area with a shelf for drinks on the other. ... kind of like dancing on the bar. There are always guys, and often girls, standing there looking up. The girls dancing up there all try to out sexy each other. A couple of pairs of girls were making out as they danced. A girl with a skirt knows she is putting on a show.

I danced for quite awhile getting comments from many guys as I dirty danced and teased. Ryan was loving the show. Then I spotted a good looking guy standing back a bit but definitely giving me his full attention. As I danced, I ran my hands over my breasts, down across my belly, and briefly between my legs. Then I did a "come here" sign with my index finger. He moved over by the stage and set his drink on the shelf.

Once I had him close, I began a show especially for him. Others watched intently but, my moves were to make him hot. I ripped the shirt a little farther down, exposing move cleavage. I played with it showing more or less as I moved. Finally, I tied it up so that my belly was bare between the bottom of my breasts and the very low top of my skirt. The move he seemed to like best was when I faced away from him and bent over at the waist, hands on my ankles, girating ass aimed directly at him, and thong positioned so it looked like my butt was nude. I let him slide his hands up and down my legs as I did this. He could only reach to about my knees but it felt really good and turned me on even more.

After doing that a couple of times, I turned toward him and squatted and danced. The skirt was so short that he was looking at the thong which barely covered my front and conformed to every curve. I again motioned him in with my finger, leaned over, and told him to dance with me.

I climbed down from the stage and he met me on the dance floor. We danced in ways that looked like we were having sex on the dance floor. Rubbing and grinding and touching. As he leaned over and kissed me deeply, I took his hand and pulled him to an upper, less populated area of the club. There were a few tables and a few people there. I took him behind one of the tables where 3 girls were heavily involved in dancing with guys.

We again started the sex dance, This time, hands went to breasts and the front of his jeans and the front of my skirt. In a very short time his hand was under the skirt fingering me through the thong as we ground into each other. I leaned back against the table and raised one leg up and around his waist. He pressed the bulge in his jeans hard against me as he reached around and put his hand between my legs from behind. He then moved the thong to the side and, as several people kind of watched, inserted a couple of fingers into me. As we danced, he finger-fucked me and made me cum in a body shaking orgasm. I almost collapsed as he finished me.

When I recovered, I looked around and saw Ryan at a nearby table, with and a huge smile on his face. - Ann
WATCH COUPLES LIVE
Monday, November 13, 2006
Bride, Groom & Best Man Fuck
Friday, November 10, 2006
Cream Pie Surprise?
Wednesday, November 08, 2006
Her Black Lover
Monday, November 06, 2006
My Wife at a Party
Friday, November 03, 2006
My Wife on a Cruise
Wednesday, November 01, 2006
My Wife & Her Boss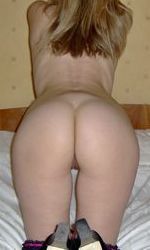 HotWife Janice
I spend alot of time online chatting with and then meeting other men
Cuckold Links

Blogs/Sites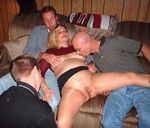 Cuck Images
I am listed on: