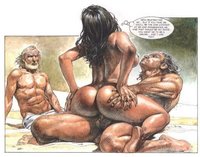 My wife has always had an exhibitionist tendency, probably left over from High school days when we had sex in risky places like parks and beach's. It always gave her great pleasure to be seen by other men while wearing little or nothing. She is a gorgeous woman, I always found her incredibly sexual. Lush brown hair and ample breasts with a heavy growth of pubic hair at the base of her belly. Her exhibitionism was always present, though, and what happened that afternoon far exceeded her usual limit. One late summer afternoon we had a young male friend come round to see us.
His name was Anthony and he was aged about twenty, just about ten years younger than us. We had a few glasses of wine while sitting in our secluded backyard. She had on a thin cotton top that was cut very low and exposed the white swell of her plump breasts. Her skirt was loose and summery, with printed flowers. She was in quite a mood, the wine had apparently gone right to her head. Jenny started to fool around and tried a little dance. She danced up right in front of me and reached down to grab the bottom of her skirt.
Slowly, she raised it up her waist, then higher, revealing smooth pale thighs then a tempting glimpse of white panties covering her ample buttocks. I think Anthony was quite shocked at the sight of Jenny's underwear. Jenny then started to dance, back and forth in front of us, swaying her hips to an unheard rhythm. Again she lifted the loose fitting skirt and the cheeks of her bottom came into view. Turning round slowly to stand directly in front of us, she hooked her thumbs into the panties and slipped them down to her ankles, then kicked them off on the grass. Then her hands took the lower part of her thin cotton tee shirt and slipped it over her head. Jenny then held her breasts with both hands suggestively, squeezing them so that the nipples stood out. Completely naked with a wicked smile, she stood with hands on hips, legs apart, showing her hairy bush. She looked at Anthony and he rose from his seat and at the same moment Jenny moved quickly,
pulling his jogging shorts down to his knees. His jogging shorts were down, but he was up, way up, his exposed penis sprang out. Standing at attention in a most needy fashion, Anthony was certainly well hung for a young man.
Jenny laughed at the sight then suddenly grabbed Anthony's tool. There are a lot of reasons I should have done something, of course, but at that moment, the scene was so erotic that I was unwilling to move and stop it. It was my sweet little wife that had brought this young man's cock to such an impressive erection.
Anthony's penis was magnificent, about eight inch's long with a shiny knob. The sight of Jenny's nudity had caused my member to twitch and grow stiff, it had the same effect on Anthony. I suddenly realized that Jenny wanted this young mans penis inside her pretty cunt. All these thoughts in a few moments, then Jenny growled and clutched Anthony, pulling him down on the grass. Her white thighs open ready to take his throbbing member. I saw her fingers about his thick cock, helping him to put it in her wanting hole. Oh my God, what a sight, Anthony was fucking my wife. I watched his buttocks as he straddled her naked body on the grass. Moving round to Anthony's rear I bent down and observed his rampant penis, now slick with Jenny's juice's and his full ball's slapping her fat bottom. Anthony's legs were apart with his toes digging in give my wife a good fucking.
My cock was straining against my shorts so I unzipped and pulled my cock out, slowly fisted my stiff shaft as I watched the strange exhibition. It is not every day that a man sees his wife fucked on the backyard lawn.
Then it was over, saw Anthony pull out as Jenny remained on the grass, legs apart with thick sperm running out of her gaping cunt. I helped her up and she put a hand between her legs holding her hand over her hairy mound and ran to the bathroom. Anthony babbled, thank you, see you soon, pulled up his jogging shorts and left. We often laugh about that afternoon in summer although Jenny is very quiet about it. Women never admit they have enjoyed themselves so much. - JMarsh.