Cuckold Husband Video
TOP CUCKOLD SITES
Cuckold Pages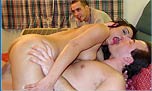 Please Bang My Wife
ARCHIVES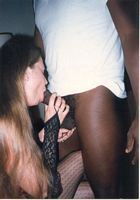 She Cuckolds Me
I am forced by my love to find men online to please her. - Wimp Hubby
Sunday, June 28, 2009
MiamiMark - My Bachelor Party
Thursday, June 25, 2009
More From Hot Wife Gina
Saturday night Hubby and I met Charles for some hot adult fun. He is twenty years younger than I and he has become a regular fuck buddy of mine. I'm enjoying fucking him very much. There's something about the eagerness of a young man—to taste your pussy, to fuck you, to put his cock in your mouth--that is really seductive. And I'm sure enjoying the seduction! Plus there's no expectations beyond the physical. We're respectful of one another and all but we know the only reason we meet is to fuck. He's not going to be my confidant or partner or anything like that. He's just going to be one of the young men who fucks me, nice and hard.

Hubby likes this arrangement too. He's a pretty assertive guy as well as a great lover. But it turns out he's a bit of a cuckold, loves the fact that I fuck lots of other men and loves to watch. To top it off he has no interest in other women. I can't complain!

This time we met Charles in a restaurant for a quick bite before going to his apartment. I love his apartment: a small one-bedroom with a large platform bed and couch in the bedroom. I told Hubby to sit on the couch while Charles and I got comfy on his bed. At first we just talked and joked around, three friends just hanging out. Except two of the friends were married and the wife was lying on the bed with the other man.

I was wearing a sleeveless top and Charles began to kiss the back of my arms. I liked that. I liked that a lot. I leaned back on his pillow and began to lightly stroke the back of his head. Charles began to kiss up my arm to my neck, to my mouth. God, this felt good, kind of like the way it did when I was in high school and making out behind my parents back. Except I was married and I was making out under the watchful and appreciative gaze of my husband. I parted my lips and welcomed the gentle probe of his tongue. He tasted good.

"MMM" I said as I felt Charles hands rubbing my thighs through my slacks. He began kissing down my neck toward my breasts. He reached into the V of my V-neck shirt and pulled my bra aside exposing my hardening nipple to his fingers and lips. He rolled my nipple in his finger sending an electric charge that seemed to stretch from my breast to my pussy.

"MMM" I moaned louder as he sucked my hard nipple into his mouth. I was getting hot very fast.

Charles rolled onto his back and pulled me so I sat on top of him. He reached up, pulled my top over my head and undid my bra exposing my breasts. I leaned forward while he began to suck hard on my nipples. It felt so damned good to have this young man feasting on my tits! I looked over toward my husband and smiled like a cat that ate the canary. I wanted him to know how much I was enjoying this. I couldn't wait to get completely naked so Charles could get at my now soaked pussy. We kissed a little more but then I broke it off so that we could completely remove our clothes.

Once naked I lay back down and Charles got on top of me rubbing his body against mine. I loved that. To be naked with a big young guy naked on top of me, his big cock getting harder from the friction of our bodies. We began to kiss more urgently while we undulated against each other. Hubby was getting quite a show from his wanton wife. But it wasn't really a show. I was hot, hot for Charles' mouth, hot for his hands, and hot for his stiff cock.

Charles started kissing down my body, across my belly and down to my pussy.

"Ohhh" I began to moan and writhe as Charles began to lick and suck on my incredibly aroused pussy. I loved the way he was eating me and I began to push down forcing myself onto his insistent tongue. I wanted as much of me in his mouth as possible. "MMM" was all I was capable of saying.

"God, I want to fuck you so bad" he said as he reached into the bedside table and pulled out a condom.

"Oh yeah, I want to feel that big dick deep inside of me." I said as he slid the condom on. I grabbed his rubber-clad dick and pulled him toward my pussy. He began to rub his dick against my cunt lips, teasing me with his cock.

"You want my cock in you?" he said.

"Oh yeah" I replied breathlessly.

"Like this?" he said as he pushed into me.

It felt so fucking good as he pushed all the way into me.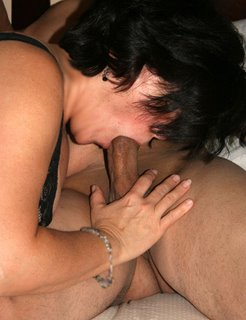 "Oh God, yes, like that." I moaned as he filled me with his nice big dick. I think I love that part the most, that feeling of surrender when a man first slides his cock inside, taking possession of my pussy--especially with my husband watching. I felt like I was letting him know "Honey, I love you deeply but that doesn't mean my pussy is just for you." And the way Charles was fucking me—there was just nothing to do but to open up and welcome it, letting his cock do wonderful things to my pussy. I wrapped my legs around him and began to fuck him back.

"So good" he said as he began pounding into me. All I could do was moan louder and louder.

My orgasm began to build as Charles started pounding into me faster and faster.

"Oh yes! Oh God yes!" I screamed as the wave of my orgasm washed over me again and again.

Charles hadn't yet cum.

"Can I do you from behind?" he asked while still sliding his dick in and out of me.

"Of course" I told him and then turned over and got on all fours.

"Your pussy feels so good." He moaned as he began fucking me doggy style.

"Good" I grunted. "I want to feel you cum."

Charles began fucking me frantically, all the while saying "Oh, so good, so good" until he tensed and came.

Charles collapsed on top of me and lay there for a while. Then he got up and went to the bathroom. Hubby got into the bed with me and snuggled close.

"Did you like that honey?" I asked him.

"Oh yeah." He said "how about you?"

"God it was great" I replied with a big smile on my face "He fucked me sooo good".

Charles retuned from the bathroom and got into bed on my other side. I snuggled between my two men. We lay there for a while and chatted, both Charles and hubby lightly caressing me. I was in heaven. After a while Charles and hubby began kissing and sucking on my breasts. It felt great. I reached over and began to lightly caress Charles cock. It started to come alive.

Charles began kissing me and rubbing my still wet pussy as hubby started kissing my body down and along my legs. As hubby lightly kissed my legs, Charles was passionately kissing my mouth as he finger fucked me. I opened my mouth and sucked on his insistent tongue. This was so hot I began to moan from all of the erotic attention.

"Would you take me in your mouth?" Charles asked in a hoarse voice.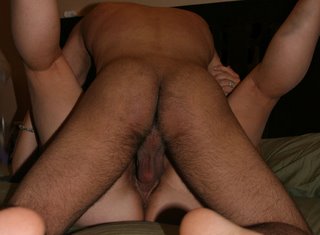 "Absolutely" I said

I got on all fours and began to kiss and suck his once again stiff cock. He loved it.

"Oh yeah, your mouth feels so great. Suck it, it feels so good" he moaned.

Soon I felt hubby rubbing his stiff cock up and down my wet slit. This was new! I had never felt two men at once. I immediately began to moan as hubby slowly slid his stiff dick inside of me.

I was in ecstasy! I had Charles dick in my mouth and hubby's cock deep in my pussy. Any ladies who are reading this believe me, you MUST try it. To have two men hard and deep inside of you--it is the most erotic feeling you will ever have. I began to moan, my mouth stuffed with Charles' cock as my second orgasm of the evening swept over me. It must have felt good for Charles too because within seconds he stiffened and then shot a big load of cum into my mouth. I happily swallowed it all.

Soon after we left and headed home. Of course hubby was all over me and he fucked me to yet another orgasm.

Needless to say, we will do this again, and again, and again…
gina19602 @ yahoo.com
CUCKOLD LIFESTYLE
Sunday, June 21, 2009
Lisa Seals a Deal
Thursday, June 18, 2009
While Hubby is Away
Sunday, June 14, 2009
Alyssa's Cuckold Husband
Tuesday, June 09, 2009
MiamiMark - My Friend in My Bed
Sunday, June 07, 2009
Naughty Selena
Thursday, June 04, 2009
Alyssa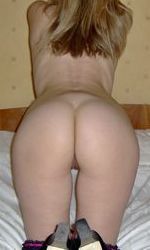 HotWife Janice
I spend alot of time online chatting with and then meeting other men
Cuckold Links

Blogs/Sites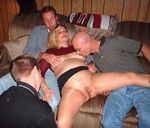 Cuck Images
I am listed on: