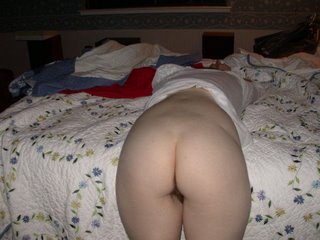 Hi Blog Readers,

This is about me & my wife Janet. Recently she got a new boss at work, Ray. The first day she met him she came home and told me what a old fashioned creep he was and she was going to miss her old boss ( who was a female). The next few weeks she progressivly got more and more vocal about her dislike for him, calling him a gorrilla and saying he had hair on his arms that could make a rug. Ray seemed determined to make a name for himself with the company, because she also was required to work more and more overtime to get projects completed ahead of schedule.

It was about the third month of his employment that she came home late wednesday and was very quiet, no complaints or comments, but she was visibly uneasy. I asked her how her day went she shrugged and said it went ok. The rest of the week she didn't have alot to say after work.

On friday Janet came home around 8pm and immediately went to get ready for bed. Janet surprised me by calling me into the bathroom and asking me to trim her bush, I was in heaven. I was happy at what seemed to be a spark of eroticism on her part since she was normally a bit conservative. I trimmed her bush to a nice sexy length then shaved her bikini lines just a little bit narrower than her norm. In the bedroom she surprised me again by kneeling down and giving me a blowjob, something she normally avoided and had only done a few times in 15 years, and never before the lights were out and we were well into foreplay. I came quickly and pushed her onto the bed to return the favor, she was very wet and swollen, she ground her hips into my face with a passion she had never before demonstrated. When she came she clenched her thighs on my head and rocked, I was suprised to find she actually seemed to cum on my face, I mean I was soaked with her juices, they seemed to run out of her like honey and I greedily licked them up. Both of us satisfied we went to sleep within moments. Saturday and Sunday night were filled with more oral sex, but she didn't repeat the gushing orgasm. I didn't get to the screwing part those nights either but was completely satisfied.

On monday Janet came home at what was now her normal time, but was really 2 hours later than under her old boss. When I asked her about her day she seemed in a good mood and said things went well and that Ray was really getting things done around the office and had been promoted, and that she had gotten a big raise and moved along with him. Tuesday she came early and said she wanted to go to the mall, I agreed to go with her and followed her around as she bought some new clothes, new hose and lingerie, instead of her normal conservative nylon underwear she got some really sexy french cut and even a couple pairs of string bikini type. Janet looked at me with a sly grin and said if I was a good boy I might even get to see her in them. I was in heaven because I had secretly always wished she would dress a little more sexy.

I was now used to her working late and really was enjoying the extra time to cruise the internet. This was one week since our sex life had greatly improved and I was looking forward to a friday night screw with my newly erotically inclined wife. Janet didn't come home until 9pm and I was just getting worried when her car pulled in the garage. When she came in she was disheveled looking and I quickly realised she had been drinking. Janet slurred out a apology and a excuse about having too much wine with her dinner. As she walked up the steps to the bathroom I couldn't help but noticed her hips swaying sexily, I was so horny I couldn't wait to get her in bed. Upstairs Janet immediatly knelt and fumbled at my pajamas for my cock, hungrily she took the whole thing in her mouth and licked its length.

I was thinking how good she was getting at this and the fact she didn't even gag, when she let it slip from her mouth and teased drunkinly , asking "is that all you got?" Janet immediatly went back to work and the feeling of her taking my whole cock into her mouth sent me right over the edge as I shot a load into her mouth . Janet stood up and pointed to the bed, I layed back and watched her undress, she let the dress drop to the floor and I was stunned to see she had no panties on. Janet climbed on top of me but faced away from me nd began sucking my newly revived cock, her pussy was swollen and she backed it right into my face, I began licking her in earnest and was surprised by how wet she was, Janet orgasmed loudly and sat up grinding her sex into my face, she came and came, once again gushing cum as she had last friday night.

My once conservative wife collasped half on her belly into a drunken stupor and I sat amazed at the change, I was hard as a rock again and decided I would get my rocks off anyway, when I entered from behind she was wet, hot and very loose. I came almost imediately and went downstairs for a beer, there on the bar sat Janets open purse, inside I noticed a picture on her cell, it was of a man who was standing over an ass I well reconized, in the fore front was a very hairy belly with a thick uncircumcised cock. I just sat there and stared at the photo, I couldn't believe my wife was doing it with another man, let alone one with a thick cock like the one in the picture, how could I compete with something like that? I decided I couldn't and that if I wanted to keep my wife I should pretend I didn't see the picture.

The next morning when we awoke Janet acted normal, over breakfast she suddenly remarked, " Oh I asked Ray to stop over this evening, I thought you two should meet and maybe you two will hit it off, you know do guy stuff". I was shocked not only was Janet screwing her boss but she wanted me to hang out with him? When Ray arrived he was everything she first said about him, his arms were very hairy and there was a thick tuft of hair sticking out of his shirt, which had the top two buttons undone. he had a square jaw and a heavy brow.

I tried to make small talk while my wife was in the kitchen, Janet brought us a couple drinks, me a beer and Ray a burbon on the rocks. This is a nice place you two have, will you give me the tour Jan? My wife looked back over her shoulder as the decended into the lower family room, " Alex, will you start the charcoal? I have some steaks in the fridge". I was outside on the back patio, filling the grill with charcoal when I saw a shadow move across the window to the lower area of the house. Feeling foolish I peeked through the slit in the curtains, there in front of me was Janet, firmy held in Rays arms, her breasts crushed to his massive chest, deep into a lovers kiss. Janet slid to her knees and , glancing at the kitchen door she undid Ray's pants and released the thick meat I had seen in the picture. My wife licked and sucked at it, forcing it into her dainty lips. Ray grabbed her hair and proceeded to fuck her face, I couldn't help myself I became very aroused by the scene unfolding through the crack in the curtains.

I quietly slipped around to the patio door and entered the house from the opposite direction I had left. There was Janet, bent at the waist,her dress around her hips, panties at her ankles, and Ray was about to slip his cock into her from behind. Janet groaned as it stretched her open, but she pushed back onto it with a eagerness that said she knew that thick cock well. I took my own meager cock out and began to jack off. Ray looked my way and startled, then he recovered when he saw what I was doing he motioned for me to come closer. As I decended the stairs they creaked, Janet jumped and stood up,looking frightened. Ray whispered, "Its ok Jan, your husband seems to like the show".

My wife saw my hard cock in my hand and allowed Ray to bend her back over (btw, the picture attached is one she actually sent him the next day as a reminder), as our eyes locked. I shifted my gaze to the point where Ray's cock was once again pushing into Janets slit. Janet groaned and pushed back at him, when I looked at her face she had her eyes closed in ectasy. My wife opened her eyes and looked at me, she began pushing back to meet Ray's thrusts, they got into a rythm and Janet shuddered in orgasm. By this time I was mere feet away as Ray grabbed janet by the hips and drove savagly into her over and over, Janet shook and her knees buckled, Ray supported my wifes limp form and with a great groan of pleasure pushed deep into her and held her in place.

I came in a long stream that hit Janet in the face, when Ray pulled his thick meaty cock from Janet's slit, cum immediatly ran down her legs. Janet sunk to her knees and smiled up at Ray then looked at me. "Oh god Alex, I am so sorry, I can't help myself. Its always like that, I have never had orgasms like those before, and now I cant get them enough".

Later in the evening, as Ray was leaving he shook my hand. Thanks for everything Alex, Janet will go far with me at the office

and I look forward to visiting you two ...often. - Alex
***OK - FOR FREE CUCKOLD VIDEOS.
FREE VIDS - CUCKOLD CREAM - It's free while still in testing mode. You need credit card verification for age (like ebay did) and then you get instant access. HERE to see them. - webmaster