Cuckold Husband Video
TOP CUCKOLD SITES
Cuckold Pages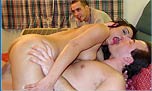 Please Bang My Wife
ARCHIVES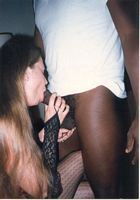 She Cuckolds Me
I am forced by my love to find men online to please her. - Wimp Hubby
Sunday, May 31, 2009
Reese Cuck training. Her fiancé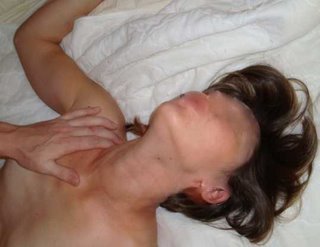 Wow this is too good to be true. Reese and I have been playmates for almost two years. You may recall we do almost anything together or our hearts desire. Just two very sexual open people. Well during this time she has had a fiancé and he didn't have a clue. Well as expected the cat was let out of the bag when he found an e-mail. The shit hit the fan at least I thought until he said. Babe I love you no matter what you do. Please don't leave I want to meet this guy (Me).

Well a meet was arranged and Reese and Johnny greeted me warmly. Evidently they talked things out and he was curious as all hell and wanted to meet and talk to me. We talked about how sexual Reese is and how turned on he got after the hurt and confusion were gone. He and I chatted at length and we became friends. All the while Reese listened and encouraged him to speak freely. It seems that he has all these pent up fantasies and he never let them out. Reese looked at me and we grinned. She looks at Johnny and says I want some really hot pictures of us fucking so when you're not around I can look at my photo album and rip one off to our hot pictures.

I said lets do it Johnny I'll take pictures of you fucking. Reese pipes in and says wait big guy when he is spent it will be your duty to continue. I looked at Johnny and said how do you feel about watching me fuck Reese while you watch and take pictures. He responds without hesitation …That's hot let's do it. We have set a meet for a few days from now.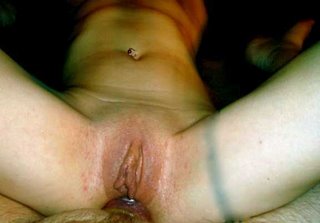 Second meet.

The time arrives. I run an early errand with a family member and go to the hideaway. I arrive at 11:30 in the morning and it is moments after the couple of Reese and Johnny arrive. I chat a little and we drink some coffee. I excuse myself to pee and when I return Johnny is spread eagle on the bed tied with bungee cords naked and Reese is sucking his cock. Like a woman possessed.

She breaks off the momentum and says take some pictures. I start snapping away and he blows his load to the ceiling and she takes most of it and swallows.

She leaves him tied up and comes to me and starts kissing me so Johnny can see. She asks him how he likes it and he says it's hot but if feels peculiar. Now remember this guy is still restrained. Reese tells me to get on my knees and presses her beautiful flush with passion pussy and clit against my face as he watches. Reese starts to shudder and sees Johnny is starting to twitch to a second erection. I resume my picture taking and watch her impale herself on his now rigid cock for round two.

She goes into one of her orgasm trances while she is riding and rocking on Johnny.

Her eyes roll back in her head and she mumbles more give me more.

She rocks till she shudders and twitches in orgasm. Johnny erupts inside her and he is spent. Reese is just getting started, She tells me to put my head on the edge of the bed. She mounts my face and …aahhhhh a fresh warm cream pie. Leaking into my mouth. I lick it all up all the while tongue wagging her clit until she starts to shake and shudder. Now All I have been doing is taking pictures and I am hard like penitentiary steel. Reese gets on the bed next to Johnny on her knees doggie-style and says to me 'fuck me and fuck me good. Johnnie watch this.' I start slow and with her encouragement I am pounding her. She erupts into orgasm and I can feel her insides start to gush with lubrication. Johnny's eyes are popping out of his head and loving it. I don't cum but dismount when Reese sees Johnny starting to stir with a third erection. Oh to be younger. She grabs the lube and puts it between her ass cheeks. And says watch.

She gets on top of Johnny, still restrained and starts to rub his cock between her ass cheeks. It is just like fucking but no penetration. She flips to reverse cowgirl so Johnny can watch his lover manipulate his cock. She looks at me and says "isn't this what you wanted". She lifts up and slides the normal size cock right into her perfect ass.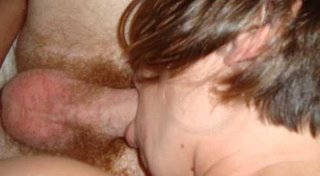 She tilts back so I can see her pussy with that clear view of the cock in ass. She then proceeds to rock on his cock and says cum eat my pussy. Obeying as I should I put my face between her legs and start to lick her cunt while she ass rides Johnny's cock. Johnny releases load three in her ass. I am still on load one. She unties Johnny and says Johnny you watched him fuck me now watch me fuck him. He starts taking pictures and she puts on a strap on with a huge cock. She starts to insert the dido in my ass and is stroking my cock underneath. She puts both hands on my ass and fucks me good. I tell her I am going to cum big time. She pulls out and says cum in my mouth. She says Johnny cum close and watch this. I spray her face, mouth and she makes him kiss her so he is getting some of my fluids. A first time for him.

Well we were exhausted and we cleaned up and chatted for a while. Johnny thought all of it was very hot.

Wow was that ever hot. We leave and she winks at me and says see you tomorrow.

Third…The big surprise

Well I guess Johnny is having a birthday soon, Reese wants to treat her man to something special. It seems Johnny has an appreciation for Chocolate as in women of color. Reese asks me for my help to find a pretty "sister" to join Johnny for his birthday and fuck his lights out while she watches. Then she mentions, if she were Bi sexual and a hottie she would love it even more. I pipe in and say WOW what an opportunity to make a photo album so you can have a nightstand album to masturbate with when one of you is busy or out.

Well I looked high and low and found Lala. 25 years old half Black and Half Jamaican. She was Bi sexual and Playboy body and face material. I approached her after we met and she too was an open sexual being. Her response was something like "fuck ya let's do it. Will you take pictures for me to save" Life couldn't be better…but it does get better. LaLa is a strap on queen. She wears a strap on so much you would think she is a trans-sexual. (lol) I arrive the next day and Johnny is puzzled not knowing what will happen for his birthday.

Well he walks in with Reese and I am sitting there with LaLa and kissing her with my hands on her luscious breasts. I stand up and say HBD and this is your gift from Reese.

He is awe struck. Especially after yesterday. He is taken by the hand into the BR and LaLa strips him naked and they fuck like teenage rock stars. Reese and I are just talking and listening to the noises in the LR.

Well eventually LaLa walks in our room naked. She walks up to Reese and kisses her passionately and says come with me. They go into the BR and get on the bed with Johnny. LaLa and Reese are game on. Imagine the most beautiful lesbian lovers going at it passionately and that's what it was. I have a big bone and Johnny is awe struck. We both get hard on's and we fuck both the woman. LaLa puts on a strap on and fucks Reese while we watch. What a beautiful day. Another fantasy lived and done with. Wait there is a fourth surprise. Only had to wait two days.


Fourth Surprise

Reese is very Bi and I found her a new playmate. I met Susie at a social event and we hit it off. We went to her place and she is very hot. She is another version of Reese and loves to fuck. The only difference is she is into anal orgasms as well as fucking like a crazed woman. She told me she was looking for a woman playmate and is hungry for a new gal. I relayed the information to Reese and we arranged a meet.

Well not knowing what would happen but understanding both women. I brought Suzie to Reese to meet etc. I excused myself to the men's room and when I returned in a matter of minutes they were kissing passionately and removing each other's clothes. In what seemed like a flash they were groping and getting ready to devour each other's pussies. Licking grabbing and finally laying down on the bed and full on 69, both were very hungry. I had a huge cock in my pants. But this time it was about the ladies. I grabbed the camera and put out the strap on for Reese. When she found out Suzie was an anal girl she went nuts and was going to go for the ass and pussy. She is fingering and licking like a woman possessed. Suzie says taking a breath "put that on and fuck me good". Well that is all it took. In a flash Reese had the big unit strapped on and was fucking the pussy in a matter of minutes Suzie lifted her bottom and legs and the big strap on slipped right into the anus (missionary style). Suzie gasped and started to ride like a cowgirl and rubbing her clit like a mad crazed woman. She started to cum again and again. Reese was getting tired so she dismounted and sat on her face to be eaten. In a deep breath and then Reese says "Well are you going to fuck us or do we have to fuck you." I said to both let's do this.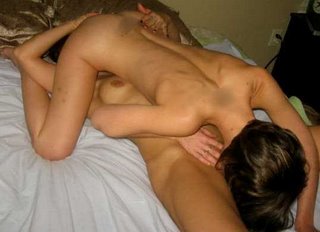 Well in this situation there just is never enough dick to go around. I fucked Suzie and then let Reese watch me as I slipped it into her ass slowly. Reese went nuts and said switch to a position so I cal lick her pussy and your cock and balls all at once. We did just that and while Suzie was rocking cowgirl on my cock in her ass. She leans back and Reese is licking my root as I fuck Suzie Licking Suzie's Pussy and fingering my ass at the same time. It was too much for me. I withdrew from her ass and unleashed a torrent of cum like I didn't know I had.

The ladies rested smoked drank and then started tenderly nibbling at each other for a complete round two. Enough time passed and I was rock hard again. Reese asked Suzie if she wanted to do me with a strap on. This is something Suzie never did before and said yes right away.

Reese got Suzie started in doggie and then Reese came to my head and spread her legs for my mouth. All the time Suzie is fucking me with a strap, milking by cock and I am eating Reese to orgasm. I couldn't take it and I unloaded while Suzie was milking and fucking me. Then I ate Suzie to a big O. Well all said and done three hours had passed and I was spend and a good cuck and facilitator. Suzie is now my new playmate and Reese is staying closer to home with Johnny. What great fun. I am a lucky guy that has a great life.
jewels1600 @ cox.net
THE CUCKOLD COMMUNITY
Thursday, May 28, 2009
How I First Found Out
Monday, May 25, 2009
I'm Waiting for Her to Come Home
Thursday, May 21, 2009
MiamiMark - Cindy Club Hopping
Sunday, May 17, 2009
Wife and A Black Cock
Thursday, May 14, 2009
More From Brad & Cindy
Sunday, May 10, 2009
A Happy Cuck
Thursday, May 07, 2009
My First Time Being Cucked
Monday, May 04, 2009
More From Hot Wife Gina
Friday, May 01, 2009
I Cuckolded Him I Guess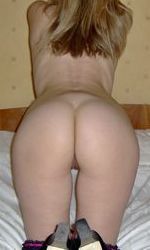 HotWife Janice
I spend alot of time online chatting with and then meeting other men
Cuckold Links

Blogs/Sites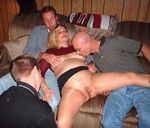 Cuck Images
I am listed on: