Here are some pics of my wife, the guy we picked up and I from last month. My wife and I recently turned our marriage into a part time cuckolding one. She really likes having the sexual attention of two men and says it is the ultimate turn on, especially if it's someone she has picked. About every other month she gets in the mood and wants to go to a club to seduce some guy for a threesome. I love watching her getting her fantasy fulfilled and love watching the reaction of the guys she seduces too. Most of the time she goes in alone and then I join her after about 45 minutes after she's picked her guy and gotten his interest. By the time I walk up she's already grabbed his cock a few times and probably kissed him a few times, then I walk up and she doesn't even attempt to take her hand off his leg or stop cuddling up to him. I usually say something like "I see you've already found somebody you would like to fuck tonight" and after that its easy to convince him that everything is cool. Sometimes we end up at the other guys place, sometimes a motel and sometimes just fucking her in the parking lot in our van. But she always gets REALLY hot and wet during the sex and then afterward when we get home she'll want to fuck me a couple more times with even MORE energy from being so turned on. What can I say, I love watching her get so hot and I LOVE the great sex I get from it all too! - Sheldon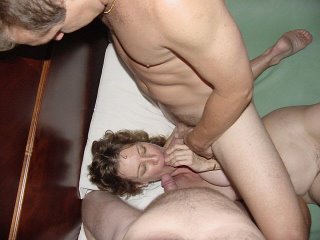 BLACKS ON BLONDES

Here are a few pages set up with some great angles of cuckold pictures and hot wives with thier lovers, and with thier husbands watching or taping it. Look for this in this blog every so often as I come across more. - Webmaster
PICS1
-
PICS 2
-
PICS3
-
PICS4
-
PICS 5

This is Part IV of MiamiMark's cuckold stories with his ex-wife and current wife. Mark is a young husband in his 30's who used to write and tell me about his wife's adventures and how he helped set them up. He then wrote them out and posted them in forums. I have his first : <<
READ MARK'S STORY HERE
>>
CUCKOLD POST ""Hi, we have been going out once and sometimes twice a month and have been very successful meeting men for my wife to put on a show for and fuck.... It has really been a turn on. We require the use of condoms. If the guys don't hit on her, generally have to walk over to a guy or guys who are eying her and ask them to join us... We don't pay for any drinks, the room or condoms... and they get a great show and great fuck.. I usually take turns with the guys - r&r" "

FREE INTERRACIAL PORN
- This is not a gimmick. There is a website that gives away free interracial porn and all you need is an email address to sign up. No financial info needs to be given at any time. To get more information on how to start watching it within minutes,
CLICK HERE
.