Cuckold Husband Video
TOP CUCKOLD SITES
Cuckold Pages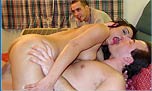 Please Bang My Wife
ARCHIVES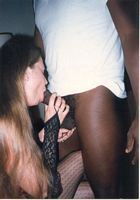 She Cuckolds Me
I am forced by my love to find men online to please her. - Wimp Hubby
Thursday, June 18, 2009
While Hubby is Away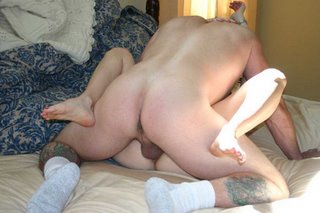 We know it has been a long time and we wanted to update everyone on what we have been up to. My wife is away for a fuck-fest week and I am home along. We are now settled in our new house, we have had some time to look for fun. A married man that was looking for a little fun on the side approached us about a month ago. Here is what my wife wrote about him -

I chatted with this man for a bit and planned to meet him for lunch. We clicked and agreed to go forward with our relationship. Both my new friend and my husband wanted to meet each other before things turned sexual. They met for drinks later that week and my husband brought him home to me.

I was waiting for my men in black lingerie and a smile. After saying hello, I directed my husband to take his time fetching our guest a drink while I properly greeted him. We kissed briefly before I asked him to undress. Once he was naked, he approached me and wasted no time getting me naked as well. He thanked me for wearing something sexy, but said he did not want to wait any longer to see me in my entirety.

He took my left nipple into his mouth and sucked it roughly before he bit it causing me to whimper. He must have enjoyed my muffled moan for his cock responded by leaking precum onto my leg. When he stood, I circled around him licking the back of his neck and let my hands explore his chest. I found his nipples and gave them a quick squeeze before letting my fingers walk their way down his tummy and around his thighs. I ran my fingernails around to his ass and up his back before giving him one more kiss on the back of his neck.

Standing in front of him again we passionately kissed taking more time to let our hands wander. More precum found its way onto my leg and I had to have a taste. I pushed him down onto my bed and took the head of his cock in my mouth, sucking all the precum out of it that I could. I lifted my head and asked if I mentioned how much I love precum.

He smiled and said I neglected to say that in our initial luncheon interview. I smiled, lowered my head and started licking his inner thighs, balls, and eventually his cock. This is the position my husband found us in when he entered the room – our friend was lying naked on our bed and I was bent over, bare assed sucking his cock. My husband watched me take my time from his position on a chair. I love to play, so I never allowed my friend to get too excited.

I like my men to produce lots of precum so I bring them to the edge, let them calm down a bit, and then take them to the edge again. My new lover appreciated my efforts and asked if he could return the favor. I wanted to finish him off, but he insisted that he was ready to please me.

I stood, winked at my husband and climbed onto my bed. My new friend has his tongue pierced. I've never been with a pierced gentleman before. I was excited and very curious. He licked and sucked and it all felt very good. He must have taken a page from my playbook as he did not stay with one technique long enough to allow me to cum. Eventually I was so revved up that I orgasmed anyway.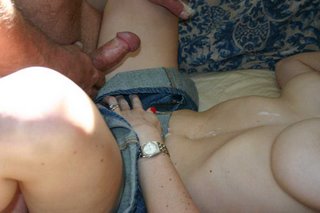 My husband loves to see and hear my orgasms. I did not let him down. As my orgasm built my moans grew louder, my legs quivered more and more until I was crying out and had to grab my new friend's head to get him to release my over stimulated clit.

My husband was rock hard when I looked over at him. I asked if he was enjoying the show, but didn't wait for his answer. My tongue was already licking my juices off our new friend's lips. I reached for his cock and found that it was still growing so that I was able to rub it all over my wet pussy. From my husband's vantage point he was unable to tell just how far I was taking things.

He thought I was fucking this guy bareback. I wasn't, but I was ready to be filled. My new friend put a condom on and mounted me. He switched into a few different positions before I asked him to try something new. I had him lie on his back with his legs hanging over the side of the bed. I climbed on top in a reverse cowgirl and instructed my husband to come lick both of us. He was more than happy to oblige.

I enjoyed this position, but it wasn't enough stimulation. All parties wanted something a little more hard-core. Our friend suggested my husband have a go and he jumped at the chance. I lied down with my head close to the edge of the bed and my husband was quick to enter me. Our friend watched my husband pump his cock into me from afar until I beckoned him over.

I grabbed his cock with my hand and guided it into my mouth. I continued to suck his cock and get pummeled by my husband until I was instructed to suck his balls. I shifted position so that our friend's balls were over my face and began to lick and suck. I felt my husband change position and soon realized he was sucking his cock. Our friend's cock grew hard quickly and as soon as he was throbbing I had my husband dismounted allowing our friend to take me again.

It wasn't long until our friend was ready to shoot. He asked where he should deposit his load. I told him to cum all over my pussy so that my husband can clean it up. He willingly obliged. Lying on my back I felt warm cum hitting my clit and lips, followed by an eager and almost rough tongue.

He licked every last drop off of my pussy before thrusting his cock in me again and again. The night proved over stimiluating as he only lasted minutes before unloading his seed deep within me.

I believe we will all see each other again very soon. I have more things I want to do. - pittsbghcpl @ yahoo.com

PEOPLE'S HOME CUCK CLIPS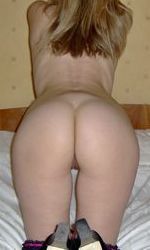 HotWife Janice
I spend alot of time online chatting with and then meeting other men
Cuckold Links

Blogs/Sites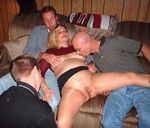 Cuck Images
I am listed on: