Cuckold Husband Video
TOP CUCKOLD SITES
Cuckold Pages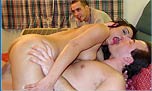 Please Bang My Wife
ARCHIVES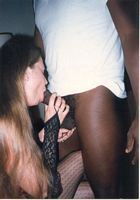 She Cuckolds Me
I am forced by my love to find men online to please her. - Wimp Hubby
Thursday, July 03, 2008
Last Night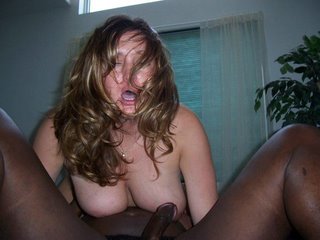 Hi Everyone,

I'd like to introduce my wife to you all. We started cuckolding not long ago but fantasized about it for years. She was finally ready and we went out last night.

We met up with a stud that we found online and went to his place after meeting him for drinks and talking, getting to know him etc...

After some more drinks at his place and some general chit chat, and then a few more appletini's my wife was getting loose. I suggested we all get naked, and maintain that for the rest of the night.

Once nude the bull and my wife were sitting on the bed together, and I was off to the side in the lounger looking at them starting to rub each other.

She leaned over and sucked his cock until it was hard like a pipe, I thought for sure he would blow down her mouth, but this guy was a champ.

He then told me to get some lube and get her ready for him. I quickly fingered the lube to my wife's shaved pussy, and lightly greased her tight little asshole. She hates to have her ass fucked, but I could see this guy was headed that way.

Turning her over the back of the bed staring out the window our bull pushed all 8 inches into my wife's pussy. Well lubed by my fingers it slipped right in, but by the whimper and short breath she made you could tell she was not ready for his beautiful cock. He began stroking long and hard, pushing down on her neck forcing her head over the back of the bed. He had her pinned tight with that thick ass sticking so high she was on her knees to keep balance.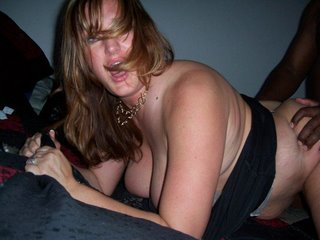 After almost 20 minutes of slamming my wife's pussy he ordered me to lube her asshole, and that she should 'Get ready for a hard fuck'. My wife protested, saying she "did not like it in the ass, it made her feel like she had to poop, and it hurt most of the time". When she tried to turn around on the bed he forced her down by the back of her neck hard into the bedspread. So now the sound of her voice explaining the lack of interest in anal suddenly was a muffled few grunts, and whimpers. I was feverously working my finger in and out with lube to prep her ass for a serious stretching as I watched him hold his cock & balls deep in my wife's pussy.

In a very quick move he was out of the pussy and poised to enter on the asshole with his thumb pushing hard on the head to force it down and in.

"You want my black cock in your ass don't you?" he barked! My Wife hastily replied "NO, NO ANAL, I don't like it in my ass" By the time she finished saying ass he had pulled her back hard and had his full meat buried in my wife's tiny butt hole.

From the pillows you could make out her muffled protest "fucking asshole, prick, ouch ow ow ow ugh ow ow fucking ouch!" - I came right then with only the slightest stroke of my little dick. "ow ow ooow oww owwo ow ow" as he began slamming the monster black rod in her ass somehow deeper on every stroke. Not long after, all of her squirming to get away, the mumbled cries from the sheets, and me going for round two set him off.

"Here it comes " - and he hammered deep in my wife and held it there pulling back on her hair to a raised head scream. He pulled harder, and gave a large grunt, followed by my wife's "Oh my god! That's so much cum! Oh my god"

Grabbing me by the back of my head he pulled my face right to the top of my wife's butthole. Forcefully he made me lay my head sideways with the mouth just above her well fucked ass stuffed by his giant black bull dick balls deep and still draining. As he pulled his cock slowly from her ass she whimpered, and gave a sigh of relief.

Slick from lube, cum, and ass juices he pushed his meat from her bunghole to my mouth for cleanup. Slowly letting me work all of the sticky sweet fluids from his entire large tasty prick. As I finished the cleanup of his dick he grabbed my head again and forced me into my wife's leaking asshole. "Don't waste that shit boy! Clean it all up, suck all my cum out of her ass".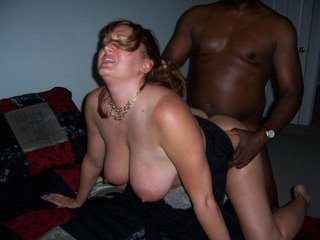 I spent the next several minutes eating his monster load out of her butt. She would squeeze a little more out every few seconds as if we were going to be tested on it.

The bull went and lay on the bed relaxing, watching, stroking himself hard again.

When my wife was cleaned up he called her in, and told me I could not enter, and had to watch from the doorway as he fucked her several more times that night. Always finishing in her ass, always with much protest.

It was a FUN night and we have a few photo souvenirs to show for it!! - Alex
WHERE CUCKOLDERS MEET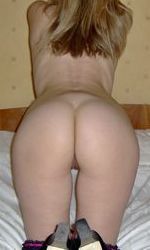 HotWife Janice
I spend alot of time online chatting with and then meeting other men
Cuckold Links

Blogs/Sites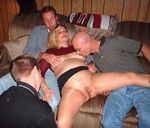 Cuck Images
I am listed on: