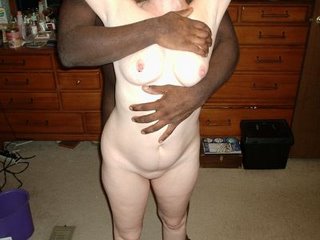 I love being a cum slut whore for Black cock! As you have read the
stories I have submitted
, it is obvious.

What I haven't told you is the extent that we make my cuck serve.

Sure there are times when he is allowed to watch or take pictures, but there are other times we include him in our fun. It starts out easy enough with sissy boy ordered to strip so we can laugh at his lil white weenie. As Master grabs him by the hair, pushes him to his knees and orders him to suck the cock that will fuck his wife, Master calls him "his little bitch" and "faggot".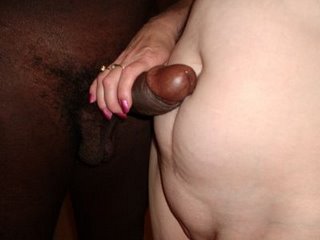 What I have found REALLY gets me hot and wet is when Master grabs him by the throat and slams him on the bed after he has had his ribs pounded on. Then Master positions me on top of fag boy so that while I am getting fucked royally, Masters' balls are hitting faggot in the face and he has to lick his cock when he pulls out part way before ramming it back into my pussy.

We have also ordered sissy boy into the bathtub and use him as our toilet after our love making. IF cuck has pleased Master, he is allowed to beat off over the toilet while I am on my knees sucking Masters' cock and Master is verbally humiliating faggot.



For those of you who are concerned what this could do to their relationship, let me put those to rest. Of 36 couples we know who have a Master as part of the family, only 6 got divorced. In the other 30, the cuck not only loves and takes care of his Master but takes care of the Black babies as his own.

We would love to communicate with other couples that have gone this far or would like to.

ConStance - conblkon @ hotmail.com
THE CUCK LIFESTYLE