Cuckold Husband Video
TOP CUCKOLD SITES
Cuckold Pages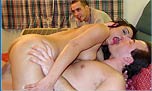 Please Bang My Wife
ARCHIVES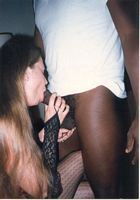 She Cuckolds Me
I am forced by my love to find men online to please her. - Wimp Hubby
Friday, July 25, 2008
Our First Time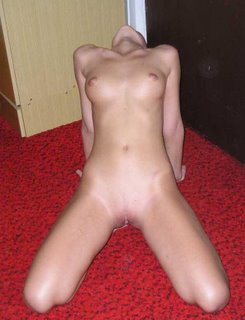 To give you a little bit of background and description, I am 29 and Jen is 26 and we've been together since we were teenagers. Jen is 5' 2'' tall and the rest you can see in her pics.

In terms of our relationship, since quite an early point in our relationship I fantasized about watching her with other men – I can't explain it – people like weirder and worse things I guess. The first time anything happened was during her time at University when we were in the fire escape of a night club getting down to business ourselves. We were snogging each others faces off and I had my hands all over her, pulling her little black dress up over her bare ass and squeezing her cheeks roughly.

We were totally oblivious to the fact that there was a rather useful looking bouncer standing right behind us taking the whole thing in! He coughed which immediately made us stop and spin round to see who was there – he stood there looking very smug and asked us what we thought we were doing –strange question I know but I stammered "Nothing?" which is probably even more stupid… He then took his radio out and suggested that if he called for assistance I would probably end up having my head used to open every door between there and the back door and that we would both be banned from the club indefinitely.

Then however he said "It doesn't have to be that way…" and looked at Jen in a certain way, which without having to say a word, all three of us knew exactly what he meant. I suddenly felt all the moisture disappear from my throat and I was stuck for a moment like a rabbit in the headlights; but at the same time I felt a wave of excitement like never before. The bouncer prompted by saying "It won't take much of your time to make sure I turn a blind eye toall this", this time looking straight at Jen. She looked at me and said "You know I come here all the time", as if that was a perfectly reasonable explanation!

With that she walked towards the bouncer, who must have been about 6'4'', dwarfing her and looked at him as if to kiss him. He smiled in a very devious way and said "No, No – that's not what I'm after" with that he put two large hands on each of her shoulders and pushed her to her knees in front of him. He looked at Jen and then me and said "It's about time I got to show you fucking students something about discipline", with that he started to unbuckle his trousers, releasing a large semi-hard cock, the first time I had ever seen another man's penis in this way before.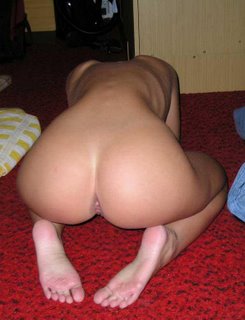 Jen meanwhile had a look in her eye that I have since come to love but at the time was alien to me – I guess you would call it pure lust. She was kneeling, in the dusty, gloomy fire escape with her black high heeled mules on, he short tight black dress still riding up exposing her ass cheeks, with a large cock dangling only inches from her lips. The bouncer prompted "Come on now – you don't want thrown out do you?" to which she obediently shook her head. Then, for the first time she put her hand around his cock, which looked obscenely big in her tiny hand and began to stroke him to full hardness.

I was turned on to a level I had never imagined and was powerless to move or to speak – I just enjoyed the view! After a few strokes his cock grew to an impressive size and the tip glistened – he looked at me and said "Now your bird is going to save you from a kicking pal", and with that he grabbed her pony tail and pulled her head towards his now rock hard cock. Jen opened wide as he roughly pulled her on to it, she took the first three or four inches, but being a stranger at the time to deep throating she began to gag quite badly. The bouncer was undeterred and with both hands on the back of her head, began to buck his hips, slowly working his cock into Jen's straining mouth. Jen pushed against his thighs but was helpless to stop the face fucking that was now in progress – gradually though it was clear she was relaxing and began to take more and more of his cock, until her nose was nearly touching his belly.

I'd like to tell you that the bouncer was a man of massive sexual technique who lasted for hours, but this is real-life and in reality after only about 5 minutes of face fucking my 19 year-old girlfriend in front of me, he tensed and held her face tightly onto his cock and I could tell that he was filling her mouth full of cum. He groaned and relaxed, breathing heavily, but held Jen in place for a good 30 seconds or so, to make sure all she could do was swallow every drop. Then he stepped back and zipped up, smirking at both of us. "Now" he said "Feel free to re-join the party" he smiled, looking extremely pleased with himself. Jen got off her knees, both of which had large red marks on them and we walked back into the club in silence. This was a crucial point in our relationship and when we eventually looked at each other I had no other choice – I had to kiss her – I was so horny by watching her! We left almost immediately and went back to her flat and had the most incredibly horny sex we had had. Jen even taunted me with it during our fuck session, asking if I had enjoyed the show.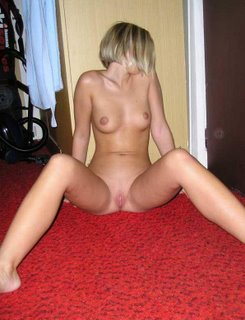 From that point on it was clear that a new chapter had begun and that this would only be the first of many experiences that we would share. I know for sure that Jen visited that club many times without me after that night. - Paul & Jen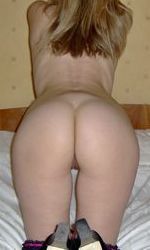 HotWife Janice
I spend alot of time online chatting with and then meeting other men
Cuckold Links

Blogs/Sites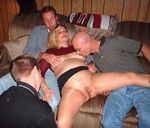 Cuck Images
I am listed on: