Cuckold Husband Video
TOP CUCKOLD SITES
Cuckold Pages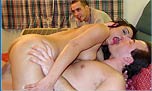 Please Bang My Wife
ARCHIVES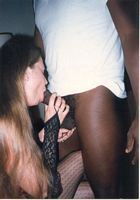 She Cuckolds Me
I am forced by my love to find men online to please her. - Wimp Hubby
Thursday, May 07, 2009
My First Time Being Cucked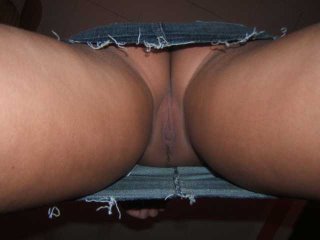 Ok this is my fist time posting so I will give a little background info about my wife and me. We meet back in high school seven years ago. It was love at first sight... not really. She was a freshman and I was a senior. She was in the Top 10 of her class and I was in the bottom of mine. It was a match made in hell, but we kicked it off and got along great. Plus the sex was fucking amazing. Now the summer after we meet we ran into an ex-g/f of mine which happened to be bi. Well after a couple of nights all 3 of us hanging out it turned into a nice 3-some.

I had turned my g/f into a pussy loving girl and it was great. Well after several months of all 3 of us fucking my g/f told me that she loved it when I was fucking my ex that watching it really turned her on. Well that was all I need to keep on giving her a great show. Well, this is where it gets good. I was in a band at the time and my lead guitarist had just broke up with his g/f so I invited him to go with my g/f and me to the mall that day so maybe he could go hit on some other girls there, plus it would give me somebody to talk to while my g/f was shopping. Well when I did this and invited him I didn't know that my g/f thought he was hot. Well it was a 1hr drive to the mall from where we lived and most of it was just talking about bullshit and stuff.

They where friendly flirting but nothing major. Well when we get to the mall my g/f asked me if it was ok to flirt and little more and tease some. I was kinda brought back by this but I thought what the hell he had just got dumped and plus I had been fucking my ex for a while by this time so why not let her have some fun. I didn't really think it would go much past flirting. So I told her go ahead and have fun. So I thought I would have some fun and help her break the ice so I told my buddy that if we saw any really hot girls that she was with him and I was going to hit on them.

Well he kinda knew that I was a flirt and shit but he was kinda surprised that I said that in front of my g/f. But we all 3 laughed it off and went on. So after a little bit of shopping we got around Victoria's Secret and my g/f said lets go in there. I was like whatever but my friend was a little bit uneasy about it. So my g/f grabbed his hand and told him not to be scared there was nothing in there that was going to bite him. So he went along with us. After getting in there she was looking around and found this little piece of lace that they called lingerie and she asked me what I thought of it. I said it would look sexy on her. Then she looked at him and asked what he thought of it well his faced turned red and he didn't know what to say.

She looked at him and said well what do you think would I look sexy in this, would you want to do me if I was wearing this. Well he looked at me and all I said was well would you. He looked back at her and said well yeah that would damn good on you and off of you. Well I kinda laughed at that and so did she. So she put it back on the rack and we went on about our shopping. Well a couple of hours passed and she whispered in my ear that I need to take him down to the music store and she was going to go back and buy that outfit that she had teased him with. Well I said ok I just thought she was getting it for us later.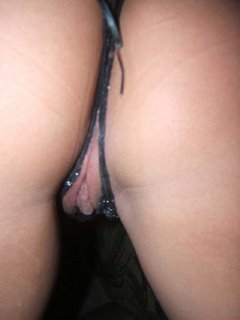 So my buddy and I walked on down to the music store and checked out some shit down there and my g/f caught up with us in just a little bit. Then we decided to go eat and head back home we where all wanting to go out that night to a party at a friends place. Well on the way home we somehow got on the subject of shaved pussies and my g/f said that she had shaved hers that morning and I said really let me feel so she unbuttoned her pants and unzipped then and pulled them down a bit for me to feel of her bald pussy. Well my buddy was in the back seat but I could see that he had adjusted where he could see her pussy well she also seen that he had moved to where he could see and she asked him if he wanted a feel at it.

He froze he didn't know what to say so I jumped in and told him that it would be ok if he did. Well he wasted no time reaching up there and getting a feel of her nice bald pussy. As soon as he touched her my cock got hard. I was like what the hell. Well nothing really happened after that on the way home. But when we got back to my place I told my g/f that when he touched her I got a fucking hard on that would not go away. So she was like so since I enjoy watching you fuck your ex would you like to watch me fuck him.

I was like I don't know lets put it this way if it happens it happens and we will see what I think then. Well my buddy came back form the bathroom and my g/f said that she was going to try some stuff on and let us pick out what she would wear tonight to the party. Well she came out in a couple of short shirts and tube tops and that kinda stuff. Well she said that she had one more to try on then we could pick what we thought would look best. Well she came down the hall away after a couple of minuets and she was in the black lace lingerie that she had bought earlier that day. I knew what she was up to right then. She came around the corner of the room and my buddies mouth dropped open and all he could say was damn.

Well he was sitting on the couch and I was in the chair, My g/f went over right in front of him and sat down right in his lap. She asked him if he liked what she was wearing and he said umm hell yeah. She shifted around a little bit and smiled at him and said it feels like you do. Well he looks over at me to see what I'm doing and I'm just kinda laughing it off. I say to him "Damn you are already hard and all she did is sit in your lap". Well she is sitting there just kinda moving around a little bit just to rub his cock through his shorts and as she does this he reaches up and grabs her ass. Now at this point I'm starting to get hard again. So I say well lets go see all the clothes you have tried on back in the bedroom.

So she gets off of him and we all 3 walk to the bedroom. All the clothes are laid on the bed and dresser that she has tried on. So I ask my buddy what he thinks and he says that he really likes the one she is wearing right now. I tell him that she can't go to the party looking like that. That she could only wear that for me and really special occasions with other people around. Well he gets a big smile on his face with me saying that. So we pick her out something to wear to the party and she says ok she will get changed.

Well we start to walk out of the room and she says to my buddy that she belives she will need help taken off the lingerie that she is wearing at that point she said it was hard enough to get into. Well he looks back at me and I just say well help her out. So he walks over that and starts to help her take it off when she leans up and starts kissing him. He pulls back real quick and looks at me. I just laugh and ask him if he has never kissed a girl before. He says so it is ok that I kiss her. I said hell kiss her with the hard on you had earlier I know you want to do more than kiss her.

At this point my g/f grabs him and falls back into the bed with him on top of her. They start making out and I grab the computer chair that is in the corner of the room and have a seat. She pulls off his shirt as they make out. He is playing with his tits though the lacy lingerie. She rolls him over and gets on top off him they manage to get the lingerie off of her in between kissing. And he starts sucking on her tits. Now at this point I'm busting out of my pants with a hard on. I start playing with my dick though my pants and she looks over at me and asks me what I'm doing. I tell her that this is the most exciting thing I think I have ever seen.

She asks me if I wanted her to stop and all I could say was hell no. With that she kinda slides off of him and unbuttons his pants and unzips them and as she is doing this he is kicking off his shoes and helping her pull down his pants. Now there is no denying at this time in his boxers was a hard cock. It looked like a tee pee standing there. As she pulled down his boxers his big cock flopped out there. As it flopped out she said damn that is big. He kinda laughed and looked over at me. Now I'm not gay but I couldn't take my eyes off of that big cock. I think at the time it was the biggest I had ever seen. Now I'm not a little guy I have about 7 inches long and I'm really thick. But he had probably 8.5 or nine and was thicker than I was.

Well my g/f didn't waste anytime getting it in her mouth. Now she loves to suck cock and is DAMN good at it. Well she went down on him trying to get as much as she could in her mouth. Well by now I was so horny that I pulled my what seemed to be a small dick at that time out and started playing with it. My g/f noticed that I had pulled it out and she stopped sucking it just long enough to ask me what I thought about her sucking his huge dick. All I could do was smile at that time. Well she sucked for a little bit longer and he grabbed the back of her head and pulled her down on it where she nearly choked and he blew a load in her mouth. Damn seeing that I nearly lost a load. Well she stands up and walks over to me.

I figured she swallowed it like she always does and she bent down to kiss me. I was kinda scared at first but she forced me to kiss her and as she kissed me she spit his load in my mouth. I nearly threw up it was so much and I had never tasted cum before. She broke the kiss and my buddy is over there kinda laughing at this point and she said to me "The way you where staring at his cock I figured you want that more than I did."

Then she grabbed my dick and stroked it a few times and said that as hard as I was I must have liked his cum. I didn't know what to say or what to do I had never seen this side of my g/f but I was kinda liking it. She told me that I better not jack off that I could play with my dick but I better not get off. I was like ok what ever. She went back to the bed where my buddy was still laying there as hard as ever. She crawls back up him making sure to suck his cock a little bit more before cont. up to him on him. When she got up to where the tip of his dick was touching her pussy lips she whispered something in his ear. He nodded and they both looked at me. He asked me if it was ok if he fucked her.

I thought this was a little weird but I told him go ahead and fuck the hell out of her. Well this brought something I was not expecting she told me to get up and take his dick and put it in her if I was really ok with it. I was blown away, now this is one of my best friends and she has already spit his cum in my mouth and now telling me to grab his dick and put it inside her. I looked at both of them and said I'm cool with yall doing this but do you really want me to grab his dick and put it in you. He looked at me and said "If you put it in for me then I know that you really are cool with me doing her".

This was not what I was expecting to hear from him but he was right. So I got up out of my chair and walked over to them. I could see her pussy was dripping wet and she had not even been touched. I asked one more time hoping that they where just fucking with me "Are you sure you want me to grab your dick and put it up in her?"

He said "If you want to watch me bang her then you put it in her".

All I could do at that point was reach down and grab his huge hard cock and open up her pussy lips to put it in. Then that is when she said "Now you are going to have to rub it in between my lips for a second to make sure I'm wet enough for that huge cock to go in. I'm not us ta anything this big so be slow putting it in."

It was like a kick to my balls when she said that. Now I knew that I was not as big as him and with it pulled out he knew it also but with her saying that to me it was really degrading. So I took his hard dick in my hand and started rubbing the head of it up and down her pussy slit. As I did this they just cont. to make out like I wasn't even there. So after what seemed like forever of having his dick in my hand I started to push it into her. She was so wet that it really didn't take much to get it in her. Well after about half of it was in she turned her head to me and asked me what I thought about that big dick in her pussy. I told her that is looked nice. She told me that I could let go of his dick now and go have a seat unless I wanted to cont. to hold his dick in my hand.

Well that was enough for me to let it go and take me seat for the show. Before I could sit back down he had already drove that monster cock deep into her pussy. I think with about the third stoke she was getting off. I had never got her off that fast. Well as I watched I never missed a stoke of my own. I had to stop several times to not get off as she had told me to do before they started. But as she screamed for more of his huge cock and the smell of sex got stronger it was hard for me not to blow a nut. I realized at that point in time that watching her get fucked was nearly better than fucking her. Well they cont. on for about 45 minutes straight with her on top and taking every inch of that cock.

Well about that time he asked her where he could get off at. She told him not to worry about that, just to tell her before he did and she would take care of the rest. Well about another minute went by and he said that he was about to cum. So she hopped off of him and went down on his cock with her mouth in just enough time to catch another load in her mouth. This time she swallowed it and liked his dick clean of her juices. Then she laid back beside him and kinda snuggled up to him. She looked at me with my hard dick in my hand still and she asked if I had gotten off yet, I told her no. She looked at my buddy and said well he has twice and I have several times.

Then she asked me if I thought I need to get off. I told her yeah I felt like my nuts where going to explode if I didn't get off. She told me "Ok get up and come over here and I will let you get off."

I got up and walked over to her and she told me that I could stick my dick in and fuck her as she made out with my buddy. So I stuck my dick in her and damn was it wet and loose he had fucked her so hard that I knew I was doing nothing for her. After just about ten seconds of me in her she told me to stop and pull my little dick out that she could not even feel it. Then she told me to get down on my knees and eat her pussy out and jack off. So I got down on my knees and started licking her clit and watching her and my buddy making out and her playing with his dick again as it was getting hard again also.

Well I got her to cum with my mouth once and then I jacked off to the sight of her hand on his now once again hard cock. So I stood up whipping my mouth of the juices that was on me. As I just stood there with my limp cock she looked at me and asked me how I liked what i had seen again and I told her that it was the hottest thing I had ever seen. As she talked to me she never took her hand off of his cock she just kept playing with it and then she looked at him and asked him if he had enjoyed it. He just smiled and said "Hell Yeah".

She then asked him if he wanted to do it again. He looked at her and said anytime you are ready. She looked at me and asked what time where we going to the party and I told her that I thought at about 9:30 or 10:00 by this point it was 9:15. She then looked back at my buddy and asked if he wanted to go on to the party or if he wanted to stay with her her and have some more fun. He just kinda shrugged his shoulders and didn't really give a real answer.

So she bent down and put his cock back in her mouth and sucked for just a couple of seconds then asked him again. This time he smiled and rolled her over got on top of her and shoved his cock back into her pussy. At that point I knew that it was going to be a long night. The 2 pictures attatched are of her shaved pussy and is what most of my view was. More to come.- Munro
POST YOUR STORY

-

CHAT

-

ARCHIVES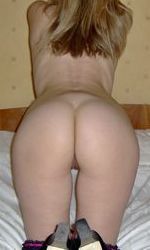 HotWife Janice
I spend alot of time online chatting with and then meeting other men
Cuckold Links

Blogs/Sites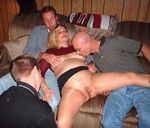 Cuck Images
I am listed on: