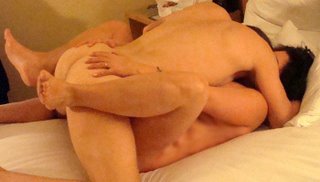 "Oh God. Your dick feels great!"

Moaned my wife as Ken mounted her once more and slipped his cock deep inside her pussy, just the way she wanted it. Ken moaned in response and continued to fuck her with long strokes while she moved her hips up to meet his deep thrusts.

"MMM…I'm gonna cum again."

Wifey held onto Ken's ass with both hands while he slowly but urgently pumped into her. She wore her wedding ring while she gripped her lover's ass coaxing him, helping him establish the right rhythm in which to fuck her. She was a sight to behold: chest heaving, nipples sticking out and her toes curled--evidence that my wife was enjoying every inch of Ken's dick. He leaned down to kiss her and she opened her mouth to suck on his tongue, the same way that her pussy was eagerly sucking in his cock. Judging by his moans Ken was also loving every slippery inch of my wife's hot pussy. There they were in our bed, the same bed I woke up in that morning, and my wife was fucking Ken with the energy of a teenager. She had already had two screaming orgasm—one from the tongue she was now sucking on and one on the end of his dick. She was quickly moving toward her third.

I moved around our bedroom, trusty camera in hand, while clicking pictures of the intense fucking my very hot wife was both giving and getting. My cock was as hard as a rock and why shouldn't it be? Here was my wife of 19 years, lying in our marital bed, legs wide open and drawn up while a man was fucking her with an energy and desire that one can have only when you're fucking another man's wife, in front of him. His long cock was giving her enormous pleasure and she was letting him know: a hot wife in every sense of the term.

What made this even more exciting was that this day was our anniversary, 19 years to the day since my wife said "I do". Nineteen years later and Wifey was still saying: "I do" but in response to a completely different set of rules. From the looks of it my Wifey was "doing" very well! She had me so aroused I couldn't wait until they were done and he left and I could (finally) have a turn.

But we had our rules: Wifey fucks and I watch and then when her lover leaves I have my chance. I do not fuck other women because she doesn't allow me to. That's correct, ALLOW. Wifey is after all a Hotwife and I am her cuckold. She calls the shots in the bedroom and her rules say that hotwives get to fuck whomever they want, as many times as they want. Cuckolds don't. Wifey has complete ownership of her pussy and she shares it with men, including me. I've learned to appreciate the excitement of stepping aside while another man has first shot of my wife. Wifey also has complete ownership of my cock and in my case she has decided that she will be the only person with whom I'm allowed to cum. That's part of the excitement.

My job to find the men she will fuck from various adult websites, to show their pictures to her and, if she approves, to set up the meeting. I'm allowed to be present when she gives them her pussy, a pussy that's supposed to be exclusively mine but that she eagerly makes available to a variety of men. In fact, Wifey demands I be there. She loves to have me witness my cuckolding, loves to show me how promiscuous she is, how much she wants other men's cocks and how much other men want her. And these young men really want my wife's pussy because it's attached to a hot, married woman. Sometimes I take pictures, sometimes I watch. On occasion I join in so that my wife can have an MFM experience, but only if Wifey wants it. Afterward she lets me eat her well-fucked pussy while she moans and tells me how good her lover fucked her. I then fuck her to a final orgasm of the night.

She especially loves for me to eat her pussy after another man has fucked her. What's not to love? She's just fucked another man under the watchful and approving gaze of her husband. She's had at least one, and up to three orgasms from this man. He's tasted her pussy and she's tasted his cock, sometimes even eagerly swallowed his cum. Now he's left and she's lying in bed, naked, satisfied and her pussy absolutely soaked from the fun and her husband gets between her legs, lovingly kisses her thighs and begins to feast on her used pussy. It makes her feel that she is in charge and that she's being worshipped for being a hot slutty wife.

I love it too. Her pussy tastes extra sweet after she's been fucked, as if her sex juices have been fully released. It's an extra-heady aroma that makes me want to eat her more and more. We don't do the "creampie" thing, as all her lovers must wear condoms for safety reasons. I just get to taste how excited my sexy wife has gotten from another man's cock and the taste of her sex is incredible.

It all began about 15 months ago when my wife and I met her first extra-marital lover. She went to this meeting not sure if she would go through with it and left wanting for more. Since then she has had fourteen lovers who have all been greatly satisfied and have satisfied her in return. Now it was Ken's turn.

"Oh God, I'm going to cum again" she moaned while she frantically fucked back against Ken's dick. He began to fuck her even more furiously, causing her to have her third screaming, arms flailing orgasm of the night. She was spent but Ken wasn't. She wasn't going to leave him hanging.

"Here, lets get this off" she said while gently removing the condom from his stiff dick "let's see if you like this"

She practically swallowed this young man's cock.

Ken began to moan with pleasure and gently stroked her hair while she gave him the blowjob of his life.

"Oh, don't stop…so good" he said while she made love to his dick with her hot mouth.

Wifey began to alternate between licking his balls and sucking on the head of his cock. It was too much for him as he began to stiffen. She quickly clamped her lips around his cock and began to suck him deep into her mouth. Ken couldn't hold back any longer and he exploded in her mouth. My hot wife swallowed every last drop.

After Ken left it was my turn. I climbed between her legs and began to feast on her pussy causing her to let out a low moan.

"Happy Anniversary" I whispered to her as she held the back of my head and I lovingly licked and drank the juices that were freely flowing from her naughty cunt, a cunt that has been filled with so many different cocks. I wouldn't have it any other way.

Wifey wore one of those self-satisfied smiles of a woman who has her man under control. She does. I felt privileged to be tasting her hot pussy, grateful to have a wife who beds so many men and who does it so well. But most of all I feel an absolute need to please this woman who has the freedom to fuck whomever she wants whenever she wants. I'm grateful to be able to share her hot pussy with her many lovers and I know I'll continue to please her in as many ways as I can.
gina19602 @ yahoo.com

CUCK COUPLES' ADS