Cuckold Husband Video
TOP CUCKOLD SITES
Cuckold Pages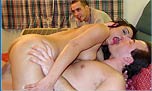 Please Bang My Wife
ARCHIVES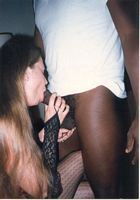 She Cuckolds Me
I am forced by my love to find men online to please her. - Wimp Hubby
Thursday, April 02, 2009
More From Hot Wife Gina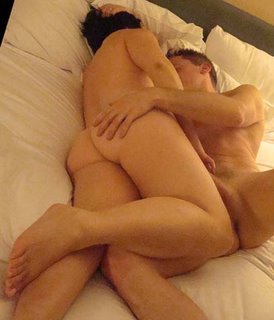 My wife loves fucking other men and I love watching. I guess that makes her my hotwife and me her cuckold.

It wouldn't look that way to outside observers. I'm an opinionated, assertive man with a strong sex drive. While I wouldn't say I dominate my wife, no one would accuse me of being dominated by her either. It's simply that in the privacy of our bedroom (and other bedrooms for that matter) I turned the reins over to my wife, and she has happily—and quite adeptly—seized them.

It hasn't always been this way. Wifey and I have been married for twenty years and for the first 19, monogamy has been the keyword. Still, we played around with a healthy dose of fantasy. As the years went on I found that my fantasy more and more revolved around my wife having sex with other men. I shared this with her and, to my surprise this seemed to turn her on a great deal. I began to suspect that my straight, serious, professional wife had depths of sexuality we hadn't yet tapped. Boy was I right!

Fantasy led to increased play, which led to some picture posting, which in turn led to voice chats and web cam play. Wifey really enjoyed playing with virtual lovers and she especially seemed to like seeing other men cum for her. I felt a stronger and stronger desire to see my sexy wife actually take another man's cock.

This all became a reality about eleven months ago when Wifey and I met a man for cocktails and then we went to his apartment where he undressed her, made her moan and cum as he ate her pussy, and then fucked her to two more intense orgasms. Watching another man take my wife--the mother of our child--and fuck her to two screaming orgasms, and then watching my wife fuck him back with a need I hadn't seen in her in a long time was unbelievable. It was one of the most erotic experiences I have ever had. When we got home I couldn't believe how much I wanted her, eating her freshly fucked pussy and then fucking her to her fourth orgasm of the evening.

We were hooked.

Since then my sexy wife has been fucked by a dozen men, always to intense, screaming orgasms and we have no intention of slowing down.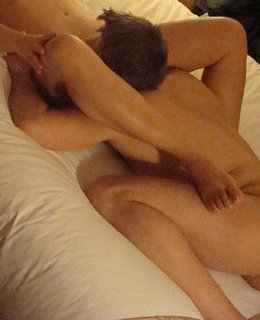 I remain completely monogamous and I intend to continue doing so. After all, I'm married to a very sexy woman who is quite capable of keeping me and other men very satisfied. Recently we were lying in bed and Wifey decided to play with our new-found roles:

"MMM…your cock is getting nice and hard" she said while lightly stroking my dick.

"MMM hmm," I replied, "that feels real good."

"I know it does. I can tell by how hard you are, how hard I can make this cock of mine. And make no mistake about it: this cock is mine, all mine, no one else is allowed to have it. Isn't that true?"

"Yesss" I stammered gladly giving my hot wife total control of my cock.

"Good" she said, while slowly and expertly stroking my dick "because that's the way I want it and since I'm the boss in the bedroom, that's the way it's going to be. Consider your dick my property, to do with as I please. In a way it's a shame because other women would love this penis, so nice and hard and ready. But I'm selfish that way, your cock is for me and only me." She began kissing the head gently, causing me to squirm.

Wifey then took my hand and placed it on her hot pussy. I began to gently rub it, enjoying how soft and wet it was.

"MMM…But this" she said "this isn't just yours is it?"

"No" I replied, "this I have to share."

"That's right" she chuckled "this you have to share with other men."

"Is that the way you want it?" I asked her.

"I demand it" she said with a self-satisfied grin "You know I love you and I love your nice big cock. But we've been married for 20 years. Things get, I don't know, a little too monotonous without variety and I don't want to get bored. As good as your cock is, it's just not enough for me. It just isn't enough to keep me fully satisfied anymore."

"It isn't?" I asked in mock surprise.

"No my husband, it isn't. Sorry but I need more. I sometimes need that excitement I can only get when I'm being fucked for the first time."

"And?" I asked.

"And I get to have that by letting other guys put their big, hard dicks in me. MMM…you know I love that don't you? You know this wife of yours loves getting fucked by other men."

"Oh yeah" I replied.

"Good" she said, "because I really do. And what about you? Do you love watching? Do you love watching other men slide their cocks in and out of me, seeing me wrap my legs around them to pull them in as deep as they can go? Do you like the squishy sound my pussy makes because I love the fucking I'm getting?"

This talk got my dick twitching and she loved it. She knew she had me and she knew exactly what she wanted.

"You know I love that. But what about me? What about some variety for me?" I asked, knowing full well what her answer was going to be.

"No, no" she said " you have to keep this cock just for my use. You're my cuckold, you don't get to play with other women. Those are my rules. You get to please me, you get to find men who can please me, you get to be there and watch while they lick my pussy and I take their cocks in my mouth, and you have to step aside while they slide their dicks in and out of me. You like that don't you? You like stepping aside like a good cuckold husband and watching me give another man what's supposed to be yours?"

"Oh yeah" I said again, completely caught up in my wife.

"MMM…I know you do. Funny, isn't it? Our friends would never believe that my handsome, smart, and assertive husband loves to be cuckolded by me. I hardly believe it—but I'm not complaining mind you. We got married twenty years ago with a set of rules that stated 'I promise to forsake all others'. Now we have a new set of rules: that I get to fuck whomever I want, whenever I want, and you have to watch and remain completely faithful to me."

"MMM" I moaned while kissing her nipples, "I love our new rules."

And it was true. My wife's teasing had me ready to cum.

"Good, because that's the way it is and that's the way it's always going to be. It's like losing your virginity. Once you lose it, you know you're going to fuck again and again. Well I've tasted pleasures of being a hot wife and I love the taste! No way I'm turning back now. You just have to get used to the fact that other men are going to get my pussy. But it's good for you too. You've kind of lost your virginity too haven't you? You've become a cuckold. You love that too don't you? You love being a cuckold. You love watching another man take me and make me cum."

"Yes" I moaned, "I love that you cuckold me."

She chuckled again.

"I know" she said, "plus, after they leave you get your reward. You get to eat my well-fucked pussy. I know you love that also, you love showing your appreciation by putting your tongue where my lover had his dick."

I began licking her wet cunt, causing Wifey to moan.

"MMM…just like that" she said "you're such a good hubby to lick my naughty pussy. And then, after you're done eating me, you can slide your own dick inside of me and make me cum."

"Ohh yeah. Can I put my dick inside you now ?" I asked with a great deal of urgency.

"Please do." She replied.

And I did, again and again.

And again.

gina19602 @ yahoo.com
THE LIFESTYLE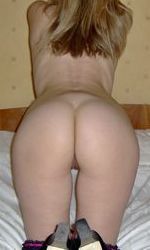 HotWife Janice
I spend alot of time online chatting with and then meeting other men
Cuckold Links

Blogs/Sites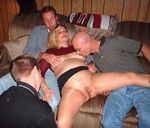 Cuck Images
I am listed on: