Cuckold Husband Video
TOP CUCKOLD SITES
Cuckold Pages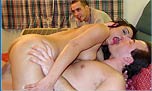 Please Bang My Wife
ARCHIVES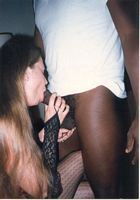 She Cuckolds Me
I am forced by my love to find men online to please her. - Wimp Hubby
Thursday, February 05, 2009
While Hubby is Away - 6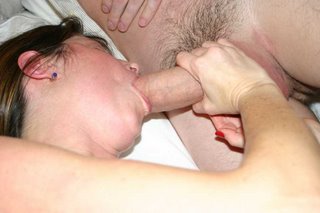 Since my husband told you that I have once again stepped out, I guess I owe you the story. If you happened to be staying at the JFK Hilton recently and you were awakened by screaming, I apologize. I'm not generally a screamer.

The man that you read about during the first two "while hubby is away" in November, contacted me and said he was coming to town. He asked if we could get together and I immediately said yes! Later, I simply told my husband that I was going out knowing that he would be suspicious and crazed with curiosity. I dressed in a short black skirt with high heeled boots and a tight see-through sweater no bra, to meet him. The outline of my nipples was as clearly evident as was the bulge in my husband's pants when he saw me.

I drove to my friend's hotel room and he let me in wearing a big smile. He led me to a chair and offered me a drink. When I sat down he straddled my lap and grabbed a handful of my hair – pulling my head back, giving him complete access to my mouth. He kissed me slowly and passionately at first, but the kiss quickly turned into something more animalistic. With his tongue snaking around mine, he used his free hand to pinch my hardened nipples. He rocked his body into mine and I could feel his cock dance against my belly. My pussy contracted reflexively.

When he had enough play with our clothes on, he stood and pulled me to him. Not taking any time to slowly undress me, I was naked in seconds. He bent down and sucked one of my nipples into his mouth. I moaned in approval. He then told me to lie down on the bed. I didn't want to. I wanted complete access to his incredible body as well and he was still completely dressed. We struggled briefly. When I was able to lift his shirt enough to nibble on his nipple, he stopped trying to push me down. I slowly lifted his shirt over his head; kissing my way from nipple to neck to ear to his mouth. I could see in his eyes that he was both annoyed and amused that I wasn't following his plan. I went for his belt and managed to undo it as well as his jeans before he threw me on to the bed. He finished undressing himself and told me to be ready for him. I was more than ready. My body was tingling in anticipation – the first stroke is always the best.

I wanted his cock buried deep inside me. He wanted to play some more. He positioned himself over me and kissed my neck. His cock rubbed against my inner thighs. He took his time kissing my neck and mouth. I squirmed underneath him until the head of his cock was pressed against my clit. I tilted my pelvis back and forth using his cock to masturbate. He caught on quickly. He grabbed my hands and held them over my head while pressing his thighs onto mine. I couldn't move. I was so wet. I know he wanted me too as I could feel his precum smearing my legs. He asked me what I wanted. "Your cock", I answered. He said, "not good enough". I looked deeply into his eyes and huskily replied, "I want to feel your hands and mouth all over my body. I want you to make me cum. I want your long, hard cock to fill my pussy again and again and again." He inched his weight off of me enough that I could spread my legs. I could see the heat in his eyes. "Then take it" he barked, and in one swift movement he entered me.

He is an amazing lover and I don't say that lightly. We fucked well over an hour in no less than 10 positions. He just kept picking me up and putting me where he wanted me. Sometimes on my back, sometimes on my knees, sometimes straddling him – all in varying positions and with different degrees of force. He had me so turned and so wet that his entire lower half was covered in my juices. When we were both spent, he laid his head on my tummy and rested. We talked for almost 30 minutes and then he asked if I was up for another go. I am always up for great sex.

He kissed his way from my mouth to my knees paying special attention to my nipples and inner thighs. He bent my legs and pulled my knees apart. He sucked my pussy lips into his mouth one at a time, pulling and nibbling at them. He licked my clit and played with my piercing. When he slid two fingers into me, I arched my back driving my pussy into his face. He removed his fingers and spread my lips wide bringing my clit front and center. I moaned and he dove in. He licked and sucked until my legs were shaking and I was screaming out in ecstasy. Unable to handle any more stimulation, I clamped my knees around his head and rode the waves of orgasmic pleasure with him pinned to my pussy.

Returning the favor, I told him to lie on his stomach. I crawled over him – my nipples lightly rubbing against the skin that I just licked. I did this from toe to head and then back to his toes. When I put one of his toes in my mouth and he groaned I knew I should continue. I sucked on each toe while running my nails up and down his legs. After each toe got its turn, I kissed my way back to his neck. While kissing and licking his neck and ears, I fondled his ass with my hands. He showed his appreciation by telling me just how in tune I was to his needs and what a lucky guy he was to be the one receiving my attention. I thanked him and licked my way back to ass. I licked his balls and squeezed his thighs.
It was he that was squirming now. He propped his pelvis up which allowed me to work his cock with my hand while continuing to lick and suck his balls. I ran my tongue over his asshole and he shivered. Within minutes he said he was going to cum. I told him to roll over. I slowed things down to give him a chance to recompose. I kissed his belly and licked every bit of his throbbing cock. When he said he was ready, I took his dick in my mouth. I played with just the head until my mouth was full of his precum. I sucked on his shaft while fondling his balls. Every time his cock jerked I slowed my rhythm down. At this point I had been licking some part of his body for over an hour. He needed to cum and had enough of my teasing.
He pinned me to the bed and started fucking me again. He requested that I look into his eyes when he came. I agreed but asked that he shoot all over my tits and belly. He pulled out and feverishly worked his cock while I used both hands to play with this balls and asshole. He first shot prostatic fluid all over my tits but didn't "cum" until two minutes later when he growled and globs of semen fell onto my tummy. He collapsed on the bed and focused on breathing. I had never witnessed such a long orgasm before. Being a part of it was incredibly powerful.

I didn't wash my hands or clean the cum off my tummy. When I got home, I kissed my husband and told him to smell my hands. He tore my clothes off and licked at the dried cum. He was already hard and wanted his turn. I was still swollen from the night's activities and asked that he be gentle. He laughed and fucked me hard while I told him all about my night.

pittsbghcpl @ yahoo.com
THE CUCK STYLE

-

COUPLES ADS

-

HOT WIFE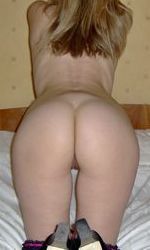 HotWife Janice
I spend alot of time online chatting with and then meeting other men
Cuckold Links

Blogs/Sites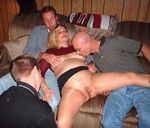 Cuck Images
I am listed on: