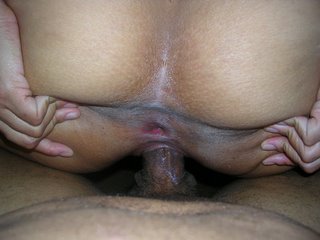 My wife has taken me deeper into cuckoldry and I never thought I would enjoy it and hate it as much as I do. She has taken up with the guy Sean who lives in the downstairs apartment. She spends time down there most evenings and I hear them fucking and then she comes upstairs and goes to sleep. This weekend, the phone rang and a guy asked for Jacqueline. I handed her the phone and she proceeded to have a very initimate conversation with him and when she hung up and I asked who it was, she replied "a guy I'm talking to". Last night after 11pm, she came up from Sean's and came to bed. She smelled of sex and I inhaled her scent, secretly loving it and jealous at the same time.

In the morning, she asked if I wanted to join her for lunch, I said sure. She gave me the address to the ********** and I met her inside. She was seated with a guy that couldn't have been older than 23 or 24, a young white small framed guy in dockers and a chambray shirt. Remember I am 38 and my wife is a ripe 42. She introduced him as Jason, one of the interns at her firm and I recognized the voice. I knew what I was in store for. We talked about politics and life and by his comments he was definitely young. I sat across from them as they sat closely side by side. She was very affectionate with him, rubbing his arms and legs and nuzzling into him. When the bill came, I paid and they walked out. When I got outside she was already in his car and she told me to follow. I followed to one of those no-tell motels and we parked. We went to the window and I asked for a room while the clerk shot us a look. Room 217, hmm, same as our apt number.

Upon entering the room, I sat on one of the beds and him on the other and she went to the bathroom. When she emerged, she wore nothing but her heels and g-string panties. She walked right past me without even giving me a look and into his waiting hands. He kneaded and pawed at her ass as she pushed her nipple in his mouth. They made out for a while and he slipped his fingers inside her as she rolled her ass. If was as if I was not there. She knelt down, unbuckled his pants and lowered his boxers and his cock sprang out, longer than mine, but my god, thicker. She admits that while she likes my cock, she likes to have a thicker cock to spread her out. My wife of 4 years is a size queen and she was getting what she likes. I have to admit, I was jealous. A few strokes later, she was engulfing him in her mouth. His cock was straight and smooth, long like a club and I watched as her lips glided over the shaft. She was feverishly sucking him and licking his balls and motioned for me to come closer. She then alternated between sucking his cock and french kissing me, at times saliva strings connecting us. This turned me on so much, I began manipulating her pussy keeping it wet and waiting for him. She shucked his pants off and laid him on the bed and straddled him facing me. I watched his cock disappear in her to the hilt and she slowly methodically begin to ride him. She beckoned me closer again this time to suck and lick on her clit while he fucked her. The froth created by their friction and the scent of sex filled the room.

She pulled up off him and laid on the bed and pulled him on top, sliding him back in her now gaping pussy. He rode her with her legs on his shoulders, I still hear the sound of their bodies slapping together. Her eyes were closed and it was clear that she was enjoying it. He said that he was going to cum and she pulled him out and aimed for the inside of her panties. He shot a first gooey load followed by ropey smaller loads right on her shaved mound as she held the sheer fabric of her g-string up. After milking it, she rubbed the cum in with her g-string and got up...TIME UP. Jason left after a handshake and Jacqueline got dressed. Small talk ensued and she said she would let this marinate for me me for later.

Later in the day, she called and said tomorrow (Saturday), her daughter and live-in boyfriend we going to be putting some things in our storage facility if I was able to help. I said sure. When she came in from work, she said that she was going to go to the gym. I watched her undress and she peeled off her g-string and put them around my neck. The pungent aroma of his and her cum wafted into my nose. She told me to hold it there for her and that she would be back in an hour.

I anxiously awaited her return and inhaled and tasting the stickiness from her panties. When she returned, she allowed me to wash her in the shower and then finally, she took my cock and sunk it in her pussy doggie style. It felt so good. She left me pump away and when I came between her cheeks, she had me lick up all of my reward. And then we went to sleep....then...


HARDCORE CUCKOLDING