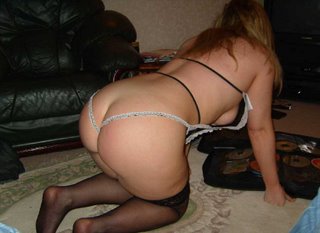 I knew that my wife was an easy lay when we got married. I knew several of the guys she had slept with. But she was such a good lay, that I kept seeing her anyway.
After the wedding I started thinking about her fucking those other guys, while we were having sex. I didn't say anything to her but, I would get off thinking about her fucking all those guys again.
One night I was having trouble getting it up and keeping it hard, I asked her if she would talk to me about one of her past sex partners? She seemed shocked at first, but she gave in and ask what I wanted to hear?
I told her I would like to hear about all of the guys she had fucked, that it turned me on knowing that all those guys had wanted to fuck her. and that most of them came back for more. I wanted to know everything, who was the biggest, who was the best? what was the strangest place she had ever been fucked at.
She started off with the vinilla stuff, but after several nights she came to understand that I was really turned on by her stories, and they became hotter, and hotter. She also got wetter while talking about her past. We had many years of hot sex, while reliving her past. I had ask her on several occasions if she would like to fuck any of her past lovers again? She would allways tell me that was in the past, and she didn't do those things any more.
Then came the PC, and I got hooked on surfing the porn sites. I found the cuckold sites and blogs, and discovered that I was not the only man that enjoyed his wife with other men. Then I started watching cuckold wife sites, I had noticed that my wife had never mentioned having sex with black men. I found that I could get a hardon just thinking about her taking a big black cock. So one night I asked her I she had ever had sex with a black man?
She got very quiet, then she asked if I really wanted to hear, or maybe if I would be able to cope with the idea of her fucking a black man?
I came right then, this meant that she had indeed had been with a black man, and that I was about to hear about it.
She made me lay on my back and she got on top. I was told that if I wanted to hear this I should keep my mouth shut and listen. As she started she rubbed my nipples lightly, and just very slowly move her hips. Then she started talking.
When she was 18, she was hiding in the alley behind her house smoking a cigarette, she had copped from her dad. As she lit up the boy from down the street came walking by, he was 19 and black. He saw her and asked if he could have a drag off her smoke? She said thought it was night the moon was full, but he was so dark he looked like a shadow. He asked if she was old enough to be smoking? To change the sugject, she asked where he had been?
He said he had been to his girlfriends house, they got caught before they could do anything, and he was as very horny.
She asked him what they had done that made him so horny?
He told her he was sucking on his girls nipples when her mom caught them, and kicked him out.
She ask him if he would like to suck on her nipples? She had been playing with them and they were very tender, so he would need to be easy. He opened her blouse and undid her bra, then he was so gentle it felt like a butterfly touching her, very quickly her pussy was on fire and flooding, she was undressed in a flash, he was like a shadow in the moon light, floating over her pale white skin, then he was between her legs, and he was her first, he was really hung, but she was so hot that she was begging him to make it hurt, she took eight inches her first time out. They made plans to meet the next night.
Upon entering her house she walked by her brother's room, and overheard her brother talking to one of his friends, about a white girl in their class that was fucking black guys, they were saying what a whore and slut she was, one boy said she could at least have enough pride to keep her sex life with blacks a secret. So she made up her mind to enjoy the big black dick she had just discovered, but to keep it hidden from everyone.
The black boy had a bedroom that could be entered from the back of the house, and he started taking her to his bed, and they were getting it on on a regular basis, when his older brother came home from college. He was impressed with his baby brother's white squeeze, and he was even better hung than his little brother, she said she was doing both of them one night.
She said that she kept this up until we were married, and she even managed to get fucked by the older brother a time or two after we were married, that is the reason she wanted to move out of town so bad, not as she said to get away from her dad, but to get away from the black men she had been fucking, and she knew she would never be able to tell them no.
Well I came three times as she told me this story. but I soon started try to get her to take another black cock. But she refused, saying she didn't want to go there again.
But every time I would talk to her about what she would look like taking a black cock, she would get very turned on, and I would imagine rembering what it felt like taking a big black cock.
Her job requires that she have updated training, every year, and this year her training class was in a city across the state from our home, I was not going with her. The class was five days, and in a hotel, I had a business appointment the weekend before she was to leave, so she decided to go friday night, and do some shopping and site seeing the weekend before the class. I helped her pack, as she got in her car, I kissed her and said if you get any make it black. She said sure, there will be a line of black studs lined up to fuck a hot white woman.
I got her call around seven that evening, she said she had checked into the hotel, and went to the club next to the hotel for a drink to relax, she said that after she got her drink she noticed that she was the only white person in the club, when one of the men approched her, he asked if she was in town for the training class at the hotel? shocked she said she was, He said he was one of the instructors, that he also wanted to get settled in before the week started, he asked if she would care to have dinner with him that night? as he didn't care to eat alone. Also the club they were in had a live band on Friday nights, if she wanted they might come listen to the band, and dance for a while.
I asked if she was going? She asked if I wanted her to go? In reply I said it looks like the hot white woman still has what the black studs want.
She admonished me that she was just going to dinner, and maybe a dance. I asked if she would at least do me a favor? What she asked? I told her not to call tonight, I want to jackoff thing about you taking a black man. then yoiu can call on the next afternoon, and we would talk. She agreed.
I played with my little white dick until it was so sore I couldn't touch it. Then I got the black dildo out and used it on my ass, until I came that way. Then I waited for her call, at the arranged time the phone rang and I was talking to a black man who asked for my cell number. He said I would get a call later.
Again I waited for the call, this time when I answered , I heard a black voice saying that he was in charge of the upcomng class, and she would get credit for the class though she would not be attending, she was going to be in a different training, then he told her to tell her hubby that she was going into a class for white women who were being made into sluts for black cock. Tell him what you did last night, My wife told me that after dinner they went to the club, and the owner closed the door, and she was the only woman there, with the band, and five black men, all instructers in the upcoming class, she had been undressed and made to dance with each of the men, eleven in all, each had fucked her at least twice , and she had given several blowjobs, She told me that she was going to stay until the following sunday, which would be counting the night before ten days, and I would need to come pick her up she would not be able to drive home after her crash course.
She said that I would get to hear her as she mounted the biggest blackest cock she had ever seen, and she was going to take it up the ass. Then I heard the long low moan of a woman, who was taking a black man's cock up her ass, then she told whoever was in charge that she wanted to be taken into a world of submission to black men, they could do as they wished to her. whip her nasty pussy or slap her tits as they wished.
The days that followed I was as horny as I had ever been, Upon arriving at the hotel I was told to go to her room, entering the room I was greeted with the sight of my wife letting two black men suck her tits, and one putting his black seed into her pussy, I was told to get between her legs and suck all his necter out of her. after cleaning her He pushed his semi hard cock into my face, and I never had a second thought about taking it into my mouth, one of the men sucking on her tits got behind me and I was shown the joys of being a black mans sissy cuckold.
I have not entered my wife since that day, but both of us are happy with our sex, and with our new masters. - Daleb
FREE PORN - EMAIL NEEDED ONLY