Cuckold Husband Video
TOP CUCKOLD SITES
Cuckold Pages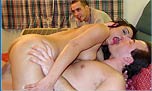 Please Bang My Wife
ARCHIVES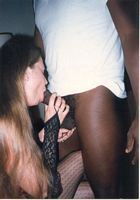 She Cuckolds Me
I am forced by my love to find men online to please her. - Wimp Hubby
Monday, October 06, 2008
A Very Confusing Situation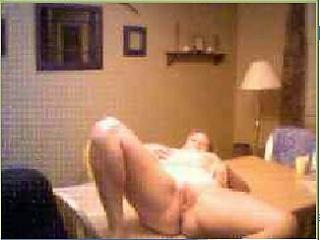 Hi,

This is basically how it started for us.

My husband must have suspected I was cheating and my not paying attention to details is what got me caught one night after being with my lover. When I came home I was so tired from his fucking me that I took my clothes off and laid them a chair instead of hanging them up.

I awoke the next morning to find my husband holding the pantyhose I had worn the night before close to his face has he was looking at the crotch area. My skirt was on the bed next to him. I usually put my pantyhose in the hamper so he would not see them on the nights I am with Brad. My husband has a pantyhose fetish so him touching them didn't faze me but what I saw next made my pussy tingle. The legs of my hose were draped over his hard cock and he started licking the crotch of my pantyhose.

"Like the taste" I asked him. He looked over at me somewhat stunned blushed and replied "I was horny for you". "Really, well lick my juices out of the nylons then while I go shower". He then grabbed me and held me on the bed and asked why there was so much crust in the crotch and why I was so late again coming home and what is going on. My mind was racing ... what do I say:

Hmmm #1 tell him that I was out fucking Brad, or #2 tell him Brad cums so hard and so much that it leaks into the crotch of pantyhose when I put them back on or #3 do I just laugh it off and tell him I discharged more than usual ... hmm let's see ... I chose number 3.

I left to go shower. When I returned to our bedroom to get ready for work there was my husband standing there holding my nylons with a raging hard on. I walked over to him looking at his hard cock and for some reason I wondered why is his cock was so hard, is it my tan pantyhose that I know he loves or is it he is actually turned on or wants to know if I am having an affair. Puzzled, I ignored him as I went over and pulled out a pair of sheer tan pantyhose to put on to go work.

My mind was confused I was wondering how he knew, I hadn't quit letting him fuck me in fact I probably was letting him fuck me more so he would not suspect anything, now here he is with my cum stained nylons in his hands questioning me, damn I thought how sloppy of me. I took a deep breath and decided I would carry this out to see where it would lead.



I saw him out of the corner of my eye as he watched me intently putting my nylons on. I purposely took my time I enjoyed the fact that I knew I was teasing the hell out of him and my pussy tingled knowing what I was doing to him (later he would share with how turned on he was). When I was done I walked over and put on the heels I was going to wear that day and then sat at my make up table to finish getting ready. As I finished up my thoughts drifted to Brad about how he would have never let me get this far teasing him like I was to my own husband. I thought about how if Brad was in this room he would have literally threw me on the bed by now and been savagingly fucking me, I was really confused by all of this after all here is my husband watching his wife get ready in front of his eyes he has a raging hard on and he doing nothing I mean nothing about it.

He was still hard and now getting somewhat mad at me demanding answers but I also noticed a trembling in his voice.

When I had finished my make-up I was getting a little miffed with him so I walked over grabbed the legs of the nylons he was holding and gently rubbed his hard cock. I pushed him down to the bed and started to masturbate him with my stained hose. I started to talk to him in a soft sexy tone to calm him down. "Yes I am having an affair, I have been for several months, and yes my pantyhose are crusty, crusty with his wonderful manhood". My husband's eyes bolted open and then moaned with his eyes closed. I was surprised by his reaction then he said "tell me more". I was a little taken back by this. This was uncharted territory for us in our 10+ years of marriage.

I kept rubbing his cock with my nylons then I went for it. "Well, I do give him blow jobs and I do swallow". That did it, hubby exploded cumming hard, spurting his cum into my hose. I rubbed his cock and gently urged him on "yes that's it dear hubby get it all out, yes does that feel good when you cum into my nylons"? Hubby moaned, smiled and said "YES" I decided to go for one more thing. "Does me having an affair turn you on?" "YES" I was still gently touching his twitching limp cock then I said " do you like watching me get ready"? "YES" "would you like to watch me and help me get ready for a date sometime"? "Oh God yes Sandi ohhh" I did something I had only done previuosly with my lover.

I bent over and licked the excess cum off his cock and sucked his cock to get any remaining cum. His cock had come back to life so I sucked him hard then lifted my head looking at and seductively licked my pink glossed lips and smiled. "you really liked it didn't you, you like the fact that I am fucking someone else don't you". I couldn't believe myself that I had actually said the word fucking to him and that I had admitted to an affair.

By now I was turned on and I wanted to be fucked. I stood in front of him and demanded I "tear a hole in my crotch so I can fuck you while I tell you about him". He trembled has he fumbled to tear open a hole ... finally I pushed his hands away, stuck my long polished finger nails into my the of hose and ripped a hole. "Brad would have already had the hole there and been fucking me by now". I pulled his head to my open area of the hose and demanded "lick it, lick my pussy, the pussy that my lover fucks regularly". My husband licked like never before. I finally pushed him away and told him to lay down.

I climbed on top stradled him and put his cock on me. I sat up moaning as I fucked him. "Your cock may be in me but my mind is on Brad". My husband moaned as I continued my verbal assault until he had cum again.

When he was spent inside of me I moved my pussy up to his face. He looked surprised and mumbled about having to get ready for work. "Oh so that's it huh, just fuck me and it's over well I don't think so lick it, I want satisfaction, now lick my fucked pussy till I am satisfied." I pushed my pussy onto his mouth and soon I felt his warm tongue inside of me. I sat there wondering what kind of man let's his wife fuck other men-and enjoy it and what kind of husband licks his own cum out of his wife.

Soon I was cumming and it felt good grinding my pussy into his face. I smiled thinking about how I would have him lick Brad out of me someday. We both called in sick that day and explored our sexualty. I found out things he has always kept inside but that's another story for another day. Now we both get what we want. See 2 pictures he took of me and Brad in the email. - Sandi

TONS OF CUCK MATERIAL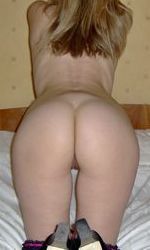 HotWife Janice
I spend alot of time online chatting with and then meeting other men
Cuckold Links

Blogs/Sites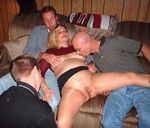 Cuck Images
I am listed on: