Cuckold Husband Video
TOP CUCKOLD SITES
Cuckold Pages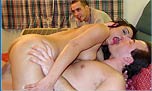 Please Bang My Wife
ARCHIVES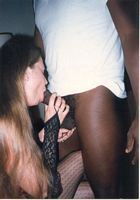 She Cuckolds Me
I am forced by my love to find men online to please her. - Wimp Hubby
Thursday, October 02, 2008
My Girlfriend Was Taken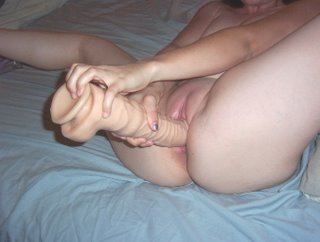 My very sexy girlfriend of nine years (shes 43 im 40) and I have been fantasizing about bringing a dom/bull into our bed. Years ago I bought her a dildo (very big - see attached image) and we where playing with it one night. I was holding it to her mouth as we fucked when I began to help her suck it And the heat has never cooled.

Well we had our first real time meeting Sat! We set up a meeting in a fine hotel bar with a room ready if anyting happened. I had several online chats with a guy named Steve and my g/f had chatted with him also! That was the hottest thing, not knowing what they where talking about. It must have been good becuse if it wasen't good my g/f would have called it off.

I know her so well. Finally the time to meet was up and Steve e-mailed me instructions. First he wanted me to buy the dress they picked out online, also I had to go to victora secret to get a pair of very sexy underwear that he picked. At 4pm on Sat. she was going to be home and I was to greet her at the door fully nude and have all the clothes ready as well as a bath. Now I knew she was in on this because of her mood. She had a bit of dominence in her smile as she looked at me on my knees. She wisked past me heading right to the bathroom and began to strip. I was right on her heels as I bathed her and served her. I cleaned her ass and washed her back as she shaved her legs and pussy bald.

It's been awhile since she shaved herself bald actually. I was trying to get info out of her but she just ignored me. After washing her feet I dryed her and she dressed. She did her hair and make-up as I got dressed. When I saw her I was shaking she was sexy looking. We drove to the hotel to meet Steve at 6pm. I was swimming with sexual tention and she was too. We took a table in the dim lit corner of the bar after checking in. I smiled and asked if she was ok and she smiled and we kissed.

Wow, we were doing this we said to each other. I told her that if at any time she needed to say the word (our safe word) say it ... we reasured each other that we both understood. Then at that moment Steve walked to our table and he asked if we were who we were. I managed to let out a yes. He was more powerfull than I expected with good looks, good shape, and my g/f was wide eyed.

I went to get us drinks and when I returned they where in a chatty conversation. Seems our friend Steve was an art buff and my g/f loves art. But things moved fast. Steve didn't take long to ask if we where going to want this??? My g/f and I looked at each other and we knew the answer was yes. So I looked at Steve and nodded yes. Ok then very good he said. At this time then I want you to switch places with me he said so I moved to the other side of the table and he sat next to her. At that moment I felt the power of his domination over me and I felt myself becoming a cuckold for real.

Steve looked at me as he placed a hand on her leg. I want you to go get the room ready CUCK he said directly into my eyes, turn the bed down and lay out what he had in his small back pack he said. I took the pack and headed to the room. I was to return when I finished. I pulled the bed back and lit a candle, then I unzipped the bag and took out a dildo, a strap-on harness, a blindfold, leather cuffs, butt plug and nipple clamps. After setting these things out I headed back to the bar. Finding Steve and my g/f in a close nose to nose conversation. His hands where all over her and later I lerned that he felt her up good. Is the the room ready cuck he asked ??

Yes Sir I said. Very good then let's go. We all headed to the room. The minute we shut the door Steve ordered me to strip. I took my clothes off and asked him if he wanted me on my knees. He smiled and looked at my g/f and asked her if she wanted me on my knees she smiled and nodded. I fell to my knees looking up at them. Steve told me to get into the bathroom and don't come out until he said...!!! I went into the bathroom and waited. Later I found out that Steve took her into the room and made out with her. She told me he was very dominating to her and she liked it also he was sexy the way he handled her. When I was called out to the room I crawled nude from the bathroom and turning the corner I looked out to see Steve was sitting in the chair dreesed but his cock was sticking out of his fly and he was hard and big!

But the shock came when I saw my sexy love fully naked sitting on his lap with her legs wraped around his leg her pussy was humping his strong thigh. And she had the base of his cock in her tiny hand. Her nipple had clamps on them with a chain linking them. It was so hot that my dick felt like it was going to just cum without control. Steve orderd me to his feet. I saw Steve's hand cupping her nice round ass as he was kneeding the flesh and pulling her ass checks apart. Steve just looked at me as he enjoyed her. My g/f eyes where slits as she humped him and let her ass be his. She stroked his cock slowly as if she was drunk with the feeling of what was going on and I loved seeing this.

Then Steve ordered my mouth onto his cock. I looked up to see her smile and aim his dick at my mouth. My mouth was watering and I just relaxed my lips opening up and allowing as much dick into my mouth as I could. Taking him deep I choked then lifted off only to take it again. She held it and placed a hand on my head. The whole thing was a very sexy loving act. I felt Steve get harder thinking this is going into her pussy soon...!!! I pulled his pants down as I sucked his cock. She took his shirt off and soon he was nude. I was sucking faster now and her pussy was getting his leg wet. She humped him almost cumming at times but just as she was going to cum he grabbed her hair and pulled it telling her no. Then he slapped her ass. Finally he said Cuck stop sucking and help guide my cock into my new pussy so she shiffed herself and got over his cock.

Then I fed cock to her horny pussy and watched it sink into her pussy lips. I sat back on my knees and looked at her riding him........mmmmmmmmmmmm. I was instructed to suck his balls into my mouth and get them wet. I wasn't able to look up but heard her moan turn to a scream of pleasure that seemed to last forever. He had made her cum harder than I have ever heard her and she was still riding him hard. Then I was told to rim her asshole and repeat this until he came too. I didn't cum until we got home but I did clean cum from them both. It was the hottest night we have ever had and we just wanted to share it with like-minded cucks like us.
CUCK COUPLE'S ADS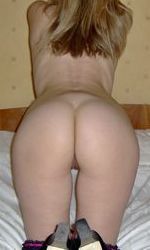 HotWife Janice
I spend alot of time online chatting with and then meeting other men
Cuckold Links

Blogs/Sites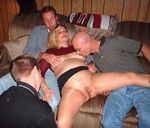 Cuck Images
I am listed on: