Cuckold Husband Video
TOP CUCKOLD SITES
Cuckold Pages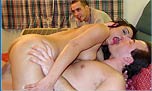 Please Bang My Wife
ARCHIVES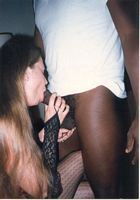 She Cuckolds Me
I am forced by my love to find men online to please her. - Wimp Hubby
Monday, October 13, 2008
From Swinging to Cuckolding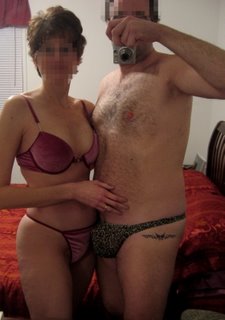 My wife, Michelle and I, have been enjoying the stories in this blog for a year and I just convinced her to allow me to write about some of our experiences. We have been swinging for six years but over the past four years, we have confined our swinging activities to wife watching and gangbangs. Like many swingers out there, it took a long time for me to convince my wife to swing but once she tried it, she couldn't stop. In fact, she wore me out with the number of partners that I am now content to just watch. This is the story of her first threesome.

Four years ago, while living in the San Francisco Bay area, we contacted a new couple in a swingers magazine. After meeting them for drinks, we decided that the four of us were compatible and planned to meet the following weekend. A couple of hours before Don and Anne were to arrive at our house, Don called to cancel saying that Anne had come down with the flu and couldn t make it. I suggested that Don come over alone if it was all right with Anne. Anne didn't have a problem with it and I didn't let Michelle know that only Don was coming over.

We had been swinging for two years now but we had confined ourselves to wife swapping and had never had any group sex. The idea of Michelle taking on a couple of cocks at once appealed to me but I could never get her to try it. This may sound weird but even though we were swingers, we were pretty conventional in our sex with other couples. When Don showed up alone, Michelle was a little put off but waiting for Don and Anne all day had made her extremely horny so she decided to go along with it. While Michelle was fixing us drinks, I told Don about my fantasy and I suggested that we spend extra attention to her needs as she might call it off if she felt any more uncomfortable. For the next couple of hours, we spent the time flattering Michelle, slowly caressing her, and generally treating her like a princess. Pretty soon, Michelle was stripped down to her panties and was so horny that she couldn t have stopped if she wanted.

Sensing that she was ready, we sat her on the couch between us and I began to french kiss her while stroking her left tit with hand. Don began to nibble her ear while fondling her right tit. My fingers slowly found their way into her panties and I stuck a finger inside her pussy. It was dripping wet! I put two more fingers inside her and began to finger fuck her. Don soon joined in and began rubbing her clit while I continued to finger her. After a few minutes of this Michelle stopped kissing me and threw her head back. We knew that she was cumming so we both quickened our pace. Michelle grabbed my hand as she came. It was the most intense orgasm she had ever had.

Don and I both got off the couch and began to strip. Michelle looked at both of us with a glazed over but come fuck me look. Don was naked first and went down on my wife. She loves to be eaten as she wrapped her thighs around Don's head. I climbed on the couch and presented my cock to my wife. Michelle grabbed it with her hand and brought it to her mouth.

She began to lick the pre-come off of my cock and finally engulfed the entire length. Michelle gives great head. She attributes this to her strict Catholic upbringing. When she was in high school and college, she was actually saving her virginity until she got married but the nuns never said anything about oral sex so she got real good at it. Anyway, Don must of been doing a number on her pussy because she began to move her head faster and faster over my cock. I couldn't take any more of her oral attention and soon shot my first load of the evening down her throat. I pulled my cock out and she let out a scream of pleasure that has burned
itself in my memory. Don continued working on her until she came again.

Michelle pushed Don's head out of the way and panted as she came down from her orgasm. Don and I both feared that she would hyperventilate so I got her a drink of water. After finishing her glass of water, Michelle looked at us and smiled a devilish grin. She spread her legs and said, Which one of you guys is going to fuck me! Don and I looked at each other and I gave him the honors. Michelle got on her back as I threw Don a condom.

Don put it on and mounted my wife in one fluid motion. It was not the first time I've seen my wife with another man but this time it was different. Knowing that I did not have to take care of another woman at the same time gave me the opportunity to truly watch my wife enjoy herself. I started to get hard again and joined them on the floor. I started to fondle my wife s tits as I licked her nipples. I could hear
Don grunting above me as he plowed my wife furiously. Michelle wrapped her hand around my cock and started to pump me until I was rock hard. Don's strokes became more ragged and with one push, he came inside my wife.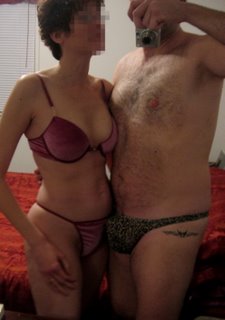 As Don got off, Michelle looked up at me as said Fuck me! I put her on her hands and knees and entered her doggie style. We fucked for a few minutes when, I noticed Don positioning himself in front of Michelle's face. Michelle grabbed his cock and put it in her mouth. The two of us sawed back and forth for at least fifteen minutes, when we decided to switch positions. Don got on his back and Michelle straddled him. I couldn't believe that she was fucking him without a condom but I guess the both of us were so horny we didn t care. I got up to put my cock in her mouth when she stopped me. She said that she was having a hard time concentrating on fucking Don to properly give me a blowjob so I sat back to watch. Michelle moved up and down at lightning speed while Don fingered her clit. Don s face was contorted in pleasure and I knew that Michelle was squeezing him like a vice. My wife loves aerobics and I know what she could do with her cunt muscles. Don couldn't hold back and shot another load up her pussy.
By now, I was getting a serious case of blue balls and was beating my meat like crazy. Michelle got off of Don and crawled over to me. She grabbed by cock and said Let me take care of that for you and put my cock back in her mouth. After a few licks, I flipped her back on her hands and knees and fucked her like a madman. Since I was so close, it only took a couple of minutes before I came again.
We all sat on the floor for a few minutes having a drink when Don said that he had to go. Michelle asked him to stay the night but was disappointed when he said that he had to go home and take care of Anne. He said that Anne would be jealous over all of the hot action she missed. After Don left, Michelle and I jumped into the shower and talked about what had happened. Just thinking about the events earlier in the day made me hard again and I tried to enter her in the shower. Michelle said that both her mouth and pussy were sore but she wouldn t leave me in such a state. She soaped up my cock and proceeded to jerk me off for my third orgasm of the night.
That was our transition into the world of cuckolding. We have some pics of Michelle for the blog and by now have had a few more threesomes and hotel meet-ups with me just watching. We never met with Don again but we'll always remember him as the best time since it was our first. - Crave
***OK - FOR FREE CUCKOLD VIDEOS.
FREE VIDS - CUCKOLD CREAM - It's free while still in testing mode. You need credit card verification for age (like ebay did) and then you get instant access. HERE to see them. - webmaster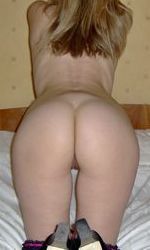 HotWife Janice
I spend alot of time online chatting with and then meeting other men
Cuckold Links

Blogs/Sites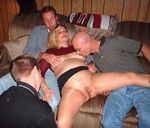 Cuck Images
I am listed on: