Cuckold Husband Video
TOP CUCKOLD SITES
Cuckold Pages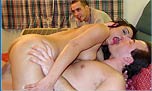 Please Bang My Wife
ARCHIVES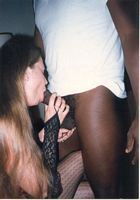 She Cuckolds Me
I am forced by my love to find men online to please her. - Wimp Hubby
Monday, June 02, 2008
Wife K
Hi,

This is a story that's probably familiar to many readers. I originally proposed the idea of my wife K. taking another lover soon after we married 10 years ago, and she rejected the idea as weird. She thought I just wanted an excuse to fuck other women. About 8 months ago her behavior totally changed: slutty clothes, dyed hair, waxed pussy, bellybutton ring, etc.

She read a book called the Ethical Slut, and brought up the idea again of me watching her with another man. She asked what I'd get out of it, and I told her it would be hot to see her enjoy sex with a real stud. She soon admitted that she had begun fucking an aquaintance of hers for a few weeks. After initially being pissed she didn't tell me, we discussed how to bring this into both of our lives, as I was truly into the idea. After she talked it over with her boyfriend, we arranged to all party together for the first time.

They made plans to meet at a sports bar for some drinks before returning home. I bought her a new bellybutton ring to wear that says "Slut," and a new thong to wear on her date. As she got ready I snapped a few pictures. Before she left in a short sundress with her new ring, and no bra on, she unzipped my pants and removed my hard cock. She barely stroked it once or twice and pre-cum gathered at the tip. "I don't want you to jerk off while I'm out. I want you to stay horny the whole time. Don't blow your load." she instructed me as she tucked my cock away. She then kissed me and headed out the door.

For the next two hours I could not do anything but pace and stare out the window. The wait was unbearable. Finally, they pulled in our driveway and they casually walked in, not attracting the attention of the neighbors. My wife introduced us. Her boyfriend B. is a builder by trade and had a firm handshake. Very down to earth typre of guy. We each had a beer and made some moderately awkward small talk, with my wife looking expectantly between the two of us. B. excused himself to the bathroom, and I quietly asked my wife if they had already fooled around. She had stroked him in his truck at the bar parking lot, and he fingered her briefly.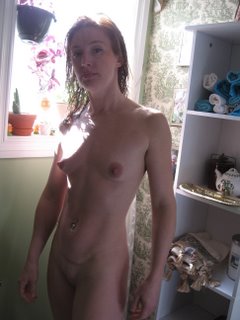 I felt up her leg under her skirt and the thong I bought her was gone. Her smooth pussy was very wet, and she pushed my hand off telling me to behave. "Are you still ok with this" she asked. I told her I was. She then asked if I wanted to watch or not, as they had pre-arranged this little strategy session at the bar. I told her I definitely wanted to watch. B. came out and we sat on our couch with our beers. K. knelt in front of B., and he set his beer down. She rubbed his chest, stomach and legs, as he sat back. I moved to a chair across from the couch to get good view of what was going to happen. My stomach was in knots, but my cock was rock hard.

Before long she had his cock out of his pants and was lick up and down the shaft, tilting her head so I could see. She glanced over her shoulder at making eye contact, and then hungrily continued sucking B.'s shaft. After several minutes of this, she stood and turned towards me. Leaning over my shoulder she lifted her skirt so that B. got a good look at her shaven pussy. She kissed my neck and whispered, "You still ok with this." I nodded. She then rubbed my prick through my jeans and said "Remember, don't jerk off. I want you to wait." She then backed up and lowered herself into B.'s lap.

As she did she held his cock in one hand and guided it into her twat. She slowly slid down the legnth of his shaft, which was thick and at least two inches bigger than my 6. She stared directly into my eyes as she lowered her self all the down to his balls. B. reached up and slid the straps of her sundress down over her shoulders, and reached around to rub one of K.'s perky tits. She slowly slid up and down on his shaft, and her reverse cowgirl position gave me an excellent view. I could feel the pre-cum soaking my boxers, but did not take out my straining dick. If i had I would've exploded immdiately.

White lines of her juices lubed his large cock as she slid up and down, gradually picking up speed. I wouldn't have lasted as long as B., and she was cumming on his shaft as she never has for me. Throughout the whole time, maintained eye contact with me, and had a slight smile on her face, as I sat in my chair and watched.

Soon, B.'s balls tighted and I knew he was close. So did K. as she quickly rocked and grinded herself down on to his balls. Only then did she close her eyes, and let a out a few smalls moans, as she convulsed on his cock. B. grabbed her by the waist and lifted and she slid off just as a thick stream of cum shot out of his member.

He squirted up her belly, and on to her sundress, which was still around her waist. He then stood up and kissed her on the mouth, and apologized for having to leave so abruptly. I think they had also arranged his quick exit to, but I didn't ask. She walked him to the door, and after I said it was nice meeting him, he left.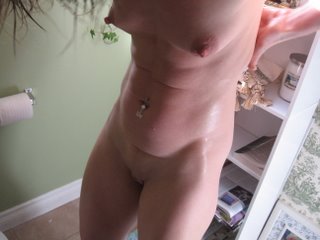 K. led me to our room without a word. She pulled my shirt over my head, and slid off my jeans and boxers. My dick sprang out at attention. K. pushed me back on the bed and slid her sundress over her head. Climbing on top of me, I could feel the warm smear on her belly where B.'s cum had landed. Reaching down, she began stroking my dick slowly, positioning the tip right next to her lips. As she moved on top of me, I could feel the end touch her wet and swollen labia. The heat emanated from her, and I anticipated that she was going to be very sloppy. "Did you like that?" she asked me, her breath hot in my ear. "Did you like to watch me get fucked by a real man? Isn't that what you wanted?" I nodded, as she stroked my dick a little faster, just barely touching her pussy lips.

I pushed upwards with my hips to enter her, but she pushed me back down to the bed. "You're not going to fuck me tonight. Not after I've been with a real man." She continued stroking me. "Did you like that, the way he stretched me open? Did you see how I cum for a big cock? You wouldn't be able to feel anything with this anyway," she whispered, and then stuck her hot tongue in my ear. My balls instantly convulsed then, and I shot a stream of cum on to her pussy, and another stream onto her racing stripe of pubes. "Awwww," she said, "are you better now? You're too easy."

I lay in bed as she bounded off to shower. When she was finished, she got in bed and snuggled up to me and said, "That was fun. We'll have to do it again soon. Love you." And we drifted off to sleep.

Thats the whole story, and please feel free to include my address for comments.

Thanks,

R. burnhamrd7 @ yahoo.com
THE LIFESTYLE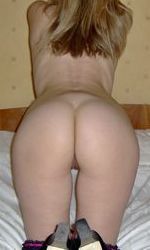 HotWife Janice
I spend alot of time online chatting with and then meeting other men
Cuckold Links

Blogs/Sites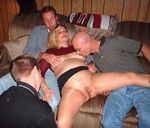 Cuck Images
I am listed on: