Cuckold Husband Video
TOP CUCKOLD SITES
Cuckold Pages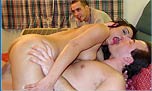 Please Bang My Wife
ARCHIVES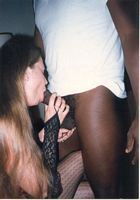 She Cuckolds Me
I am forced by my love to find men online to please her. - Wimp Hubby
Monday, May 05, 2008
My Wife Sue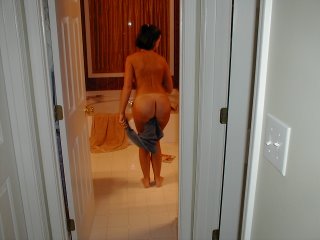 Hi Everyone,

Last Tuesday my wife told me that she had invited Jim to our house for dinner Thursday night. Jim is a salesman that she deals with at work, and he has been asking her out for drinks for several months. She said he is very attractive and in his early thirties. My wife is 42 very pretty and firm boobs. I have never considered myself a cuckold but do enjoy watching her with other men. That status of mine was about to change after this.

On Thursday my wife came home from work early to get ready and clean up around the house. When I got home she was very nervous and told me to hurry that Jim would be here any minute. Jim arrived and we had a few drinks while I made steaks on the grill. After dinner we sat in the living room talking about all kinds of things. My wife and Jim were sitting on the couch with me across the room from them. My wife was wearing a very low cut top and a short black skirt. He told me I was a lucky guy to have such a pretty wife. Then he said Sue tells me you like to watch her have sex with other men. My jaw hit the floor and before I could process any of it he turned and started kissing her and feeling her tits. Sue opened her legs a little and I noticed she was wearing a garter belt with no underwear. Jim put his hand into her top and inside her bra. Then he turned back to me and said are you sure you can handle this, because once I get going I don't want to stop. I stuttered and told him it was okay.

Jim pulled her shirt up over her head and opened her bra. He started sucking her tits and then put his hand under her skirt and was rubbing her pussy. He looked at me and said ohhh she is nice and wet she has been waiting for this all day. Then he said let's go up to the bedroom where we can really get comfortable. When we got to the bedroom they both removed their clothes except Sue kept her garter and nylons on. Jim was rock hard and very well endowed I would say about 10 inches. Jim walked over to the bed and Sue started sucking his cock - she is very good at it but she couldn't take him all in her mouth. Jim said oh yea baby that feels so good suck me I knew you were going to be one hot little slut the first time I saw you. Then he looked at me and said all of the guys that go into her work are always talking about how hot she is and how they all want to see her naked.

Jim pulled out of her mouth and layed her back on the bed he knelt on the floor and started licking her pussy. Sue was holding the back of his head and moaning like crazy. Jim pushed her legs in the air and licked her from her clit all the way down to her ass. He had his finger in her pussy and was licking her asshole when she started to have her first orgasm. Then he said "baby you are so sweet" then he told me to "come here and feel this pussy & have you ever felt her this wet?"

I had to admit I didn't think I had. Then told me to "hold it open for me while I fuck her". He started to put it in and I said wait a minute you have to use a condom. He said he hates those and he didn't want to use one. Then he said "don't worry I am clean, I only fuck clean married women and I always get checked." I told him no you have to use one. Jim said I told you are you sure you can handle this and that I wasn't going to stop. He said "Sue you want me to fuck you or not?"

She said it was okay that he didn't have to use one. Jim said "spread her pussy for me Tom I am going to fuck your wife like she has never been fucked before." I pulled her pussy open then he said "now hold my cock and guide it into her, I want her to know you are having me fuck her." I rubbed the tip of his cock on her clit and then slid it into her. Then Jim just kind of pushed me away and said "watch this now you are going to see the way a real man fucks a hot little slut."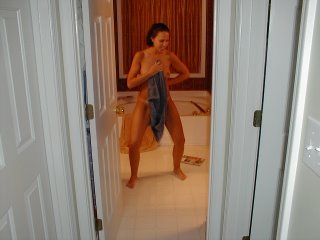 We have never had a guy talk like this before but Sue seemed to really enjoy it. Jim told her to tell me how good it felt. Sue looked at me and said oh baby I never felt such a big cock before, it feels so good. Jim said her pussy is so tight it almost hurts to fuck her. Jim kept pounding away at her for at least 15 minutes really hard then said he was ready to cum. Sue was moaning saying Jim fuck me give it to me baby cum in me I want it so bad. Jim said he wasn't going to cum in her yet and pulled out and started jacking off over her belly. When he started to cum it shot all the way up to her face and he covered her tits and belly with his cum. Then he told me to go get a wash rag and towel so you can clean her up for me. I brought in the wash cloth and towel and handed it to them. Then Jim whispered in Sue's ear and she looked at me and said honey you clean Jim's cum up for me please we want to watch you clean it up. While I was doing it Jim said that is just the first time he said I can cum 7 or 8 times a night.

Then Jim said to me "I just love fucking women in their own bed. Everytime you fuck her here from now on she will be thinking about me fucking her, and how much better I did her." Jim turned her on her side so she was facing me and told her to "look at your husband & tell him to sit on the floor right next to you" which I did. Jim slid his cock into her again and she had the most satisfied look on her face I had ever seen. Jim was whispering in her ear again then she told me to "feel his cock going in me & play with my clit while he fucks me baby."

Jim is the best fuck I have ever had and from now on I am going to be his little whore. He can have me anytime he comes to town. Jim kept telling her what to say and she would repeat it. Jim told me that he was going to spend the whole night fucking her and that I could go sleep in his hotel room. I told him I would stay on the couch and he could stay in the bedroom. Sue said no we want you to go to his hotel, I am Jim's for tonight and he doesn't want to share me. He wants me to himself, I am going to let him do anything he wants to me, I am going to be his woman anytime he wants. Then she said he wants to fuck my virgin ass and I don't want you to see that. Jim said "Sue you are one hot little slut I can't believe you are the same woman that I know from work." He pulled her on top of him so she was facing away from him and she was riding up and down on his cock. Sue told me to go down and lick her while Jim fucks me. Jim said he was ready to cum again and Sue told me "hold his cock in me and squeeze it a little so you can feel him cumming in my pussy." Jim started cumming And he just kept going. Cum was dripping out of her pussy and down his cock. I couldn't believe that anyone could cum that much especially after he had already came just a half hour before. Then Jim went up and had Sue lick his cock clean as she did it he just stayed hard.

Sue told me to stick my hand in her pussy and feel all of the cum in there. When I did and pulled my fingers out a huge glob of cum came out and fell on the bed. Sue told me to get another wash cloth and clean it up for Jim. After I came back from the bathroom and cleaned her pussy Sue told me "it's time for you to go now. The key for Jim's hotel room is in his pants." Jim said its room 432 at the Holiday Inn by the freeway. I told them that I didn't want to leave. Sue said If you ever want to have sex again or ever wanted to watch again you have to leave. I want to spend the night with Jim alone and give him everthing he wants.

When we went to bed the next night I pulled the covers back and there was cum stains all over the bed Sue said that Jim wanted me to sleep on his cum for a day or two so I would know how many times he fucked me in your bed and I would know what a stud he was. Then she said he really was good and that she really had a good time with him. She told me she loved me and that Jim was just sex, but it was the best she has ever had. Next time he is in town I am going to spend the night with him at his hotel. We are going to go out for drinks after work with some of his coworkers and he wants them to see us go into his hotel. He made a bet with them that he could fuck me and he wants to prove it to them. He told them That I was going to be his and that none of them would ever get a chance.

So that was our experience with Jim. So far he hasn't told us when he'd be back. I felt humiliated having to go to his hotel room but you get used to it really. Sue is still my wife but that was a raw experience. The first time someone spoke to us in that way and controlled the situation like that. I admit it was arousing and find myself looking forward to our next meeting with him although I am somewhat nervous. I have attached 2 pictures of Sue getting ready. The hot wife she is! - Tom & Sue, Tennessee
LOST CUCKOLDING ARCHIVES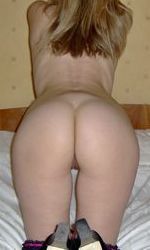 HotWife Janice
I spend alot of time online chatting with and then meeting other men
Cuckold Links

Blogs/Sites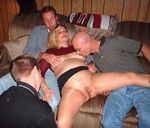 Cuck Images
I am listed on: