Cuckold Husband Video
TOP CUCKOLD SITES
Cuckold Pages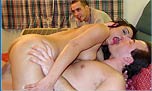 Please Bang My Wife
ARCHIVES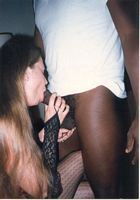 She Cuckolds Me
I am forced by my love to find men online to please her. - Wimp Hubby
Monday, April 28, 2008
My Wife's First Black Cock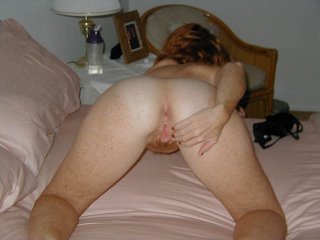 I broke my foot a few weeks ago and have been kind of laid up. One of our neighbours has been helping my wife do a few things around the house. We have known him for about 3 years since he moved in across the street. He is a black man that is built like a linebacker. He stops over to our house about once a week usually when my wife is out by the pool. Ever since we've shared fantasies involving cuckolding I've never felt her so wet in bed and knew she was ready if the opportunity ever presented itself. Tony it seemed was our bull.

He is always flirting with her and teasing her about how much better black guys are at sex and its to bad she was married. Then they always laugh.

Tuesday he invited us to go to dinner and have a few drinks. We went to a bar and resturant that had salsa dancing. Tony got us a booth that faced the dance floor and he told me to sit on the side so I could watch the dancers and put my foot up on the booth. Tony and Terry sat across from me. Terry had on a short white dress that had fringes at the bottom and was very low cut.

Tony asked her if she wanted to dance which she loves to do. They went out on the dance floor and danced to several songs. She looked really hot out there and I noticed several guys checking her out. Tony would spin her around and her dress would go up showing her white thong and part of her ass. They came back and sat with me for awhile he said man your wife is a good dancer and she looks great out there too.

I told them that when you spin her around I could see her thong. Tony said well why do you think I was doing that so much. My wife asked me if I was getting bored sitting here by myself. I said no I am just enjoying the music and watching the dancers. She said okay then and her and Tony went back to the dance floor. After a few songs Terry came back over to the table she said they were really hot and were going to step outside for some fresh air for a few minutes, then she said watch my purse honey.

They were gone for about 20 minutes. When they came back in my wife came up behind me and bent over the back of the booth, she kissed me and stuck her tongue in my mouth, thanked me and said she was having a great time. She said she was going to the bathroom and said she would be right back. I looked down and she had dropped her thong on my lap.

While she was gone Tony said your wife is really hot she should drink those margaritas more often. When Terry came back she said she was ready to go & that she is kind of worn out.

We left and when we got to the car Terry got into the backseat with Tony. She put her feet on his lap and asked him to rub her feet that her shoes were killing her. Then she said oh that feels so good your hands are so big and strong. I kept looking back in the rear view mirror but couldn't really see much but figured Tony was getting a good look at her pussy because she had removed her thong.

When we got to our house Terry invited Tony in for a drink. He said maybe he better go home she said oh come on it's early yet. He agreed and came in she told me to make us some drinks while she goes up and changes. We heard her go into the shower and she was upstairs for awhile. Tony told me again how hot she was and that he really enjoyed dancing with her.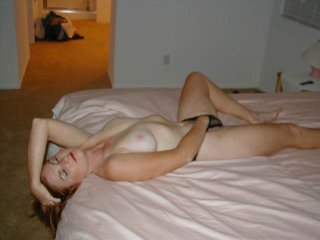 When Terry came back down she had put on a black satin robe she said "there I feel so much better". She looked at me and said "did you enjoy watching us dance baby?"

I said yes it was really hot watching the 2 of you out there. Then she turned to Tony and said I knew he would like it, he likes to watch you know. Then she kissed him on the lips, and said you want to let him watch some more and pulled her robe open. He looked over at me and I said go for it buddy. Tony pulled her closer to him and kissed her and then put his hands on her breasts and his hand covered most of her boob.

Terry reached up and put her hands on his crotch and squeezed his cock. she said when we were dancing and I felt your cock against me I knew I had to have this. Then she got on her knees and opened his pants. She reached into his underwear and pulled out his cock. He was about 8 inches long and still not hard. She looked back at me and said did you taste his come when I kissed you at the bar. While we were outside I gave him a blowjob and still had cum in my mouth when I kissed you in the bar.

Tony looked at me and said I told you she was hot and now I am going to get to fuck her bald pussy right in front of you. Terry stood up and removed her robe. She stood in front of him only wearing a black garter with nylons. Tony put his finger into her pussy and moved it in and out saying I love that bald tight wet cunt baby. I want my cock inside of you. Then leaned over and licked her clit. Terry got down on her knees and starting sucking his cock again as he was now fully hard and pulled her up and said are you ready for the best fuck you ever had baby.

Terry said well let's go upstairs where its more comfortable. We all went upstairs and Tony carried up a chair for me. I told him there was a rubber in the nightstand he said I hate those things it kills the feeling. Then he said don't worry I am clean and I will pull out before I cum. Terry said it's okay just put that big cock in me. Tony got between her legs and started rubbing her clit with his cock. She started begging him come on give it to me let me feel that monster in me. He slowly started to enter her saying oh baby you are so tight it almost hurts.

It took him awhile but soon was all the way in her Terry was saying "yea baby fuck me, give it a to me baby" and he fucked her for about a half hour and gave her several orgasms. He said he was ready to come and asked her where she wanted him to cum. She reached around him and slid a finger in his ass and said give it to me baby I want to feel it inside of me. Tony tensed up and started to cum he seemed to just keep going for what seemed like minutes. Then just stopped and laid on her for awhile. When he rolled off of her I could see the cum dripping from her pussy. Then she said to me "will you come over her and clean me up baby & show Tony how much you love me."

That was our first time and only time so far but what a start. I have sent 2 pictures of Terry that you can also post on your blog. - Dave
CUCKOLD COUPLES LOOKING ONLINE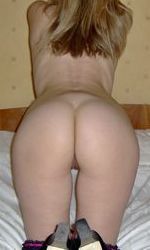 HotWife Janice
I spend alot of time online chatting with and then meeting other men
Cuckold Links

Blogs/Sites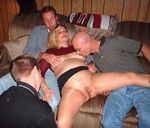 Cuck Images
I am listed on: