Cuckold Husband Video
TOP CUCKOLD SITES
Cuckold Pages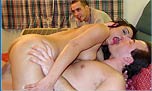 Please Bang My Wife
ARCHIVES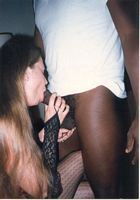 She Cuckolds Me
I am forced by my love to find men online to please her. - Wimp Hubby
Monday, April 07, 2008
My Wife and My Story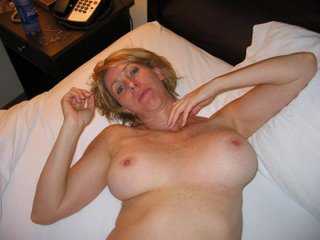 OK, well, my wife and I have been married for 13 years now, and for the most part, times have been good. About 10 years ago, we sent some nude photos of her to an adult magazine, in hopes that they would feature her in the amateur's section.

They did print the photos.

Well man, let me tell you, she had more letters than any other amateur had ever gotten, (addressed to the magazine) and it wasn't long before they were contacting us, (her, really) about doing a professional 8 page layout. To make a long story short, she did, and we both agreed to start receiving fan mail at home, forwarded through the magazine. I had always had this fantasy of seeing her pleasure another guy, and this one dude almost had a shot. But alas, things happened, life went on, and it never materialized. We talked about it, she knew I was aroused by the idea, but it never happened.

Now i'm working at a different place, and I meet this guy that is pretty cool, easy going, and what not. A non-threatening type of dude, if you will. We worked late, on the same crew, and he would come over to my house after work to smoke a few, drink a few. At first, since my wife is very shy she didn't want us in the house, so we just sat around on the porch, drinking and chatting it up. We had a lot in common. I didn't think he'd be going after my wife, so I never gave it much thought.

Anyway, the weather turned cold, and it was very uncomfortable to be sitting around outside drinking beer. I asked my wife if we could come in the house, stay in the living room, and all that. She grudgingly agreed, she was kinda mad because she claimed that she would have to stay in our bedroom the whole time, messing around on the computer. I kept telling her that this guy was a lot like me, he was cool, he would never be a jerk, and all that. Well, on occasion she did start venturing out of the room, just to get something to drink or whatever. She and my buddy exchanged pleasantries, like hi, how ya doin, stuff like that.

I asked him what he thought about her while we were all buzzed, and he said he thought she was beautiful.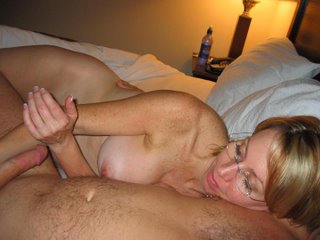 Anyway, since my buddy and I would have some good smoke going on in there, she eventually decided to throw her modesty out the window and start joining us every now and then. After a few weeks of this, I asked her, half jokingly, if she'd like to suck him off. Her reply was, "I wouldn't mind!", giggling and smiling as she said so.

Well, we had a short talk about it, nothing serious, and I asked her if she would mind if I told my friend about her response to my question. She said she guessed not, but did I mind? I said I didn't know, I'd have to think about it.

As you can guess, the next day at work i was asking him if he really thought my wife was hot, and all that. It took a day or two, but eventually I asked him what he'd do if I told him that she'd suck his dick if I asked her to. (He's married, but his wife ain't got half the looks that mine has.) He was really nervous, and wasn't sure, but I said "Whatever man, if you need to get sucked off, just let me know!"

I think it took a week or so of further after work visits to our house before it finally sunk in to him that I was for real. Of course, like any red-blooded male, he said yeah, he'd like to have her thick, red lipsticked lips all over his dick.

I told my wife of this development, and she started to dress more provocatively, much to the delight of my buddy. We're talking big titty city here... lol

I told my friend to start saving up his load, because I wanted to see him splatter her face big time... He was nervous, but agreed. I assured him that she does indeed like big wads of cum in her face. So, since we were on the same crew, we both had the same days off. We agreed that wife and I would come pick him up on our day off, while his wife was at work, and he could come to our house all day, eat, listen to music, play video games, watch tv, what not, with both of us. We all got along really well.

On the first day of his non work related visit, (meaning that it wasn't after we both got off work) we all sat around, had good conversation, fun, and uh, getting pretty high. After we were all sufficiently stoned, I decided to get the ball rolling. I told him to get up and come over to the couch where my wife and I were sitting, and sit on the opposite side, so that she would be between us. He was visibly nervous, but did so...

After a few more minutes, I reached over and started feeling my wife's big tits right in front of him, and she just smiled at both of us.. I said "hey, I don't think she'd mind if you got a feel too.." She looked at him, smiled, and said "No, I don't mind." He finally got to feel my wife's big tits. After he got started, it seemed like instinct took over. He was massaging that tit! lol

Eventually, once I saw that he was becoming very uncomfortable over there, his stiff dick was quite visible through his pants, I was like, "well, you look like you need some relief, dude!" He acknowledged the fact, sheepishly, and even without any prodding from me, my wife reached out and started stroking his length through his jeans, the first time she had ever done anything like that without my approval.

Well, that excited the shit outta me. All I wanted to see was her slobbering on his dick, him pumping her throat until he nutted uncontrollably.

I got my wish. I sat beside them as he stood up, his crotch inches from her face, and he released his dick. It wasn't quite as long as mine, but it was definitely thicker. My wife was smiling the whole time, she started sucking that dick just like she does mine. However, there was one difference. I had told her that I asked him to save up his load, and usually, whenever she sucked me off (which wasn't very often) she would use her saliva slicked hand to bring me off pretty fast. But this time, with him, I noticed that she was going for the big load, she didn't use her hand at all. She either wanted to have his fat dick in her mouth for as long as possible, or she wanted a major splattering, or both. She got both.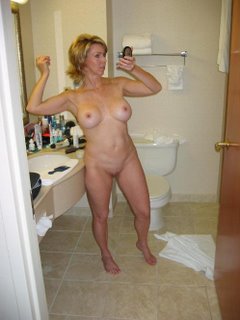 I sat there beside them, watching her bob her head up and down, sitting on my couch, in my living room, in my house, sucking this other man off. I was slowly jacking off, using Astroglide, and trying to make it last... He seemed to be having trouble cumming, and I kind of excused myself, saying I needed to get some tissue. I went into my bedroom, and as I walked out, I actually said that I wanted him to fuck her in the mouth and cum all in her face and hair..

I stood right in my doorway, out of view, and it was obvious that that was what he needed to fully enjoy my wife. He couldn't use her fully while I was in the room. I stood there, jacking off and listening as I could hear her slurping sounds on his fat dick and the increasing tempo of him fucking my wife in the mouth. Within seconds, he says ok, now! and I could hear the unmistakable sounds of him emptying his balls across her face. I walked in seconds later and will never forget her smiling face, glistening with cum, looking at me as if to say "wow, he shot off big time!"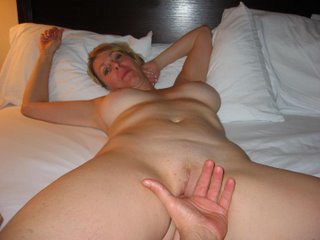 However, to make a long story short, he started falling in love with her, and her him, but in the end I won my wife back, she appreciates me more, and our marriage is a hell of a lot stronger than it was before this whole fiasco unfolded.

I still work with him, but she hates his guts, because of a lot of reasons which I won't delve into here, but suffice it to say that they won't be talking to each other at any time in the future. After I found out he was trying to seriously come on to her, I almost killed his ass, but I do understand how he fell in love with my wife. I mean, after all, I did. Also, I've included 4 pictures of her. She is not as young as when she did that magazine but if you read it back then then you may recognize her. - GerryLee
THE ORIGINAL CUCKOLDING ARCHIVES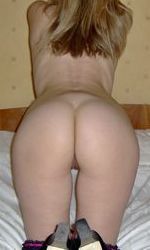 HotWife Janice
I spend alot of time online chatting with and then meeting other men
Cuckold Links

Blogs/Sites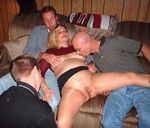 Cuck Images
I am listed on: