Cuckold Husband Video
TOP CUCKOLD SITES
Cuckold Pages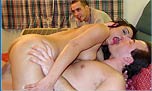 Please Bang My Wife
ARCHIVES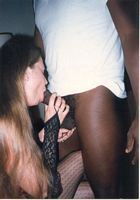 She Cuckolds Me
I am forced by my love to find men online to please her. - Wimp Hubby
Monday, April 14, 2008
More From the Eastern Pennsylvania Cuckolds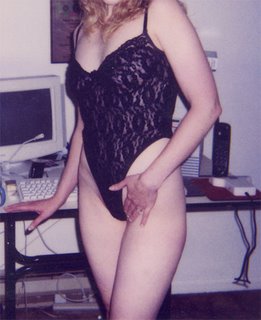 I ended up replying an e-mail to someone that wrote me from the last story we posted and as I was replying I ended up starting to tell him how we got into MFMs. The beginning part, if it doesn't make sense, was in response to him agreeing that the dom/sub thing is a turn off.......

Yeah, the whole humilation thing is a turn off. I am always the one that picks the guys, not her, she is too shy so I am the one that usually gets it started. We haven't had many bad experiences. I can only think of one time and the guy was pushy thinking that my wife needed other men because I wasn't good enough and that completely turned her off. She basically said "We do this for amusement only for something different, my husband is perfect". She then kicked him out. LOL

We have a lot of stories to tell. We have been together 22 years but the first time we ever did anything was with a couple somewhere around 1991. I ended up going into an adult book store to get her a toy and saw a magazine called "The Pennsylvania Connection: A magazine for swingers". I bought it just for amusement because I didn't think it was real and bought it for a laugh. I took it home and my wife asked what it was and I told her I thought it was a scam, kinda like Penthouse Forums, I never thought the stuff was real.

She started paging through the magazine and saw that they were personal ads and she said "This looks like a nice couple". I was floored, although we fantasize while having sex I never thought she ever really considered it. We hooked up with the couple but we expected only oral. The guy was a little pushy so my wife just climbed on me to make sure he couldn't get to her. The other woman was a little pushy on my part too. After all was said and done, we decided it was a good experience but we would never do anything again, she was too jealous when she saw the other woman going down on me, but to my surprise, I wasn't jealous, and I used to be very jealous back when we were dating. If someone just looked at her wrong I would get in their face. I know we have a perfect bond after we got married and it turned me on seeing her being pleased more than one man could.

I then set up our first MFM sometime within the next 2 months figuring the only reason she didn't want to to it again was out of her own jealousy. It was a boyfriend of one of my employees. It was NY Eve and she was walking around in a teddy and she said she was tired. I told her to hit the bed but sleep on top of the covers and I will wake her up enjoyably. She fell asleep and I called this guy to come over for a beer and he did. I told him to walk down to the end of the hall and look in the bedroom and there was my wife, in her black one-piece teddy laying on top of the covers asleep. He came back and told me she was hot!



We sat around and drank a beer or two and he asked me what we were going to do. I told him to grab a chair and sit in the hallway and watch for a while and I will start on her to get her going before she finds out he is there. I figured if I got her all worked up, she wouldn't have a problem with a few extra hands.

He had told me he was a little uncomfortable sitting in the hall and asked if he could sit somewhere in the bedroom. I put a chair over by her bureau and he was content sitting there. My wife had on a black one-piece teddy with a snap crotch. I started licking her between the legs and she started moaning and moving. After about 5 minutes of teasing her I unsnapped her crotch and started going down on her and fingering her. After a little while she finally opened her eyes and she was, of course, caught off guard and screeched a bit, but her hands over her eyes and started laughing. I then told her to relax and after a bit she did, after I introduced them. I started going down on her not knowing how I should make the next move but she eventually took care of that herself. She had asked him to come over to the side of the bed and when he did, she started unzipping his pants and pulled out his cock. It didn't take her too long to pull him closer so she could suck on him.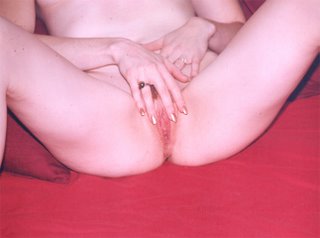 At this point I moved her into a doggy style position so I could fuck her and she could give him head. Now being this was both his and my first experience with an MFM we didn't take long to finish this. I heard him say he was about to cum and I just turned to him and said "So am I". My wife had asked him to cum on her face and requested that I cum all over her ass. Within seconds I pulled out and started cumming on her back and as he was watching it, he couldn't hold back either and he pulled out and let her jerk him off all over her face.

We had, at that point, a 'cum rag drawer'. It is a drawer under our bed that we put old shirts of mine that I won't wear anymore so we have quick access to something to clean up with. She grabbed one and cleaned off her face and I took it to clean off her back.

We then sat down on the bed for a while just talking. She wanted to know how I knew him and told her that he was a boyfriend of one of my sales representatives and that we somehow got to talking once about sex. I told him the story of what we tried a few months earlier and told him that she was too jealous for me to be with another woman but it turned me on to watching her with another guy, and thus, he was there.

I thought we were done for the night but after sitting there talking for a while, and he was still looking at her slightly playing with herself, just lightly, but it was enough to get him a rise again. She turned to him and asked if that was for her and of course he said yes. I let them go for a minute or two so that I could go back out to the kitchen to get the last two beers. When I came back in they had switched into the 69 position and I just sat back and watched for a bit. I wish I had a Polaroid at that time because it would have been great. This was long before the advent of computer technology and the digital camera. (by the way, I went out and bought a Polaroid camera the next day just in case a future scenario arose.).

I sat down on the chair that he was at. His name was actually Kevin, it took me a while to remember it. I just watched for a while and grabbed something to stroke myself with and she was watching me as she was sucking on him in a 69 position. This is one of her turn ons. One of her fantasies is to tie me up and be with a guy just to see if it will turn me on so much that I can climax without anybody or anything touching me. It isn't a domination thing, it is just something we wondered it possible? If anybody can attest to being able to get off without getting touched I would like proof. She won't ever tie me up because she never wants me to not be in control in case something goes wrong.

Anyway... after about 10 minutes of watching this I decided to get on the bed and he had asked if he could just watch us have sex for a while. He wanted to watch me on top of her so I climbed on top and made sure she was close enough to the edge of the bed so that, if he wanted, he could come back up to the side to get sucked on.

I wrapped her legs around my shoulders and started pounding her pretty hard. After a few minutes she told him to get back over here so she could suck on him and I think he got there before she even finished the sentence. Watching this, again, turned both of us on and although it lasted longer than the first time, we were both cumming on her chest in minutes. She demanded that she wanted it on her chest this time so that she could have a puddle on top of her. It was intense, and of course the 2nd orgasm is always more intense than the first.

We got to talking again and told him we were out of beer and asked if he wanted to run to the bar to get a six pack and he agreed. We ran a few blocks up the street and although I thought one of us, or both, would be uncomfortable at this point, we were perfectly fine talking about it. We grabbed the six pack and came back into the bedroom only to find my wife had pulled out one of her vibrators and was playing with herself. Another of my wife's kinky things she talks about when we are fantasizing is having guys watch her play with herself while they are standing by the bed. Her fantasy has about 6 or 8 guys in it but I was hoping 2 would do. Once we got into the room she told us to get undressed and just stand there and jerk off until she cums.

It only took about 2 minutes into us getting hard when she had another orgasm. I had asked her if she would allow him to fuck her but she turned that down. She cherishes the fact that I am the only one that has been inside of her but she did ask if he could go down on her while I watch and he jumped at the chance.



Kevin went to town on her and he was loving it, and I was having a ball watching it. My wife is shy, but it turns her on when she knows she turns others on. I almost thought she was going to let him fuck her because she was having intense orgasms but it never materialized. She did, however, tell him that he could rub his dick on her clit until he was going to cum so that I could at least get close to experience what it would look like. He then layed his cock down on her clit and layed down on top of her. From my angle it actually looked like he was fucking her. I was almost hoping he would 'slip' and it would go inside, and force her to get over her phobia. After about a minute or two I had to get a closer look so I hopped up on the bed alongside her. She grabbed my cock and started stroking it and he had raised himself up so that I could see his cock fucking her clit. After about a minute he started tensing up and started shooting cum all over her belly button and while I was watching this, I started shooting all over her face. Now since this was the 3rd time in a few hours, there wasn't that much cum, but the intensity was even more incredible than the first two. I couldn't believe she let him rub his cock all over her pussy but she wouldn't let him fuck her. I just assumed there was hope for the future after she got over her inhibitions.

It was an intense night either way and we had him over one more time after that but it wasn't as good as the first, but then again, is anything ever better than 'a first experience'? We are in Eastern Pennsylvania. Our initials are C & R. - Cuckeastpa @ aol.com

CUCKOLDING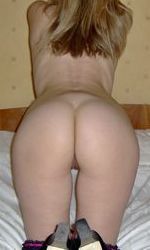 HotWife Janice
I spend alot of time online chatting with and then meeting other men
Cuckold Links

Blogs/Sites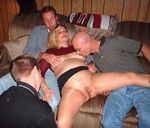 Cuck Images
I am listed on: