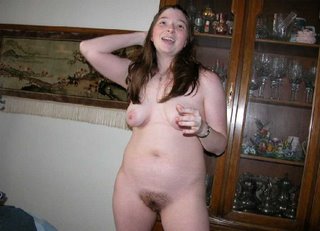 My Horny Wife
My wife and I have been long time readers and have used the stories here as foreplay. My wife loves it and I love the result! Recently we had an experience we'd like to share but I'll let her say something first.
WIFE - Hi there. I love the stories and just wanted to say thanks. We have some pictures and a story that happened to us recently that I'll let my husband tell since he says I don't tell it right (I emailed it to someone we had been in contact with who is in our network) and then I'll say something again when he's done.
HUSBAND - My wife and I had an in depth discussion about the whole idea of having another man join us and please her and it turns out, she is very turned on by the idea. It makes her very horny to know that both of us want her at the same time. She admitted that she has always thought about what it would be like to have sex with another guy.
So far she has not agreed to go full out but suggested that if the moment was right she would definetly like to give him a blow job while I watched but also admitted that she would like for him to go down on her as well but she isn't sure she is ready to go that far. She also added that if she is having a good time things could go further.
On Saturday AM she suggested we set up a time for him to come over for dinner and drinks. It is a guy we met online who we both chatted with and were both satisfied with. He seemed very nice and sincere. I have explained what might or might not happen and he couldn't wait and neither could I.Since the morning we have been at each other every chance we get. She is even more wild in bed than ever before. She even asked me to do her with one of our larger dildos while she sucks me off.
However, she still warned me that it might never happen and it would be up to her to make the first move, either through extreme flirting or flat out making a move on him.I didn't want to get my expectations up too high but I was crossing my fingers.
The night came and it didn't go like I "thought" it would but it was very erotic anyway.He arrived a little late, we went into the den. She was dressed casually in a pair of white capris and a pink T. Everything was as normal as any evening except that we knew what might happen. We had some music in the backround and sat around the bar. I served the drinks but they weren't strong. I didn't want anyone getting too drunk, including myself.
It seems she wasn't sure how start things. We didn't set a time limit but it wasn't until 12:00 or later when it started. They had been flirting heavily as ususal. He left for the bathroom when she finally gave me the signal. She looked at me with a smile and said she was going to take a shower. My heart started to race, I felt like I was going to faint. I've never fainted before.He came back to the bar and sat down, I told him she was taking a shower and asked him if he was still in. He was definitly still in!Remembering what she asked me to do, we both headed for the bedroom to wait for her. It seemed like an eternity lying there, lying naked next to a guy I've known for a few hours. My heart was still poundng in my chest. Then I heard the bathroom door open....
READ THE REST HERE
.
THE CUCKOLD HOT SITE
-
SHARE YOUR CUCKOLD EXPERIENCES OR FANTASIES!
-
ARCHIVES FROM THIS BLOG