Cuckold Husband Video
TOP CUCKOLD SITES
Cuckold Pages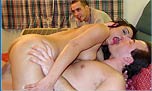 Please Bang My Wife
ARCHIVES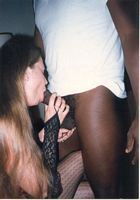 She Cuckolds Me
I am forced by my love to find men online to please her. - Wimp Hubby
Sunday, January 06, 2008
I am Now A Cuckold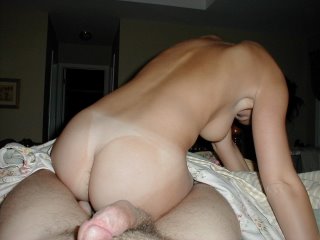 I have now become a cuckold. When did the truth really sink in? Surprisingly, it wasn't while my girlfriend was flirting with him, and it wasn't when she took his dick in her mouth, it wasn't even when he slowly slid into to her. No, it really hit me that my life had changed when she looked me in the eyes just before she went over the edge into a huge orgasm, and said out loud to him "Fill me with your cum baby, I want to feel it". See, we had agreed that this was the one thing that was not supposed to happen. Of course when it did I shot cum all over myself from the sheer intensity of it.

This was something a long time coming (pardon the pun). I was married young and during my first marriage my wife cheated on me with an 18 year old stud. Now, I am and have always been a very fit, attractive guy. I'm not fem and had never had thoughts of wanting to see the woman I was with be with another guy. I wasn't the jealous type, but then again, honestly, the thought that someone would cheat on me had just never crossed my mind.

When I finally uncovered that my wife had been cheating on me I was devastated. It's like I had been gut punched about a dozen times. I confronted her and after a while, she confessed. It had been going on for about three months. I agreed to not leave immediately and decided to try and work things out. Of course I insisted she stop seeing him immediately. It was about a month later when I realized that she didn't stop. I confronted her again and she confessed again and said that it would be over.

About this time an interesting thing happened. I was having trouble dealing with the idea of her being with someone else and I couldn't get the image of her with another guy out of my head - it didn't help that I had met the tall handsome stud before. Also, with the strain on our relationship, we weren't having much sex. I turned to masturbation on a regular basis, but everytime I did it the image of them together was in my mind...and it was turning me on big time. Soon I was fantasizing about this stud fucking her to multiple orgasms. I imagined his big dick slidding in and out of her making her beg for it.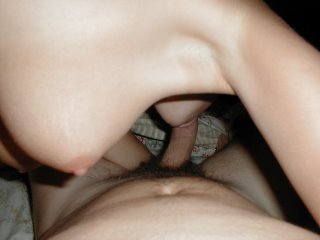 The problem was she didn't stop seeing the other guy. I believe that she wanted to, but just couldn't bring herself to do it, self-control was not her strong suit. One night, when I was pretty sure she was out with him I drove to where I knew this guy to be living. I parked a little ways away and snuck over toward his apartment. I saw her car there. I snuck up to the bedroom window. The curtains were closed, but I could catch movement and voices inside. If I looked hard enough through the corner I could see the bed move and could hear the creeking. Hearing this made me a wreck. My heart was in my throat, my stomach was in my shoes, twisted in knots and I had a raging hard-on. After a few moments I raced home, entered the house, laid on our bed and jacked off with images of her being with him.

In a couple more months the guy left our town and things returned somewhat to normal. A couple years had gone by and she never had another affair. However, our marriage broke apart due to other issues.

I dated quite a bit over the next few years and eventually met another great girl (see pictures). We were a fantastic match. With her scandanavian genes, she's tall, and has a great body. For those that are interested she is a 32c, with a nice tight butt. The pictures don't show quite the whole body but they were taken by one of her lovers while they were in bed together. We had fantastic sex and always seemed to be in bed. Eventually the conversation turned to our past and I told her my story, leaving out the part about me getting turned on by things. I confided in her that I had always wanted to try a threesome. At first she balked. She didn't want to cheat on me ect. It took me a few weeks to get her to understand that I was serious and wouldn't think she was terrible.

Now I am not one of those guys that wants my woman to go off and fuck some other guy and then come home and give me whatever is left, but I am highly intrigued by the threesome idea and the idea of watching her with another man. Eventually we started fantasizing about this when we made love. We would make up little stories, like we would pick up a guy at a bar and bring him home. We even tried it once on a vacation, but the guy got nervous and bailed. As the fantasies continued she started telling me more and more about what she fantasized about. A couple of them really surprised me.

One thing to know about me is that I am sort of bi-curious. I'm not truly bi as I definately prefer women, but I have experimented with guys both before my first marriage and after it. Turns out that this turned her on. She has often fantasized about watching me suck another guy. She wants to watch him cum in my mouth. She has also hinted at wanting to watch someone fuck me, though she won't admit it straight out.

The other fantasy she has admitted to is wanting to sleep with a guy right under my nose. Like while I'm in another room. I don't participate and usually don't even know though once in a while I catch them. This fantasy bothers me a little as I don't really want her cheating on me.

About a year ago we actively started pursuing the threesome idea. We met up with a few guys but nothing seemed to click until this one guy answered an ad we had on the net. Long story short (too late) the chemistry went very well and even though she said she wouldn't do it on the first date we wound up in bed together. This was just two months ago. It was a little awkward at first, he and I kept sort of bumping each other as we always seemed to be going for the same tit or something. After a little while though we got it down and were having some fun.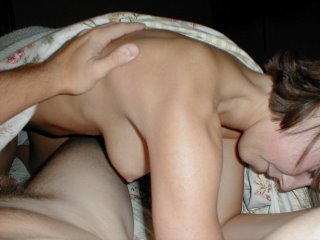 I remember that I was in her and she was sucking him. Then she suggested that we switch. I watched wide eyed and with my stomach in a knot as he slid right into her. I expected her to be a little more nervous with him, but she wasn't - she seemed very comfortable. They fucked like there was no tomorrow and in every position imaginable. He even spooned her from behind so that I could lick her clit. I had lost track of her orgasms and she seemed to enjoy me watching. I would see her look over and look me in the eye or see my raging hard-on and it would send her off again.

We got together several times over the course of a couple months and each time it was mostly the same. ALthough I have began to suck him on occassion to get him good and hard. I have to say he has a really nice cock. The last time we were together though he slid into her bareback. This was against our rules, but honestly, I missed the fact that it happened. It wasn't until she was crying out for him to cum in her that I noticed. I then watched as he burried himself to his balls in her and unleashed huge jets of cum. It was like they had kicked me in the stomach. This was the one thing I wanted for myself, that I was the only one to cum in her.

I later learned that since that first time they have been having sex on a regular basis and that he never uses a condom. Like I said, I am now officialy a cuckold. - Vic
KINKY CUCKOLDING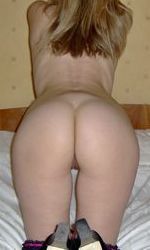 HotWife Janice
I spend alot of time online chatting with and then meeting other men
Cuckold Links

Blogs/Sites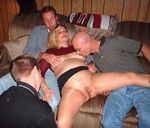 Cuck Images
I am listed on: