Cuckold Husband Video
TOP CUCKOLD SITES
Cuckold Pages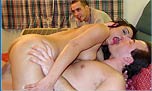 Please Bang My Wife
ARCHIVES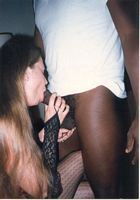 She Cuckolds Me
I am forced by my love to find men online to please her. - Wimp Hubby
Friday, January 18, 2008
The First Time I Knew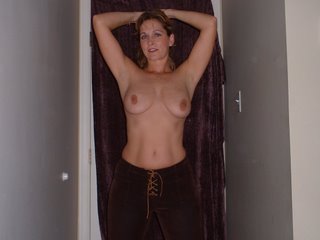 Hi to All the Cucks Out There,

I have some pictures of my wife to showcase and our story for the blog. Last year my wife and I went to a halloween party with a few friends. My wife was dressed in a very skimpy space girl costume and she was really hot. It was a silver halter type top with silver hotpants and high silver boots, she also had a silver head band. We had been to several bars before the party and she got a little drunk she was getting plenty of attention everywhere we went.

At the party this guy she works with was really hitting on her but she kept laughing him off but still kind of flirting with him. My wife told me that Mike keeps trying to feel her up. I told her I would tell him to knock it off and she said oh no he is harmless. About an hour later I noticed my wife was gone, I started looking for her but couldn't find her. I walked into a back room and found Mike kissing my wife - he had her top up and his hands down her pants and she had her hand down his pants.

I don't know why but I felt mad and excited I watched for a while then decided to go stop it. I walked over and grabbed my wife I told her we are leaving and we went to the car my wife cried and said she was sorry but they were just fooling around. When we got in the car she was still saying she was sorry and that she loved me. Then she told me that Mike has been hitting on her for months and that he has asked her out several times.

She said all of the girls at work want him and it makes her feel good that he hits on her. Then she leaned over and hugged me when she hugged me her arm pushed against my cock which was hard as a rock she started rubbing it and pulled it out of my pants. Then she looked at me and said you liked watching Mike feel me up didn't you. Then she went down and sucked my cock it only took a few seconds and I came in her mouth.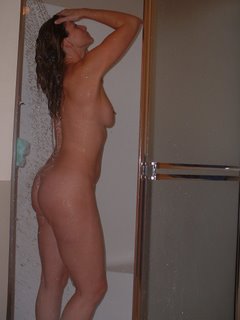 Terry said that really got you worked up didn't it I said I guess it did a little, she asked why I pulled her out of there then I said I don't know I guess it is just what a husband should do. We talked for a while and decided to go back to the party. Mike came up to me and said he was sorry that he didn't mean to get me upset. Terry said we talked and everything is fine and said lets have another beer. We all partied for awhile longer.

Terry told Mike we both had to much to drink and asked him if he could drop us off at home since it was on his way. He agreed and he said he would just finish his beer. Mike was okay because he is a real big guy and can handle a lot more then I can. When we got in his car I got into the back seat and Terry and Mike were in the front. I kind of fell asleep on the drive home.

When we got to our house they woke me up Terry asked Mike if he wanted to come in for another beer he said he should go but she said please it's the least we can do for the ride. He agreed and we all went into the house. Terry asked me to make her a Margirita and get Mike a beer. She said she was going up to change. Mike and I were in the living room when Terry came back down in her robe and had redone her hair. She said oh that feels so much better. Then Terry said remember when we were dancing it really got Tom turned on he liked watching us.

She walked over to Mike and opened her robe showing him a red half cup bra with a red garter and stockings. Then she dropped the robe and put her arms around him and kissed him. Mike kept looking over at me and I was as shooked as him. Terry came over to me and grabbed my cock she looked at Mike and said see he is okay he is as hard as a rock. She went back to Mike and placed his hands on her tits and said come on baby lets give him a real show.

She kissed him and he responded pulling her into him. He bent his head down and took her tit into his mouth and sucked it hard then he put his hand between her legs and slid a finger into her pussy. Terry looked over at me and said oh god it feels so good to have his big fingers and hands feeling me it makes me feel so good. Do you like watching a big man ravish your little wife baby?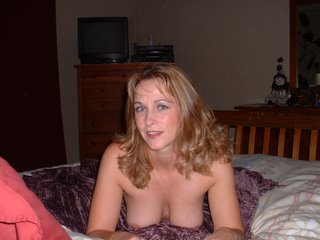 Then Terry started to undo his pants she pulled them down and got on her knees in front of him. Mike was about 9 inches long and very thick. Terry was sucking him and looking over at me she took it out of her mouth and said don't you wish you had a cock like this baby. Bring yours over here to let me have 2 of them. I removed my pants as Mike finished taking his off we both stood in front of Terry and she took turns sucking our cocks. Mine was only about 7 inches and nowhere near as thick as Mike. Terry spent more time on mine and soon I was ready to cum Terry could tell and just as I started to cum she turned back to Mike and I came on the floor. Terry looked at Mike and said he is done now its time for you baby.

She really went to work sucking him then Mike said he was ready to cum Terry reached around him and pulled his ass forcing his cock down her throat Mike tightened his ass and came in her mouth Terry gagged a little but was able to swallow his whole load. Mike said wow you are really good at that. We had another beer and talked alittle Terry and Mike sat on the couch and she told me to sit in the chair across the room. They sat there feling each other and then Mike went down and started eating her cunt.

Terry looked at me and said oh baby he knows how to make me feel like a woman - he is so much better at this than you just watch and see how a real man does me. Mike was already hard again and Terry said Mike fuck me I want that big cock in me. Terry said lets go upstairs so we all walked up Terry laid on the bed and Mike got between her legs as he started to slide into her Terry told me to come over there. Then she looked at me and said hold me open for him baby open me up so he can fuck me. I reached down and pulled her pussy open and watched as his cock disappeared into my wife's cunt. Terry looked at me and said oh baby it feels so good to have a man fucking me again. Then she said why don't you just sit down and watch this Mike has fucked me before and he really knows how to please a lady.

I looked at her and she said yes that's right he fucked me before several times. I didn't know what to do I just watched as this big powerful man was riding my wife, when Mike was ready to cum again he told her he was going to cum and Terry said baby give it to me, cum inside me.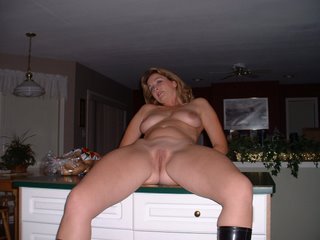 When he finished he rolled over on to his side and I could see his cum dripping from my wife's pussy. She looked at me and said now that I know you like it Mike can come ever anytime he wants me. Then she said why don't you be a good boy now and leave us alone, you can sleep in the guest room tonight while Mike fucks me some more on your bed. Then she turned and kissed him telling him he is so good.

That's my first time knowing about being cuckolded by my wife. We haven't really turned back since and she's had several more lovers. Some of which I know about and some I don't. I don't ask her really as she's so much in charge now and she knows it. We do love each other and have a great loving relationship and we do have good sex but she also gets what she needs on the side and that drives me wild. I am a lucky cuck. - Darren
P.S. The pics were taken before we met Mike but you'll see the 3rd pic she is on the very same bed where he took her that evening.

THE CUCKOLDING ARENA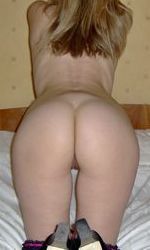 HotWife Janice
I spend alot of time online chatting with and then meeting other men
Cuckold Links

Blogs/Sites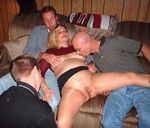 Cuck Images
I am listed on: