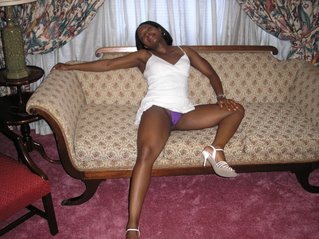 My husband and I have been contemplating having a cuckold relationship for several years now. I have played around every now and then, but never anything to this magnitude. Well the other night me and my husband got into an argument over me seeing other guys…just for play, because it was his idea that we start anyway.
Well to make a long story short we made up and got into the bed to cuddle, he was eating me and I was licking on his penis . He got so turned on that he had me stand up with my night gown half off, he went to my drawer to get my sweat pants and a shirt and he put both on me with me night gown still on(no panties). Then he told me to go out and meet the guy that we were arguing about.
I was shocked, but turned on, so I called the guy up, set up a date that instant, got my shoes on then left. My husband said I only had an hour since it was late and he had to go to work the next day. So I got in my car and met with Tony at a restaurant. We quickly went to his house.

When we got there we chatted for a short bit and then we made out. First he ate me out and then I returned the favor. Then we had sex, doggie style and missionary. Then we somehow ended up in his room where we had more fun.
As the hour came to an end, we parted with a kiss and I went home. Once in the house I took of all clothes except the night gown and asked my husband should I take a bath before I get into the bed, and he said it was late so just come to bed. When I got into bed it wasn't an hour before I was telling my husband what happened and he was eating me out. Next time I think I will let Tony go inside me without a condom…..
P.S. Her is a picture of me taking pictures for my lover earlier that day. As you can tell by my panties....I am horny

Mrs. Lee
South Carolina
CUCKOLD COUPLES