Cuckold Husband Video
TOP CUCKOLD SITES
Cuckold Pages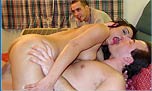 Please Bang My Wife
ARCHIVES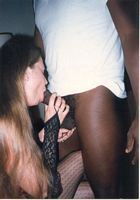 She Cuckolds Me
I am forced by my love to find men online to please her. - Wimp Hubby
Thursday, December 20, 2007
My Wife Mary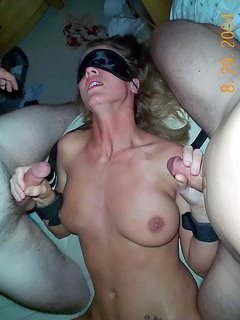 An old movie we watched the other day reminded me of this experience - one of the most memorial ones we have shared. While we started off with Wife Swapping over 5 years ago it soon became clear to me what an erotic turn on it was to have other men fuck my wife, even if I wasn't there to watch/share. I have had more than my share of other women but nothing to compare to the number of different cocks that have enjoyed my wife's cunt and mouth. I have posted this adventure on a couple of sites and so some of you might have read it but I don't think it's been on any cuckold specific sites.

Several years back we made a trip down to the coast for a few days of sun and surf. It was about a five-hour drive but we got there a little after noon and spent the better part of the afternoon on the beach, enjoying the sights and warm feeling that the surf can give you. After washing off the sand and getting dressed we went out to dinner and then ended up in the hotel lounge for a few drinks. Mary was in a low-necked blouse with a full, but short skirt. It was pretty plain that she didn't have a bra on but it wasn't until we were on the dance floor that I became aware that she also didn't have on any panties. I was sure that when we danced the fast songs and she spun around that her dress flew up high enough for others to notice that she was naked under the skirt, especially since she has such a nice cunt. Just thinking of this turned me on as I also enjoy showing off her beautiful body.

Around midnight I started to get pretty tired from the long drive, along with the sun and dancing so I was ready to head for bed. Mary on the other hand was wide-awake and wanted to stay longer. I said that she could stay if she liked and gave her the extra key and told her she could wake me when she came in. She smiled and said that you can never tell, she just might get picked up and have a pussy full of cum for me to enjoy when she got up to the room. I could see that she was horny so I just smiled and told her to have fun but to not forget to wake me when she came in - regardless of what shape her pussy was in. I then went up to our room, mixed a drink and undressed for bed. I had just dozed off when the telephone rang. It was Mary - seems that she had met this fellow in the lounge who wanted her to come up to his room for a "drink". Turns out that his room was not only on the same floor as ours but was only two doors down from us. She asked if it was all right and when I said sure, she came back with - "You know that I will probably get more than just a drink if I go to his room!". I just laughed and told her to have fun but not to forget me after she had taken care of him as I already had a hard cock just thinking about her fucking a new guy and I was looking forward to a juicy pussy. She also laughed and said, not to worry, I will bring you home a warm "cum-cocktail" that you can suck from my pussy while I'm telling you about the fucking that I just had! With that we hung up and I again dozed off.

I awoke a few hours later when Mary came in the door. She pulled her blouse and skirt off and came over to the bed. I reached out for her and asked if she had brought me my "cum-cocktail". She said that yes, you could say that, but first I want you to kiss your cock sucking wife. My Dick was already hard but it became harder as she placed her warm lips on mine and worked her tongue around in my mouth. It was a long, wet kiss and when we finally broke for air she had a wide grin on her face. She then told me that she had sucked him off right before she left and while she did swallow most of the cum she did manage to hold some of it in her mouth so that I could get a taste when we kissed. She then asked what I thought about my cock sucking wife now? I grabbed her again and ran my tongue around her lips and into her mouth to feel and taste what her luscious lips had drawn from his cock. I was also running my hands over her body and as I got to her thighs I could feel the cum on her legs where it had ran out of her pussy.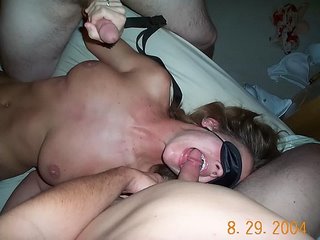 This was almost too much as it is always an extra thrill when she gets fucked by a guy who was a heavy cummer, and from what was running down her legs it was plain that this guy must have really shot a lot up her pussy. I ran a couple of fingers up her pussy feeling all the warm cum still in there and made a comment about this fellow giving her such a large load as her pussy was really sloppy. She then pushed me back on the bed, moved one leg over me; moved up and lowered her hot pussy to my mouth and told me to drink my cum-cocktail from her "sloppy" cunt and she would tell me all about how the cum got up there. Her pussy was so hot and slick, just covered with cum, inside and out. I got my lips and tongue working licked all around her hot hole. The cum was slick and covered the side of her cunt. I enjoyed the taste of her pussy juice mixed with the hat cum the continued to almost flow from her pussy which was very open from the fucking that the had experienced. I sucked all I could out of her as she moved around into a 69 position. I couldn't get enough of her hot pussy and she must have made it at least twice before she took my cum in her mouth.


We then lay beside each other in order to catch our breath. She then asked me how I liked my cum-cocktail? When I said it was great, a real tasty treat with lots of cum mixed with her cunt juice. She then said that it should have been a double treat as her pussy had pulled the cum from two different cocks, so what I had tasted was the combined mixture of their cum. I licked my lips and said that it would be hard to grade the taste except to say that it was great and I really loved the volume!

Mary then told me that after she had talked to me she went to this guy's room and it wasn't long before he was taking her clothes off - with her help of course. As he got her spread out on the bed he went down on her and told her how sweet her pussy tasted. It didn't take him long to make her cum with his tongue and she then sucked on his cock for a few minutes, but he was in a hurry to get his cock in her pussy so he moved on top and slid it in. She said that he had a nice size cock and lasted quite awhile before she shot a big load deep in her pussy while pulling her close in order to get his cock as deep in her as possible. They were relaxing with a drink, still undressed, when his roommate (who was supposed to be staying with another girl) came in the room. Mary was a little embarrassed at first but then thought, what the heck he has seen my body now so why try to hide it. The other fellow was also embarrassed that he had walked in on them but Mary told him not to worry about it, as he really didn't interrupt anything as they had just finished, so he might just as well stay. She had also noticed that the second guy was pretty good looking and thought that she might just stay a little longer and tease him. The three of them had a drink and Mary finally convinced Ron (the second guy) to take off his clothes since she and Bill were already naked. When Ron did drop his shorts she saw that his dick was hard, about the same size as Bill's, but it also had what she called a "cute curve"! While still feeling Bill's cum in her pussy she had decided that she wanted to add some of Ron's also, so she started to plan on how to get Ron alone for a few minutes.

She got up to make them fresh drinks and made sure that they were out of ice so that she could ask Bill to get dressed and go get some while Ron "kept her company". Bill had no more than closed the door before she was sitting at Ron's feet- "so she could hear better". As she leaned sideways Ron's cock, which was stone hard by this time, brushed against her cheek, so all she had to do was move her head a little and she had his dick right in line with her mouth. She then stuck her tongue out and licked around the head while he moaned and groaned. By the time Bill got back they were on the bed with Ron's cock buried deep in her sloppy pussy, with her legs up around his back. Bill got undressed fast and sat on the bed watching, grabbing a feel of her ass at times, and saying how sexy she looked fucking another guy. When Mary looked over and saw that Bill's cock was again stiff she managed to get Ron to slow down and turn her over so as to screw her dog fashion. In that way she could get her lips around Bill's cock while Ron was fucking her. It took a couple of minutes for them to get a rhythm but she soon had Bill shoving his cock down her throat and Ron shoving his "curved" cock in and out of her cum soaked pussy. Ron came first, and while he was spurting his cum deep into her pussy he was also shoving her forward, which buried Bill's cock down her throat. She had just managed to back off a bit when Bill's cock started shooting streams of cum into the back of her mouth.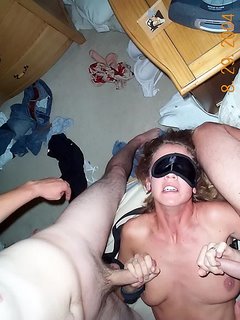 As soon as they got untangled and relaxed a minute she "noticed the time" and told them she had to run or her husband would worry. So she ran the "two doors down", unlocked our door and gave me the taste of very fresh - if mixed - cum-cocktail. Needless to say, we did have a long night and I have thought of that night many times over the years. I often wonder how those two fellows felt. There aren't many guys that can get that lucky at a hotel. Mary did point them out to me the next morning at breakfast, though she didn't introduce me. I thought it would be wild for her to introduce me and say that these were the fellows that took such good care of me last night!! Bet they wouldn't know what to have thought, but for me it would have been more of a thrill, standing there with my arm around my cock sucking wife talking to the two fellows she had screwed the night before. Not that time, but we have been there - done that. Also, here are my favorite set of pictures of her in action. It is of me and a good friend of ours who Mary thought would never be interested since he never flirted with her. I blindfolded her one evening and told her I would be having sex with her myself. You should have seen her face when she felt that second cock! Would love to hear stories on here from other husbands that get a thrill from their wife screwing other guys. - Michael
WHERE CUCKOLDS MEET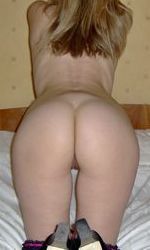 HotWife Janice
I spend alot of time online chatting with and then meeting other men
Cuckold Links

Blogs/Sites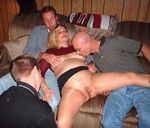 Cuck Images
I am listed on: