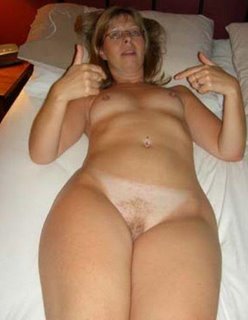 Here is a picture of my wife ready to be taken. Last night we did some sort of a roleplay. I was drunk and had fallen asleep and my wife, who also was rather drunk, were seduced by an older man. (She really liked this...!)
He undressed her and told her to obey him. I woke up and he told me to just sit back and watch. She took her big, black dildo and fucked herself and I just watched and jacked off. My little penis was hard as a rock and I saw that my wife was really turned on by this.
She said that "he" reached places I've never been to and that made me cum... After she was very pleased and said that we have to do this more often. I'm on my way I hope.....

Do you think any BBC would like to take care of my wife when I watch? I promise to clean up both of them afterwords. Gets my little dick really hard.
She has lately told me she wants a bigger cock, mostly for fun, but I know she gets really turned on when she sees a huge cock. The other day she even laughed at my cock when we watched an IR movie. Now I must talk her into getting my dream come true. - Plamen
KINKY CUCKOLD WIVES