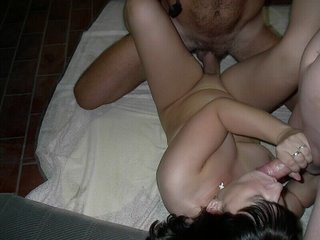 Background - We're a mature couple (50 & 40 yo) who've been married and monogamous for over 20 years. I've lurked on the Cuckold Blog site forever and ever. She has enjoyed my MFM fantasies when we're in the throes of wild, animalistic passion, but after it's over she's always said that I was all she needed, fucking someone she wasn't in love with just didn't turn her on, etc., etc.
What's Changed - Over the last couple of years she's been reading some books -- The Ethical Slut, For Women Only, For Yourself: The Fulfillment of Female Sexuality -- that have made her curious and more adventurous about exploring the limits of her own sexuality.
And she's discovering that those limits are much broader than she'd ever been giving herself credit for. So that now when we're in the throes of wild, animalistic passion, SHE's the one who tells me she can't wait to experience some other guy's cock in her pussy!What's Happened - We put an ad online looking for single guys. Because she's really cute and looks 10 to 15 years younger than she is. We've gotten lots of responses. We've tried to prioritize the guys she likes in a way that we hope will ease her into The Lifestyle as quickly and pleasantly
...
READ THE REST HERE
.
CHECK OUT THE DARK CAVERN