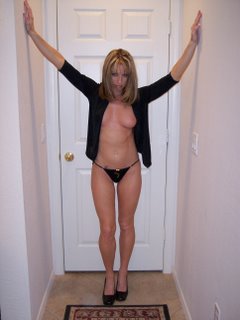 After returning from dinner and drinks one night my best friend showed my wife and me his new apartment. In his bedroom my wife noticed he had a calender on the wall displaying bikini-clad women posing next to exotic cars. She teased us by saying she could pose better than the models. I decided to call her bluff and picked up my buddy's camera and handed it to him.
To our surprise she started to strike poses, trying to copy the girls on the calender, while he snapped away. She likes being the center of attention and alcohol only adds to everyone's enjoyment! While we cheered her on she quickly removed her shirt and jeans. I figured that was all she would do but I was wrong. She managed to remove her bra without showing her nipples and posed with her hands over the center of her breasts.
I decided she had teased us enough and walked over to her, stood behind her and asked her for a kiss. As our tongues danced I lifted her arms over her head so my buddy could see her 34C's with hardening nipples for the first time. I could tell by her kiss and moans that she was just as turned on knowing he was looking at her naked chest. My buddy later told me he was so amazed that he almost forgot to continue taking pictures!
I asked her if she wanted to show us her bald pussy but she said she wanted to leave her panties on and added maybe next time. After letting us kiss each nipple goodbye she got dressed again. She let him choose a few pictures to keep, deleted the rest and teased him that she knew what he would be doing with them later!
When we got home she wasted no time in getting naked again right at the door! She gave me more poses which made me dash to our bedroom to get the camera. I was trying to re-enact what happened at my buddy's place. This time though, the panties came off and I noticed she was wetter than I had ever seen her! The sex that followed was incredible! Anyone that has had a similar experience will certainly agree with me. I am hoping that since she let another man touch her breast this time that we could go further next time and eventually go all the way. That would be a dream. Please find the attatched photo of her for your site. - Mac
WATCH CUCKOLD COUPLES LIVE FROM THIER WEBCAMS
AS THEY FUCK FOR YOU AND DO WHAT YOU TELL THEM TO.
THE HUSBANDS LOVE TO HAVE OTHERS CONTROLLING THEIR WIVES.