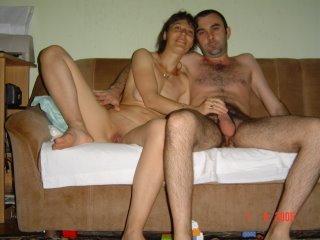 I have shared my wife eight times and it was wonderful each time. The picture I sent is of her first time and she is stroking his cock while I watch. One of the most memorable times involved an older man who had a dick half as long as mine and just a little thicker. As you might have guessed, I enjoy seeing a much larger than my own dick penetrating my wifes pussy and mouth.
Well, this evening started out with us meeting him at a very public restaurant for a meet and greet and then see what happens sort of thing. We all had a good meal and conversation and then it came time to proceed. We all decided that it would be fun to go over to his apartment to carry on.
We got there and we opened a bottle of wine and went to the living room to settle in. My wife sat on the couch and I sat on a seat opposite the couch where Ken joined my wife. We made a little idle talk and then my wife reached over and started lightly stroking Kens thigh. Her strokes moved slowly up occasionally passing over the bulge in Kens jeans. I was developing a bulge also. He reached for her face and lightly kissed her and then looked at me and asked if it was OK to kiss.
Naturally I encouraged him to enjoy himself with my wife because I knew that she intended to enjoy herself. Then Kissing led to more stroking and Ken was giving Patricias breasts a good kneading. Patty reached into Kens pants and was feeling his cock. Ken had moved on to rubbing up and down on Patties crotch and she was thrusting her hips up in synchrony with his strokes.
The passion was starting to boil and their clothing was in the way. They stood up and removed their bluejeans and shirts and simultaneously said lets go to the bedroom. They walked into the bedroom in their underwear and I followed fully clothed. Ken pulled his shorts down and bent over to removed them as Patty was turned to me giving me a kiss and removing her bra. When she turned around, Ken had stood back up and Patty let out an "OH MY!!". I looked down and saw Kens prick. It stood out proudly half again as long as mine is and a little thicker.
Patty reached out and took it into her hand and kinda just pulled him down onto the bed where she immediately dove on his cock and swallowed it all the way to his pubes. At this point I felt a little overdressed so I stripped off slowly enjoying the fellatio show in front of me. Ken started rubbing Patties pussy and sticking his fingers into her. She is moaning around his cock and he is breathing hard and I still cant believe that she is able to swallow his whole cock which looked like some of the salamis I have seen in the grocer. I guess their need to rub pubic bones erupted and she rolled over onto her back. He put a condom on and moved in between her legs. She asked me to get the bottle of K-Y which we had brought. I got it and she took a large squirt in her hands and rubbed his cock covering it with the warming liquid.
I took the bottle of K-Y and opened her pussy lips and gave it a shot. Then Ken moved in and as the tip of his penis made contact with my wifes pussy, I was holding her lips open getting a close up view of the penetration of a cock belonging to a total stranger into my wifes beautiful pussy. WHAT A RUSH!!!!!! Patty was beside herself as Ken started thrusting in and out. I watched the copulation for a few minutes and then I started kissing her breasts. After a while my left hand started stroking her stomach while Ken continued to stroke her pussy with his cock.
My stroking led south and soon I was stroking her clitoris while only a half an inch away, a cock was pleasuring my wife. So I repositioned and continued to work her clit with my right hand. I reached around Kens leg and inserted my finger into Patties ass. There was plenty of lube flowing so it was pleasurable for her. It was kinda wierd for me though because I could feel his cock through the thin membrane between her pussy and colon. It didnt matter though because she began thrashing around in the most intense orgasm ever. Ken continued fucking and I backed off just to watch for a bit but Patty wanted me in her mouth so what was I to do. I stood by the side of the bed with my wife sucking my cock and Ken, whom we had only met two hours earlier, pumping his long hard thick cock into my wife. Eventually, Ken came in her pussy into the rubber. Later Patty confessed to me that she wished that she could have felt him cum in her bareback because it just feels better. I have to agree with that.
So that is just one of our excellent adventures. Coincidentally, the last guy she fucked was also named Ken. How about sharing some more hot wife sharing stories on here? - Jim
CUCKOLD STORIES