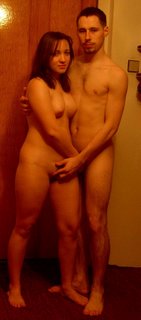 My girlfriend and I have talked about all sorts of sexual scenarios, including her giving a blowjob to a stranger. Finally one saturday night she was in a super horny mood and wanted to do it.
So we acted out a scenario that we'd talked about many times. Went to a bar/tavern way across town from us. She wanted a non threating looking guy who was attractive but looked like maybe he didn't get alot of action. So we agreed on a guy and she went over and flirted with him for about 10 minutes as I watched from a distance. Finally she motioned me over. He seemed to be a very causal nice guy as was quite excited as we chatted for a bit about what was to happen and the 'rules' etc. We then headed to a motel.
When we got a room, my girlfriend got the dude on the bed and quickly went to work on his cock as I watched. Now, she KNEW how to suck cock and I definately felt some sense of jealousy, at first, watching her blow another guy so eagerly. But I still was stroking my dick as I watched her. She eventually told me to sit next to the dude on the bed, took her top off, and blew us both until the dude shot his load in her mouth. Then as she was finishing me off he asked if he could play with her tits. He'd been so polite I told him it was ok. A couple minutes later I shot my load. Then we pretty much took off.
When we got home we had some pretty outstanding sex. Afterwards asked me if I gotten jealous, and so I was truthful saying "yes, I did a bit". But I also told her that it DID turn me on at the same time.
So things then went back to normal for a few months. We brought that night up here and there, but we never made plans to do it again. But I
WAS getting the urge
to see her suck a stranger one more time.
So one night we repeated the scenario and I knew what to expect. She got totally naked this time but never let the dude touch her, other than her tits. And this time she blew him from start to finish as I watched. After he shot his load she worked on my shaft until the dude was hard again. Then she blew us both off. This time I enjoyed it much more and felt little to no jealousy.
We did this sort of thing 2 more times over next half year. None of the dudes ever fucked her. THAT might have made me jealous. She just liked sucking a new cock every now and then, and never expressed any interest in fucking them (so she said hehe). each time it gets hotter and hotter and I can tell the way she 'bucks' her hips while sucking them off that she wants it.
I'll write in to tell you when it happens. I'm sure it won't be long. - Dave
SEE CUCKOLDING ONLINE