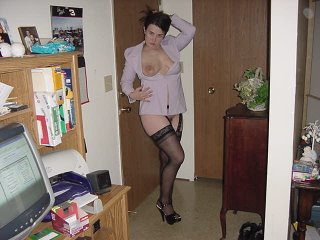 Have found myself in an odd situation. A couple of weeks ago I had my mates over to the house for cards and a few drinks. My wife had gone out for drinks with her friends. At the end of the night after we tired of the cards we sat around drinking. My wife returned home but as she entered the lounge, one of my stupid mates looked over and said "Oh what a disappointment, we thought that was the stripper arriving".
It was a stupid comment and my wife just looked at him and shook her head. "So what makes you think the stripper hasn't arrived" she said as she walked into the middle of the floor in a "strut your stuff" kind of walk as she slowly unbuttoned her coat. The rest of the guys started to cheer and holler with wolf whistles as we watched an overcoat being removed in a very sexy way. One of the guys started to sing the stripper song "Da DA,, DA DA !!" as the rest chanted "More ! More !.. She was dressed in a white blouse and blue denims as she continued to move seductively in the middle of floor eagerly watched by everyone in the room.
She slowly started to unbutton the front of her blouse to reveal a white bra fully encasing her 36C tits. I thought it was about time to put a stop to this, as any sensible husband would do, but I felt very strange as my cock started to strain under my trousers. Here I was watching my 45 yr old wife stripping in front of my mates and I was actually enjoying it immensly, as were they.
As I sat in my hypnotised state watching her jiggling her bra covered tits at us, it all ended as quickly as it began as she buttoned up and headed out the room. The guys were clearly disappointed and started to boo her, but that was all she was giving, it was just for a laugh to sort my rude mate out. The guys didn't push it because she was my wife. A few nights later as I watched her undressing for bed (see picture), she caught me looking at her and smiled. With only her panties left on, she turned her back on me and with the movements of a stripper she lowered them to her ankles. She then turned around and stood with her arms above her head letting me savour her lovely figure and big tits. I could tell by the way she was moving that she enjoyed it too. It could be our first kinda-cuckold experience. - Matt
$1000 To Fuck Your Wife?